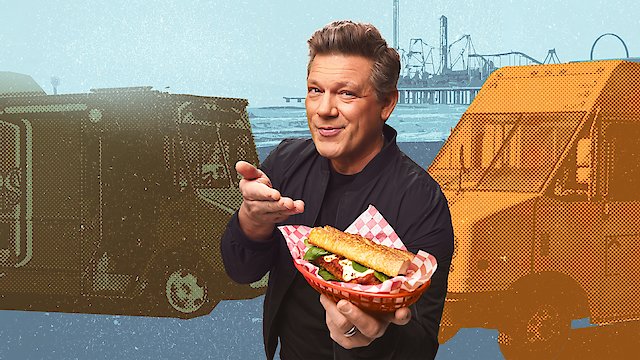 The Great Food Truck Race

Where to Watch The Great Food Truck Race
The final two teams each steal one dish from the other's menu to sell at a food festival; the teams are surprised with a rapid fire challenge, where they can only sell one entrée all day in hopes of winning the grand prize of $50,000.
Watch The Great Food Truck Race Season 16 Episode 8 Now
With a member out sick, one team is forced to operate as a two-person truck; Joe Sasto joins Tyler Florence to challenge the teams to a speed challenge before the competitors work beside Los Angeles' best food trucks for a nighttime rally.
Watch The Great Food Truck Race Season 16 Episode 7 Now
Last season's winner Evanice Holz challenges the teams to turn family recipes into plant-based creations to sell at an epic food event. Tyler Florence offers his family favorites as inspiration, and a tearful elimination sends a much-loved team home.
Watch The Great Food Truck Race Season 16 Episode 6 Now
5
David vs. Goliath: Ready, Jet, Go
Chef Jet Tila helps Tyler Florence challenge the teams to make dishes that tell their culinary origin stories; the pro versus rookie rivalry intensifies with catastrophic consequences, and one of the top-ranked teams tumbles to the bottom two.
Watch The Great Food Truck Race Season 16 Episode 5 Now
4
David vs. Goliath: Can They Do That?
A previously eliminated team member makes a triumphant return. Then, a rookie truck's plan to take out a pro rival backfires, while a pro team that's been on the bottom climbs the rankings.
Watch The Great Food Truck Race Season 16 Episode 4 Now
3
David vs. Goliath: Team-plosion
The seven teams are on their third set of challenges. One truck almost fall apart because of internal issues; while another drops to the bottom two.
Watch The Great Food Truck Race Season 16 Episode 3 Now
Eight food truck teams can't believe their eyes when Tyler Florence welcomes Mookie Betts to judge a ballpark eats challenge; the winner receives immunity and the largest reward in the history of The Great Food Truck Race.
Watch The Great Food Truck Race Season 16 Episode 2 Now
1
This is Food Truck Heaven?
For the first time, Tyler Florence pits four food truck pros against five food truck rookies in an epic David vs. Goliath battle to win $50,000.
Watch The Great Food Truck Race Season 16 Episode 1 Now

The Great Food Truck Race is an exciting and enthralling reality TV series that first graced screens in 2010. Produced by the esteemed Food Network, the show presents a captivating blend of culinary talent, competitive spirit, and wanderlust. This engrossing competition pulls viewers in with its unique concept revolving around passionate mobile kitchen operators racing across the country. It skillfully merges the fierce intensity of a race against time and the bartizan of innovative kitchens on wheels to bring some of the most luscious looking, mouth-watering meals to viewers' screens. Every season takes viewers on a gastronomic journey that convenes a variety of food trucks from all corners of America. This mobile feast encapsulates the multi-faceted culinary landscape spanning globally influenced cuisine staples right to comfort street food options. The concept of the show is quite simple yet irresistibly engaging as it features a selection of food trucks – each operated by a team of passionate caterers, chefs, or food truck enthusiasts. These teams vie for the much-coveted title of 'Top Food Truck' and the valuable grand prize which can go up to $50,000. In each episode, they are tasked with cooking and selling food in different cities in the United States. The format of the show is predicated on driving customers to the competing food trucks organically or by meeting specific challenges. These challenges include creating a completely new menu suited to each city's local flavors, utilizing specific ingredients, or even partaking in local feasts and festivals. The team that earns the least profit in each locale faces elimination, infusing the show with a nail-biting survival element. The trucks travel thousands of miles over the course of the season, from cultural hubs to historic towns, each locale offering unique culinary influences that widen viewers' food horizons. The show's host is the renowned chef, Tyler Florence, who shines with his culinary expertise, charisma, and insightfulness. His experience and understanding of the food industry plays a crucial role as he briefs the participants about the rules and monitors their moves keenly. His narrative and interaction with participants add depth to the show, outlining the hard work, creativity, and passion driving the food truck business. However, what truly sets the table for viewers are the teams themselves. Drawn from diverse backgrounds, each team brings its unique style, cuisine, and personality to the competition. From professional chefs dreaming of starting their own food truck business to family-made teams aiming to bring their cultural culinary heritage to wider America, every team has a unique story and aspiration. Moreover, The Great Food Truck Race is not just about the hustle and bustle in the kitchen or the heated competition but it also celebrates camaraderie, team spirit, and the thrill of the journey. It underscores the importance of strategy, salesmanship, culinary skills, and most importantly, the ability to overcome unexpected obstacles. It's a perfect encapsulation of the challenges and triumphs of running a food truck business. The series has been applauded for its captivating format that brings to limelight the high stakes, nail-biting competition, culinary creativity, and the dynamics of running a successful food business. In each episode, as the cooking fires are lit, simmering sauces spiced, and customers enticed, viewers are treated to passion and drama that unfold against the backdrop of America's diverse food scene; a befitting homage to America's love affair with food trucks. The Great Food Truck Race is a scrumptious medley of travel, food, strategy, and competition. It offers suspense, culinary insights, and a cherished peek into America's streets and the thriving food-truck culture. The dash of adrenaline from the ticking clock combined with the sizzling competition makes it a must-watch for food and travel lovers alike. So join Tyler Florence and the horde of ambitious food truck chefs on this delectable journey through America's heartland and coasts. Let The Great Food Truck Race whisk you away on an epicurean roller coaster, traversing the country one bite at a time. With intriguing locales to discover, simmering culinary battles to the witness, and an array of hearty meals to feast your eyes upon, the show consistently serves a delicious scoop of excitement and tantalizing flavor profiles rolled into one. It's America, one 'Food Truck' at a time!
The Great Food Truck Race is a series categorized as a currently airing. Spanning 16 seasons with a total of 115 episodes, the show debuted on 2010. The series has earned a moderate reviews from both critics and viewers. The IMDb score stands at 6.6.
How to Watch The Great Food Truck Race
How can I watch The Great Food Truck Race online? The Great Food Truck Race is available on Food Network with seasons and full episodes. You can also watch The Great Food Truck Race on demand at Max, Amazon Prime, Apple TV Channels, FuboTV, Philo, Sling, Apple TV, Amazon, Google Play online.
Cast
Tyler Florence, Daniel Shemtob, Ted Kim

Stream shows like The Great Food Truck Race