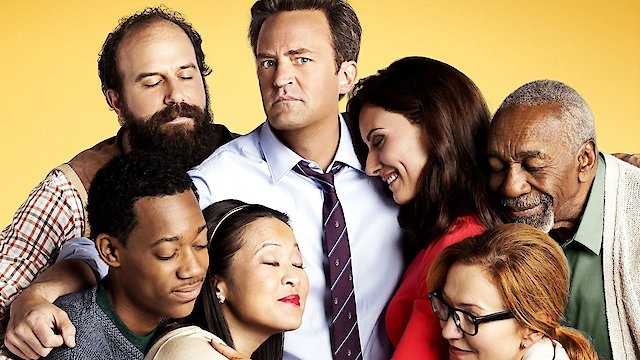 Where to Watch Go On
The group learns from their failures.
Watch Go On Season 1 Episode 22 Now
Ryan is in uncharted territory when he receives a drunk-dial call from his secretary Carrie. Plus, Ryan offers relationship advice to a confused Lauren.
Watch Go On Season 1 Episode 21 Now
Anne offers to introduce Ryan to Talia, a recent widow struggling to find her emotional direction. When the three go out together, Talia sends mixed signals when she flirts with both of them.
Watch Go On Season 1 Episode 20 Now
Although Ryan's show is rated #1, he doesn't experience the happiness that should accompany that success. Instead he craves for personal happiness which Lauren explains comes from helping others.
Watch Go On Season 1 Episode 19 Now
Ryan slips back into gambling after his breakup with Simone, despite Lauren's warning. When he receives the life insurance check for his deceased wife, he spirals out of control.
Watch Go On Season 1 Episode 18 Now
Despite his inability to get rid of his wedding ring after Simone asks him not to wear it, Ryan still asks Simone to move in with him.
Watch Go On Season 1 Episode 17 Now
Ryan's pride gets in the way of reading for a commercial for a male enhancement product. His replacement is Terrell Owens, whom he just hired as a temporary assistant.
Watch Go On Season 1 Episode 16 Now
Ryan and Simone go out on a limb.
Watch Go On Season 1 Episode 15 Now
14
Comeback Player of the Year
Ryan feels the return of Simone, the well-liked and beautiful former group member, will offset the group chemistry. Plus, Terrell Owens tries to teach Ryan a lesson.
Watch Go On Season 1 Episode 14 Now
Ryan competes for a hot date against Olympic gold winner Shaun White.
Watch Go On Season 1 Episode 13 Now
Ryan is thrilled when his hero, Bob Costas, invites him to participate in his new show.
Watch Go On Season 1 Episode 12 Now
11
The World Ain't Over 'Til It's Over
When the group agrees on a date for their holiday party, it happens to be on the exact day Mr. K proclaims will be the end of the world.
Watch Go On Season 1 Episode 11 Now
10
Back, Back, Back... It's Gone!
When Ryan decides he needs to start dating again, Misty May-Treanor tries to make the situation easier by inviting him to play in a game of beach volleyball with her friends. Elsewhere, George outlives his doctors' predicted life expectancy for him and Danny starts crushing on Sonia.
Watch Go On Season 1 Episode 10 Now
When Amy visits her old friends from college, they start to vie for her affection. Meanwhile, Ryan invites the support group to the K-Bal offices for Thanksgiving,
Watch Go On Season 1 Episode 9 Now
Ryan is hesitant about taking Owen under his wing, but he soon realizes Owen needs a positive role model in his life. Meanwhile, Yolanda decides she's ready to graduate from the group and Steven hires a new K-Bal Girl.
Watch Go On Season 1 Episode 8 Now
The group does a scavenger hunt for Ryan's birthday, against his wishes.
Watch Go On Season 1 Episode 7 Now
The group thinks Ryan snacks too much, which is a typical grieving symptom.
Watch Go On Season 1 Episode 6 Now
5
Do You Believe In Ghosts...Yes!
Ryan tries to accept that Janie is not there to care for him anymore. Meanwhile, newly single Steven recruits Ryan to be his wingman on a night out on the town.
Watch Go On Season 1 Episode 5 Now
After ten years, Ryan finally gets asked to play in Jeremy Roenick's hockey game, completely unaware he's been invited out of sympathy. Meanwhile, the group creates collages in an exercise that Ryan blows off.
Watch Go On Season 1 Episode 4 Now
3
There's No 'Ryan' in Team
Ryan struggles to keep his "real life" separate from the group, but discovers he'll heal faster if he dissolves the boundary. Meanwhile, Steven wants to be there for Ryan and help him overcome his loss, but his efforts to do so are awkward it's funny.
Watch Go On Season 1 Episode 3 Now
2
He Got Game, She Got Cats
Ryan tries to accept that Janie is not there to cook or shop for him anymore. Meanwhile, his good intentions put him in an expected situation.
Watch Go On Season 1 Episode 2 Now
In the series premiere, a sportscaster is leery about joining a support group following his wife's passing.
Watch Go On Season 1 Episode 1 Now

Go On is a unique blend of comedy and drama that aired on NBC from 2012 to 2013. The captivating show stars Matthew Perry, best known for his iconic role on Friends, who effortlessly delves into his character and gives an incredibly convincing and charming performance. The supporting cast, including Laura Benanti and Julie White, bring their characters to life with beautiful depth and personality, making each member of this ensemble cast a joy to watch. Matthew Perry stars as Ryan King, a successful sports radio host of KBAL in Los Angeles. After the sudden, tragic death of his wife, Ryan, though known for his witty and jovial persona, finds himself grappling with grief. In order to return back to work, his boss forces him to join a support group to deal with his loss. However, resiliently independent and emotionally guarded, Ryan is initially reluctant. Despite this reluctance, he soon finds himself amidst a unique group of individuals, each dealing with their own life-altering experiences. The support group comprises an exciting mix of characters, each with their own personal stories and reasons for being there. Among them is therapist and group leader Lauren Bennett, played by the talented Laura Benanti. Though at first glance she might seem out of depth, her sincere intentions and struggles coupled with her determination to help, make her a very relatable and heartwarming character. The equally gifted Julie White portrays Anne, a sharp-tongued and prickly yet deeply caring woman grieving the death of her partner. The rest of the group includes a myriad of lovable, quirky, and idiosyncratic characters that add color and depth to the series. Throughout the series, Matthew Perry's Ryan King attempts to navigate this new normal. Despite his initial resistance, it becomes evident that he is not alone in his journey. This group of once-strangers soon forms their own little community, built on shared experiences, even if vastly different. They serve as assurance through shared laughter, sorrow, and the sometimes painful process of healing. Their unconventional, often humorous approach to coping with loss provides the show's primary source of comedy, without overshadowing the authentic emotional themes at its core. The brilliance of Go On lies not solely in its comedic moments, but it's ability to gracefully balance such moments with the very serious and sensitive theme of overcoming personal loss. The series artfully explores the human capacity to heal, recover, and find joy in otherwise trying times. It's not about despair, but more about the start of a journey back from it, about reaching out, and about leaning on others when one's burdens get too heavy. Matthew Perry's quintessential charm and comic timing serve perfectly for his character. Ryan King wavers between showcasing immense vulnerability due to his loss, and using humor as a defense mechanism, and Perry's portrayal of this delicate balance is commendable. A standout feature of Go On is its remarkable character development. The transformations we witness in every character, especially Ryan, who from a superficially happy-go-lucky guy becomes a more introspective and emotionally articulate individual, are nothing short of incredible. Similarly, the members of the support group and even the therapist Lauren manage to break free from their initial stereotypes and gradually reveal more significant layers of their characters. Go On is a heart-touching television series that tackles grief and loss with wit, sensitivity, and honesty. With impeccable performances by Matthew Perry, Laura Benanti, and Julie White, among others, it's a journey of humanity, friendship, and healing that skillfully blends comedy and tragedy to tell a captivating story of resilience. In conclusion, Go On from NBC isn't just a show about grief and loss; it's a story about overcoming adversity and initiating a process of self-transformation. It is a life-affirming tale of strength in friendship, the importance of connection, and the universal human process of healing, all laced with an undercurrent of light-hearted comedy to provide the perfect balance.
Go On is a series categorized as a canceled. Spanning 1 seasons with a total of 22 episodes, the show debuted on 2012. The series has earned a moderate reviews from both critics and viewers. The IMDb score stands at 7.5.
How to Watch Go On
How can I watch Go On online? Go On is available on NBC with seasons and full episodes. You can also watch Go On on demand at Apple TV, Amazon, Google Play, Vudu online.
Cast
Matthew Perry, Laura Benanti, John Cho, Tyler James Williams, Suzy Nakamura, Julie White, Allison Miller, Bill Cobbs, Brett Gelman, Tonita Castro