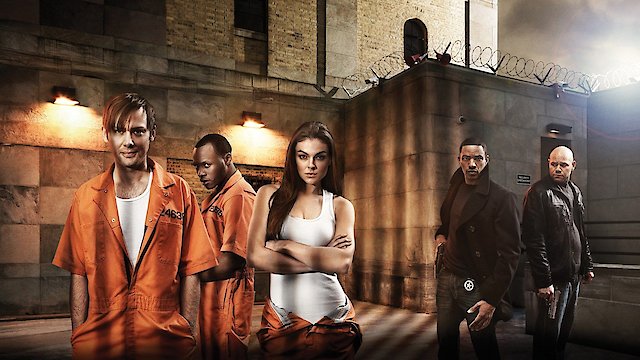 Where to Watch Breakout Kings
The conflict between Damian Fontleroy and the Breakout Kings climaxes when Damian abducts Ray's daughter.
Watch Breakout Kings Season 2 Episode 10 Now
Max Doyle grew up in the circus and felt like he never belonged. In an effort to deal with these feelings, he became a talented escape artist.
Watch Breakout Kings Season 2 Episode 9 Now
Ex-Navy SEAL Jonah Whitman escapes from prison and is armed and dangerous.
Watch Breakout Kings Season 2 Episode 8 Now
A convict gets fed up with the daily harassment from one of the guards and kills him. He escapes to find his true love.
Watch Breakout Kings Season 2 Episode 7 Now
A female prisoner escapes and shows up at the home of a volunteer and stabs her husband. However, investigators discover the volunteer and inmate had been working together.
Watch Breakout Kings Season 2 Episode 6 Now
The Breakout Kings work to find out how a convict commits a crime without leaving the walls of the prison.
Watch Breakout Kings Season 2 Episode 5 Now
An escaped convict goes on a killing spree ignited by a hopeless medical diagnosis he received.
Watch Breakout Kings Season 2 Episode 4 Now
Travis Muncey, actor and stool pigeon, escapes from prison. The Breakout Kings find him and then discover that Travis is the key to capturing an even bigger fish.
Watch Breakout Kings Season 2 Episode 3 Now
A group of convicts access a subterranean tunnel to get to a home near the prison, and one of them is an undercover agent whose allegiance may be compromised.
Watch Breakout Kings Season 2 Episode 2 Now
In the second-season premiere, the team search for a merciless serial killer that Lloyd helped to convict. Meanwhile, Charlie gets offered a promotion, putting the fate of the program in jeopardy.
Watch Breakout Kings Season 2 Episode 1 Now
Catch a sneak peek of the upcoming all new season of A&E's hit series, "Breakout Kings". And don't miss the season 2 premiere, March 4 at 10/9c only on A&E!
Watch Breakout Kings Season 2 Episode 0 Now

Breakout Kings is a captivating American crime-drama TV series, which aired for two seasons from 2011 to 2012 on A&E. The show is characterized by its unconventional approach to law enforcement strategies, its diverse and rich cast of characters, and the intense, action-packed scenarios which are sure to keep any viewer on the edge of their seat. It stars Laz Alonso, a talented actor known for his performances in several popular films and TV shows. Offering an intriguing take on the often-explored theme of capturing prison escapees, Breakout Kings is helmed by a rather unique team, comprising of not only U.S. Marshals but also a group of former convicts. This unit works under the aegis of the fictional special task force that has been set up solely for this purpose. The show relies on the contentious yet captivating premise - the best to catch a criminal is another criminal. Laz Alonso plays the role of Charlie Duchamp, a dedicated yet health-challenged U.S. Marshal who leads this special task force. Duchamp is meticulous, stern, yet empathetic, maintaining a strict code of conduct. Although initially sceptical about the idea of working with ex-cons, Duchamp eventually realizes their potential and strong points, gradually learning to use their skills and insights effectively to track down and apprehend formidable and elusive convicts. His character sketch is thorough and his personal life is carefully intertwined with his professional responsibilities, making Duchamp intriguing and relatable. The team includes a lineup of quirky yet skilful characters - an eccentric behavioral analyst, an expert locksmith, a gangbanger with street smarts, and a con artist with a knack for spotting lies. Each of these characters brings unique strengths, and their pasts as convicts lend a unique perspective and understanding to the task force operations. The dynamics and interactions among these different personalities form an important part of the narrative, with their personal lives and past mistakes frequently becoming significant in the plot. The structure of each episode leans on a procedural format where the team works to track down and apprehend a new fugitive each time. However, intertwined with these thrilling pursuits are the individual storylines of the characters - their redemption arcs, their struggles to keep their pasts behind them, the strain of their unusual freedom where a single mistake could land them back in prison, and their complex relationships with one another. While Breakout Kings might initially seem similar to other crime dramas, it sets itself apart through its engagement with the characters' personal lives, their past, their motivations, and how each episode is a journey towards their potential redemption. It's not just about catching the bad guys but also about the constant tension and the stakes involved given the precarious nature of their freedom. In parallel, the viewer gets an interesting insight into the psychology of prison escapees - their desperation for freedom, their calculated plans, their adaptability, all making the task force's job incredibly challenging. This dual perspective adds to the layers of the narrative, making it more immersive and thought-provoking. Additionally, the performance by Laz Alonso and the rest of the cast truly brings the characters to life, each one showcasing a depth that makes them compelling and realistic. The cleverly written dialogue, the well-paced plot, the action sequences interspersed with suspenseful moments, and the excellent performances contribute to gripping storytelling. Breakout Kings further shines in its attention to the details of prison life and breakout strategies. It gives viewers an intimate look into the lives of inmates, the daily struggles they endure, and the measures they take to escape their confines. Meanwhile, the audience also gets a glimpse into the demanding lives of U.S. Marshals and the significant lengths to which they go to uphold the law. Overall, Breakout Kings is a thrilling viewing experience, satisfying the audience's appetite for both intense action and compelling characterization. Whether it's the fast-paced chase sequences, the nuanced characters, or the intriguing episodic and overarching plots, there's a lot to enjoy in this unconventional crime drama series. It's certainly an engaging watch for fans of this genre of television.
Breakout Kings is a series categorized as a canceled/ended. Spanning 2 seasons with a total of 24 episodes, the show debuted on 2011. The series has earned a moderate reviews from both critics and viewers. The IMDb score stands at 7.2.
How to Watch Breakout Kings
How can I watch Breakout Kings online? Breakout Kings is available on A&E with seasons and full episodes. You can also watch Breakout Kings on demand at Apple TV, Amazon, Google Play online.
Cast
Domenick Lombardozzi, Brooke Nevin, Malcolm Goodwin

Stream shows like Breakout Kings