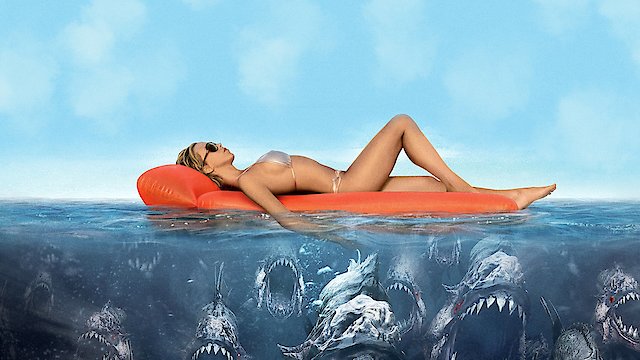 Where to Watch Piranha 3D

Piranha 3D is a 2010 American horror comedy film that serves as a loose remake of the 1978 horror film, Piranha. Directed by Alexandre Aja, the movie features an ensemble cast headlined by Elisabeth Shue, Jerry O'Connell, and Richard Dreyfuss. The film is known for its blend of over-the-top horror, wicked humor, and gratifying entertainment that recalls the fun-loving spirit of traditional 'B' movie flicks. At the heart of Piranha 3D's story is the quintessential American town of Lake Victoria. Typically serene and peaceful, this small town becomes the epicenter of fun and excitement when thousands gather around its lake to celebrate Spring Break. However, beneath this bustling hub of excitement lurks a dark and deadly secret. As we soon find out, a sudden underwater tremor has managed to crack open the lake floor, releasing scores of ancient, ravenous piranhas into the waters. What was meant to be a fun-filled holiday soon transforms into a horrifying struggle for survival. Elisabeth Shue leads the ensemble cast with her performance as Julie Forester, the town's sheriff. A dedicated public servant and caring single mother, Julie finds herself locked into an increasingly desperate fight to keep both her townsfolk and her family safe as the underwater terror thrives. Shue brings her usual steely resolve and warmth to this character, making Forester a compelling and relatable anchor amidst the film's paroxysms of fear and terror. Jerry O'Connell stars opposite Shue as Derrick Jones, a sleazy video producer who's in town to film the scandalous antics of Spring Break. O'Connell's Jones is delightfully obnoxious, fully embodying the despicable charm one expects from such a character. Prone to taking unwise risks, Derrick soon finds himself thrashing in the deep end of his own folly, dishing out a fair share of the film's screams and laughs alike. Richard Dreyfuss features in an important cameo playing Matt Boyd, a local fisherman who is the first to encounter the deadly piranha. The actor's short but impactful role serves almost as an homage to his character from Jaws, effectively setting the tone for the bloody chaos to unfold. Piranha 3D's visual effects are worth special mention. The film fully embraces its underwater terror theme, delivering numerous thrilling sequences of the carnivorous fish on a feeding frenzy. What makes these scenes truly stand out is the movie's splendid use of 3D technology. Instead of merely using the tech as a gimmick to lure audiences, the team behind Piranha 3D utilizes it effectively to intensify the horror and hilarity alike. From leaping, bloodthirsty fish to airborne body parts, the movie's 3D effects give viewers a full-frontal, immersive experience of the madness taking place. The film's script deserves praises, thanks to its witty blend of horror and humor. Riding the wave of its over-the-top premise, Piranha 3D simply goes for it, churning out laugh-out-loud moments as frequently as the scares. It's a purposefully ridiculous spectacle filled with outrageous characters and situations, offering unabashed fun from beginning to end. Another vital element to the movie's success is its pacing - never lingering too long on dramatically quiet moments, the movie maintains the tension and momentum throughout, ensuring that the audience never feels the urge to look away from the screen and miss the action. Piranha 3D is a film that, through legions of voracious piranhas, tongue-in-cheek humor, and a competent ensemble cast, accomplishes exactly what it sets out to do: deliver a wild, riotous spectacle of gory horror. It doesn't shy away from embracing its 'B' movie inspirations, and this unabashed attitude makes it an engaging watch for anyone in search for campy, over-the-top entertainment. Known for its savory blend of horror and comedy, this film remains a significant landmark within the horror-comedy genre, demonstrating the power that can linger within an audacious premise if treated with the right balance of respect and hilarity.
Piranha 3D is a Comedy, Horror movie released in 2010. It has a runtime of . Critics and viewers have rated it moderate reviews, with an IMDb score of 5.5. It also holds a MetaScore of 53.
How to Watch Piranha 3D
Where can I stream Piranha 3D movie online? Piranha 3D is available to watch and stream, buy on demand, download at Hulu Plus, Amazon Prime, The Roku Channel, Amazon, Google Play. Some platforms allow you to rent Piranha 3D for a limited time or purchase the movie for downloading.



Stream movies like Piranha 3-D
Also directed by Alexandre Aja
Also starring Elisabeth Shue
Also starring Jerry O'Connell
Watch movies on Apple TV+