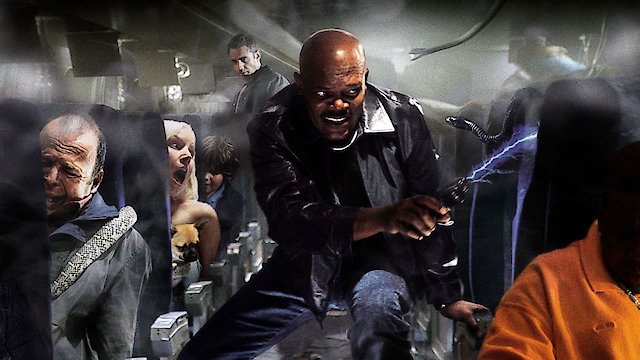 Where to Watch Snakes on a Plane

In 2006, the thriller-horror movie genre found a unique and intriguing new entry with Snakes on a Plane, starring the inimitable Samuel L. Jackson, backed by the renowned Julianna Margulies and accomplished Australia's Nathan Phillips. Directed by David R. Ellis, and written by John Heffernan, this film remarkably stands out due to its peculiar yet gripping plot. Samuel L. Jackson, known for his commanding screen presence, takes the lead role in Snakes on a Plane as Neville Flynn, a seasoned FBI agent with a shining badge and an unwavering sense of duty. Jackson brilliantly portrays Flynn's bold, brazen, and utterly unyielding demeanor, fitting seamlessly into the role of a relentless law-enforcer. He projects a vigorous persona constantly expanding the horizon of his diverse acting repertoire. Julianna Margulies, known for her solid performances in television dramas, plays the part of Claire Miller, a decisive, no-nonsense flight attendant. Margulies brings a certain tenacity and bravery to the character that serves to heighten the tension, and, at the same time, offers a beacon of resilience and hope amidst the pandemonium. Australian actor Nathan Phillips performs as Sean Jones, a critical witness that Flynn is tasked with protecting. Jones holds information crucial to incriminate a notorious gangster, and Phillips plays this quintessential everyman, caught in extraordinary circumstances, with a compelling mix of vulnerability and pluck. Snakes on a Plane sets its thrill-ride tone with a smart blend of initial tranquility and steadily-mounting tension when Flynn escorts Jones on a pacific commercial flight from Honolulu to Los Angeles. However, there's an unexpected and dangerously sly twist in reality when the plane is cunningly loaded with hundreds of venomous snakes, released mid-flight. What follows is a nerve-racking and electrifying struggle for survival at 30,000 feet altitude. An unsuspecting passenger load made up of an eclectic mix of characters adds to the high stakes - each person's reactions, panics, and hero acts deepen the details of the plot while nudging the storyline towards ever-increasing tension. Quick-paced editing, heart-pounding music, and vivid special effects further turn up the intensity, crafting an atmosphere of sustained suspense. The narrative of Snakes on a Plane capitalizes on the inherent human phobia - ophidiophobia or fear of snakes. Parlaying this universal dread, combined with the sensation of claustrophobic entrapment inside an aircraft, this film promises a teeth-gritting ride of terror and suspense. Peculiar sounds and unexpected movements in an aircraft's overhead bins would never have been more unsettling. Deadly creatures aboard a flight - the movie's core concept also allows for many dramatic and visually horrifying scenes, amplifying the inherent fear that comes, not from gore, but from the splendidly built up tension and pulse-raising expectation. Expertly enacted airplane chaos is intercut with nerve-frayingly close shots of various snakes slithering, hissing, poised to strike - the effect is both spooking and adrenaline spurring. Significantly, Snakes on a Plane does not shy away from sprinkling a bit of humor throughout its chilling storyline. A wealth of one-liners, most notably Samuel L. Jackson's perfectly delivered character-defining proclamation, offers a break from constant edge-of-your-seat tension, giving viewers brief but much-needed moments of shock-relieving laughter. Overall, Snakes on a Plane masterfully combines thriller, horror, and action genres, shaping them into a thrilling and chilling experience elevated by strong performances, nerve-racking suspense, and effective special effects. The movie's ability to tap into primal fears, offers a hair-raising, fear-inducing cinematic experience right from the get-go and holds it till the closing credits roll. Though the film may follow a linear narrative structure, its high-stakes premise, combined with an excellent ensemble cast, guarantees a gripping, gasp-inducing, and memorable spectacle. It is a testament to what can be achieved in film when a simple yet horrifying concept is brought to life with craft, creativity, and a crew of capable actors. Snakes on a Plane is sure to get your heart pounding and leave you rooting for the survival of the passengers against the slithering threat aboard.
Snakes on a Plane is a Action, Crime, Thriller, Adventure movie released in 2006. It has a runtime of 105 min.. Critics and viewers have rated it moderate reviews, with an IMDb score of 5.5. It also holds a MetaScore of 58.
How to Watch Snakes on a Plane
Where can I stream Snakes on a Plane movie online? Snakes on a Plane is available to watch and stream, buy on demand, download at Amazon Prime, The Roku Channel, Apple TV, Amazon, Google Play, YouTube VOD, Vudu. Some platforms allow you to rent Snakes on a Plane for a limited time or purchase the movie for downloading.


Stars
Samuel L. Jackson, Julianna Margulies, Nathan Phillips, Bobby Cannavale, Rachel Blanchard
Genres
Action, Crime, Thriller, Adventure

Also starring Samuel L. Jackson
Also starring Julianna Margulies