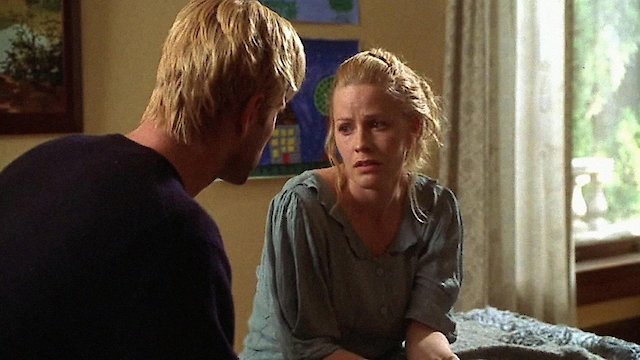 Where to Watch Molly

Molly is a highly moving and emotional drama that was released in 1999, featuring exceptional performances by Elisabeth Shue and Aaron Eckhart, with further support from Jill Hennessy. Aptly directed by John Duigan, the movie offers a penetrating exploration into the concepts of mental disability and sibling relationships, designed to tug at the heartstrings and encourage deep thought amongst viewers. Shue stars as the title character, Molly McKay, a young woman with autism who's been institutionalized since childhood. Aided by her brother, Buck McKay (Aaron Eckhart), Molly embarks on an incredible journey of transformation and discovery. The narrative explores Molly's relationship with her protective but somewhat emotionally detached older brother, who becomes her legal guardian when the institution must close due to financial constraints. Eckhart's Buck is a bachelor and advertising executive used to a comfortable, free-wheeling lifestyle. However, his world is swiftly turned upside-down when he's given the responsibility of caring for Molly, a role he's initially unprepared and ill-equipped for. Their relationship, filled with emotional complexities, forms the cornerstone of the movie, reflecting on themes of sacrifice, personal growth, familial bond, and love. Jill Hennessy provides a compelling supporting role as Susan Brookes, Buck's potential love interest and Molly's primary doctor. With her advanced scientific techniques and a strong wish to help her patients, she offers a ray of hope for a breakthrough in Molly's condition. Set and shot in California, the film offers a warm, albeit somewhat challenging, environment, a perfect backdrop to this captivating drama. The cinematic atmosphere is balanced with a quietly poignant musical score that punctuates the emotional weight of the narrative, enhancing the overall mood of the film. Without revealing too much of the plot, the story takes an intriguing turn when Dr. Brookes decides to involve Molly in her experimental treatment. This contributes to the drama of the movie and puts Molly, Buck, and Susan's lives and relationship dynamics under strain, culminating in a series of highly emotional scenes that are sure to leave viewers reaching for the tissues. Throughout the narrative, Shue delivers a tour-de-force performance, utterly becoming her character. She presents Molly's autism with a level of nuanced understanding and compassion that humanizes the condition. Simultaneously, her depiction of Molly's innocence and simple enthusiasm for life provides moments of levity that counterbalance the weightier dramatic scenes. Shue's performance is complimented beautifully by Eckhart's Buck, who undergoes profound personal changes throughout the film. Eckhart captures the essence of a man struggling with unexpected responsibility and change, yet who manages to find a depth of love and dedication within him which he didn't know existed. Lastly, the film presents an interesting perspective on the medical aspects of autism, despite being released in a time when societal understanding of such conditions was significantly less advanced. The experimental procedure that Molly undergoes provides us with a glimpse into the desperation and lengths that people will go to improve their health and quality of life. In conclusion, Molly is a heartfelt and thought-provoking drama, full of emotional depth and complexity. It bravely tackles the issues surrounding mental disability and the power of love and responsibility. Duigan's mesmerizing direction, coupled with beautifully nuanced performances from the lead cast, make this film a timeless gem in the landscape of 90s cinema. It's a deeply moving story that invites audiences to see beyond Molly's condition to the vibrant, loving individual she truly is. Regardless of whether you're a fan of dramatic cinema or simply looking for a film with powerful performances, Molly is certainly worth the watch.
Molly is a Drama, Comedy, Romance movie released in 1999. It has a runtime of 102 mins. Critics and viewers have rated it moderate reviews, with an IMDb score of 5.7. It also holds a MetaScore of 21.
How to Watch Molly
Where can I stream Molly movie online? Molly is available to watch and stream, buy on demand, download at Amazon Prime, Apple TV Channels, Tubi TV, The Roku Channel, Vudu. Some platforms allow you to rent Molly for a limited time or purchase the movie for downloading.


Genres
Drama, Comedy, Romance

Also starring Elisabeth Shue
Also starring Aaron Eckhart
Watch movies on Apple TV+