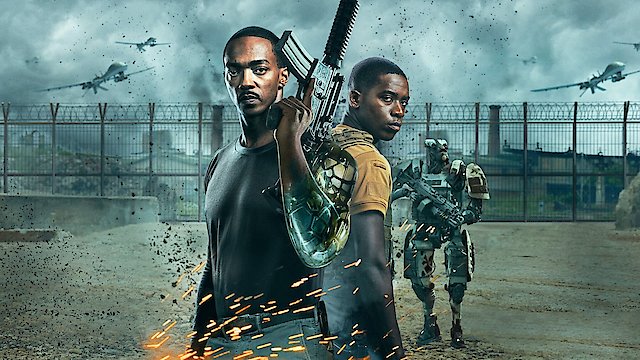 Where to Watch Outside the Wire

Outside the Wire is a 2021 sci-fi action thriller directed by Mikael Håfström, starring the dynamic duo of Anthony Mackie, famously known for his role as Falcon in the Marvel Cinematic Universe, and Damson Idris, well recognized from the crime drama series 'Snowfall'. They are accompanied by Enzo Cilenti in supporting role. The movie is set in the near future and melds compelling storytelling with action-packed sequences, thus making for a gripping watch. In Outside the Wire, the audience is taken on a whirlwind ride into a war-torn Eastern Europe. It revolves around Lieutenant Thomas Harp (played by Damson Idris) who is a drone pilot, his specific job involving him dropping missiles on enemy sites from his comfortable remote location. He makes a controversial decision during one of his missions, which results in dire consequences. As a result, he is assigned to a new task where he has to serve on the ground as opposed to monitoring things from afar; a decision that serves as the catalyst for the series of events that unfold. It's on the ground that he meets Anthony Mackie's character, Captain Leo, who isn't your regular flesh-and-bone soldier. Leo is a highly advanced, battle-equipped android who has the intelligence, strength, and abilities far beyond human soldiers. He possesses the information and combat prowess to carry out the most dangerous missions, thus striking as an intriguing character. He carries unique traits of an android with the exterior appearance and some human characteristics, dealing with complex emotional dilemmas, eventually drawing the audiences into his world beyond wires. Captain Leo aims to stop a nuclear attack, and for this, he needs the assistance of Lieutenant Harp. The film unfolds as the two embark on a treacherous mission behind enemy lines to prevent a lethal weapon from falling into the wrong hands. Their uneasy alliance is put to the test as Harp struggles to adapt to the actual realities of war and Leo's real intentions, which blur the lines between allies and enemies, humane and mechanical. In a world rampant with technological developments, the movie critically examines the implications of drone warfare and the ethical parameters surrounding it. Questions of duty, morality, humanity, and technology intersect to form an intriguing narrative core. It effectively uses the backdrop of a war-stricken environment to pose insightful questions about technology, warfare, and the aftermath. The movie is laden with fast-paced, adrenaline-pumping action sequences interspersed with surprise elements that keep viewers on the edge. The gut-wrenching scenes, compounded with cutting edge special effects, make this movie a spectacle for action lovers. Additionally, Anthony Mackie pulls off his role as an android soldier with finesse and showcases his acting versatility. Damson, with his thoughtful portrayal of Harp, offers a stark contrast to Mackie's character and introduces a human element to the movie's technologically advanced setting. Outside the Wire, however, isn't just about explosive action or futuristic warfare. At its core, it also raises integral debates about sentience, human control over artificial intelligence, and the ethical complexities accompanying it. Using the frame of an action narrative, the film ventures into the territory of moral questioning and philosophical exploration. The plot is unpredictable and keeps viewers guessing at every turn. The character development is strong, and both Mackie and Idris do justice to their respective roles. With the right blend of action, suspense, and thought-provoking themes, the movie makes for an electrifying watch. It's not just a visual treat, but also a cerebral one, making it a must-watch for thrill and science fiction lovers alike. In conclusion, Outside the Wire delivers thrilling action amidst thought-provoking narrative making it more than just a popcorn movie. It leaves the viewers at the intersection of stripping apart the boundaries of conventional warfare and witnessing the evolution of military technology. With strong performances and state-of-the-art visual effects, Outside the Wire is a robust contribution to the science fiction genre.
Outside the Wire is a Thriller, Action, Science Fiction movie released in 2021. It has a runtime of 114 min.. Critics and viewers have rated it moderate reviews, with an IMDb score of 5.4. It also holds a MetaScore of 45.
How to Watch Outside the Wire
Where can I stream Outside the Wire movie online? Outside the Wire is available to watch and stream at Netflix.


Stars
Anthony Mackie, Enzo Cilenti, Michael Kelly
Genres
Thriller, Action, Science Fiction

Stream movies like Outside the Wire
Also directed by Mikael Håfström
Also starring Anthony Mackie
Also starring Damson Idris
Watch movies on Apple TV+