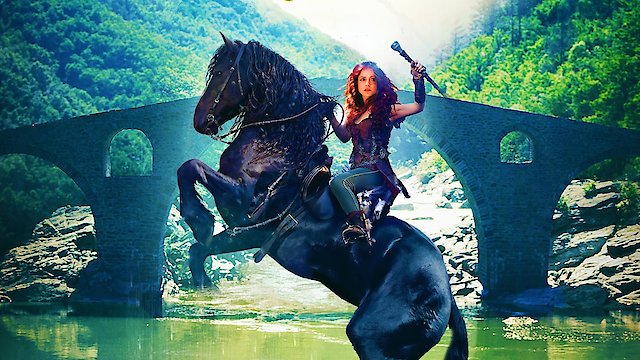 Albion: The Enchanted Stallion

Where to Watch Albion: The Enchanted Stallion

Albion: The Enchanted Stallion is a captivating blend of adventure, fantasy, and family drama that takes the audience on a mythical journey of courage, friendship, and self-discovery. Directed by Castille Landon and released in 2016, the film features emerging talents such as Avery Arendes, alongside established actors like Stephen Dorff and Johnny Sequoyah. The story unfolds around a young, resilient girl named Evie, portrayed wonderfully by Avery Arendes. Evie lives with her widowed father and has an unexceptional small-town life. Often seen caring and tending for her father who is suffering from an illness, she exhibits an early maturity and responsibility far beyond her years. Although she feels burdened by her domestic obligations, Evie has an adventurous spirit that longs for something beyond the mundane. She finds a perfect escape in horseback riding, but little does she know that her connection with horses will lead her to an extraordinary adventure beyond her imagination. One day, she encounters an unusual, majestic stallion. Evie feels an inexplicable bond with the mystical creature and, driven by intrigue and empathy, decides to help the seemingly lost beast. This event marks the beginning of her extraordinary journey as she is unwittingly transported to a mesmerizing, alternate realm - Albion. The imaginary world of Albion is a vibrant mix of magical elements, whimsical creatures, and captivating landscapes. The storyline takes a more dramatic turn once Evie steps into this wonderous world. Here, she learns that fate has a significant purpose for her. She is destined to act as the savior of Albion, which is under the ruthless rule of an evil tyrant, portrayed by the versatile actor Stephen Dorff. Throughout her journey, Evie encounters various enchanting and amusing characters, all marvelously unique and essential to the storyline. Among others, Evie becomes fast friends with an eccentric and whimsical hermit, played by Johnny Sequoyah. This unlikely fellowship helps Evie navigate the complexities of Albion and adds a refreshing layer of comedy and camaraderie to the narrative. Albion: The Enchanted Stallion ingeniously incorporates elements of adventure, peril, humor, and heartfelt emotions as Evie embarks on a mission to save Albion. The movie continues at a steady pace, filled with intriguing challenges that test Evie's bravery and determination to save the kingdom and its inhabitants. The film displays an exemplary presentation of cinematic arts with its radiant landscapes and striking visual effects. The mythical beasts, the enchanting ambiance of Albion, and the distinctive characters are brought to life with intricate detailing and lively colors. The visual storytelling complements the compelling narrative and enhances the overall viewing experience. Albion: The Enchanted Stallion is not just another fantasy flick; it's a tale of courage, friendship, and discovery. The character of Evie is beautifully developed throughout the film as she evolves from an ordinary girl to a brave savior. Her journey symbolizes personal growth, resilience, and the power of courage, making her character relatable and inspirational. The performances by all actors are commendable, and the diverse cast breathes life into each character, making them memorable. Avery Arendes stands out with her natural and convincing portrayal of the central character. Similarly, Stephen Dorff portrays the role of the evil tyrant impeccably, adding substance to the narrative. Johnny Sequoyah adds an extra layer of charm and wit with his pleasing performance. The film also offers an engaging soundtrack that beautifully caters to the movie's vibe and emotional elements. The music enhances the enchanting feel of Albion, making it more intriguing and absorbing. In essence, Albion: The Enchanted Stallion is a charming, family-friendly film that beautifully balances adventure, fantasy, and emotions. It's an optimistic tale that underlines the power of bravery and goodness in the face of evil. For those seeking a magical adventure filled movie that appeals to both children and adults, Albion: The Enchanted Stallion is a delightful choice. The film takes you on a unique journey filled with magical beasts, captivating landscapes, and adventures that keep you hooked till the end.
Albion: The Enchanted Stallion is a Fantasy, Adventure, Comedy, Kids & Family movie released in 2016. It has a runtime of 105. Critics and viewers have rated it moderate reviews, with an IMDb score of 5.2..
How to Watch Albion: The Enchanted Stallion
Where can I stream Albion: The Enchanted Stallion movie online? Albion: The Enchanted Stallion is available to watch and stream, buy on demand, download at Amazon Prime, Peacock, Peacock Premium, The Roku Channel Free, Tubi TV, Vudu Free, Kanopy, Apple TV, Google Play, YouTube VOD, Vudu. Some platforms allow you to rent Albion: The Enchanted Stallion for a limited time or purchase the movie for downloading.

Stars
Daniel Sharman, Jennifer Morrison, Debra Messing
Genres
Fantasy, Adventure, Comedy, Kids & Family

Stream movies like Albion: The Enchanted Stallion
Watch movies on Apple TV+
Also directed by Castille Landon
Also starring Stephen Dorff