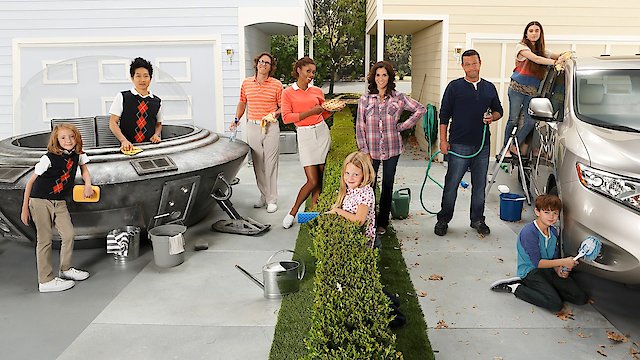 Where to Watch The Neighbors
22
There Goes the Neighbors' Hood
When Larry discovers he's pregnant, he faces a major dilemma. Meanwhile, Reggie must decide if he wants to turn human, and two new visitors arrive in the neighborhood.
Watch The Neighbors Season 2 Episode 22 Now
Larry's handsome brother, DJ Jazzy Jeff, claims he is visiting family, but in reality, he is secretly working with his father to bring everyone home to Zabvron.
Watch The Neighbors Season 2 Episode 21 Now
20
Close Encounters of the Bird Kind
Marty and Debbie love their new Friday night bowling league, but Debbie's skills are less than stellar and soon the other teammates want her off the team. Meanwhile, Larry's father issues a threat when word gets out the alien colony is getting too Americanized.
Watch The Neighbors Season 2 Episode 20 Now
Debbie's estranged free-bird mother invites the Weavers to visit her at her timeshare in San Diego and meet her newly adopted 10-year-old son. Debbie agrees to the trip on one condition - that Larry & Jackie accompany her.
Watch The Neighbors Season 2 Episode 19 Now
18
A Night in (Lou Ferrigno's Hibachi) Heaven
Feeling down, Marty plans a date night for him and Debbie, but it doesn't go as Debbie envisioned it. Meanwhile, Dick falls madly in love with the new babysitter.
Watch The Neighbors Season 2 Episode 18 Now
Larry Bird is invited to his Indian co-workers wedding and gets caught up in figuring out the perfect gift. After researching Indian weddings, he decides to provide his friend a full blown Bollywood number.
Watch The Neighbors Season 2 Episode 17 Now
The Weavers host an Oscar party to reconnect with old friends from their New Jersey hometown, and the Bird-Kersees decide to pitch in to make it over-the-top.
Watch The Neighbors Season 2 Episode 16 Now
15
You've Lost That Larry Feeling
Larry gets jealous for the very first time after stopping by Jackie's work. Amber and Reggie make an important decision about their relationship.
Watch The Neighbors Season 2 Episode 15 Now
Debbie is overwhelmed with her return to school and the inappropriate advances of a flirtatious professor. Meanwhile Marty is at home with Amber, offering support while she mourns her relationship with Reggie.
Watch The Neighbors Season 2 Episode 14 Now
Marty and Debbie are anxious for their 25th High School Reunion, where Debbie will face her arch nemesis, the rich and beautiful Tina Giannulli, and Marty can't wait to meet up with his band.
Watch The Neighbors Season 2 Episode 13 Now
12
Fear and Loving in New Jersey
After the Bird-Kersee's are mugged, fear settles in, so Debbie and Marty attempt to teach them how to protect themselves. As a result, Larry decides to build a Panic Room...
Watch The Neighbors Season 2 Episode 12 Now
When Debbie unintentionally ruins Larry's surprise Christmas gift for Dick, Larry decides to remedy the situation the only way he knows how. Meanwhile, Reggie and Amber both struggle with getting each other the perfect gift.
Watch The Neighbors Season 2 Episode 11 Now
Things get chaotic when a water pipe bursts in the Weaver house and Mother Joyner and Father Kersee come to the rescue.
Watch The Neighbors Season 2 Episode 10 Now
9
Thanksgiving is no Schmuck Bait
Marty and Debbie are anxious for an uneventful Thanksgiving, but their hopes are dashed when Marty's father arrives and reveals he and Marty's mother are getting a divorce.
Watch The Neighbors Season 2 Episode 9 Now
After her Shark Tank experience, Debbie decides to attend Business School, but before she can apply she must pass a qualifying exam. Marty takes on more household responsibilities, while Dick becomes her tutor.
Watch The Neighbors Season 2 Episode 8 Now
7
We Jumped the Shark (Tank)
After Debbie creates and designs a unique purse, Jackie secures them a presentation on "Shark Tank" to find an investor. When Larry joins them on the show, no one - not even the Sharks - saw what was coming.
Watch The Neighbors Season 2 Episode 7 Now
With the Weaver household preoccupied with football, Debbie focuses on Amber's relationship with Reggie. With Jackie's help, the mothers set up a secret romantic date for their oldest children.
Watch The Neighbors Season 2 Episode 6 Now
Larry decides to combine his two favorite holidays - Halloween and Chanukah.
Watch The Neighbors Season 2 Episode 5 Now
4
The One With Interspecies F-R-I-E-N-D-S
After an unsuccessful game night, Jackie has reservations about her friendship with Debbie. They decide to go get makeovers, with unexpected results.
Watch The Neighbors Season 2 Episode 4 Now
Jackie and Debbie bond and exchange some of their most intimate secrets. But there's one secret Jackie will never tell.
Watch The Neighbors Season 2 Episode 3 Now
Larry plots to pull the ultimate prank on the Weavers after they explain to him what April Fools' Day is. Meanwhile Reggie, with help from Jackie, tries to convince Amber that he doesn't have feelings for his Zabvronian soulmate (guest star Megan Park as Jane).
Watch The Neighbors Season 2 Episode 2 Now
With summer coming to a close, Amber and Reggie reveal to their families they've been seeing each other. Jackie sets up a family conference so the families can decide if the couple can stay together.
Watch The Neighbors Season 2 Episode 1 Now

An eccentric and quirky sitcom, The Neighbors, aired on ABC from 2012 to 2014, starring the dynamic Jami Gertz. Jami, known for some of her unforgettable roles in the 80s like 'Lost Boys' and 'Less Than Zero,' brings her unique brand of comedy and wit to the series. The Neighbors is a combination of science fiction, modern family melodrama, and comedy, providing audiences a refreshing and unconventional viewing experience. Set in a slice of suburban paradise known as Hidden Hills, New Jersey, the show introduces us to the Weavers - Marty (Lenny Venito), his wife Debbie (Jami Gertz), and their three children Amber (Clara Mamet), Max (Max Charles), and Abby (Isabella Cramp). On the quest for a better life for themselves and their children, the Weavers make the move to this gated community, aiming to carve out a piece of the suburban dream. Unbeknownst to them, their neighbours are literal aliens – peculiar extraterrestrials from a faraway planet named Zabvron. Jami Gertz, as Debbie Weaver, is a hilariously awkward but emphatic matriarch attempting to ensure a normal life for her kids amidst their not-so-normal living situation. She plays her part with finesse, bringing light-hearted humor and authenticity to her character. As Debbie tries to connect with her otherworldly neighbours, the ensuing comedy and drama lead to moments of hilarity and ingenuity that carry the narrative forward. However, The Neighbors isn't your standard outsider-among-aliens sitcom. Instead, it cleverly reverses roles with "human" beings, the Weavers, being the odd ones out in their culturally different neighborhood. The alien families, who've taken the names of famous athletes for disguise, have been living in their suburban enclave for a decade now while waiting for instructions to return to Zabvron. While they may look human, their peculiar customs and behavior paint a stark contrast to human ways, invoking both laughter and insightful commentary about societal norms and conventions. As the show progresses, the Weaver family, in their attempt to teach earthly manners to their alien neighbors, finds themselves even learning from them. The Zabvronians, contrary to their initially odd habits (such as crying out of their ears), are actually benevolent beings who are also attempting to understand our world and fit in. The antics of both the Weavers and the Zabvronians underline the heart of the show - the universality of the shared experiences of love, family, and the quest of 'fitting in', no matter how 'alien' we might feel. The strong performances of the supporting cast should also be lauded – Simon Templeman and Toks Olagundoye embrace their bizarre alien characters with impressive commitment. The antics of the Weavers' children, Max and Amber, each present hilarious and endearing moments in their own right, offering clever comedic relief and relatability for younger viewers. Other characters from the neighborhood, each with their own quirks, bring a different flavor to the community - from Larry Bird (Simon Templeman), the slightly inept Zabvronian leader; to Jackie Joyner-Kersee (Toks Olagundoye), Larry's intelligent and kind-hearted wife; and their socially awkward but loveable son, Reggie (Tim Jo). As these characters navigate their nightly community meetings at the golf course, the viewers get a glimpse of the kookiness that lies at the heart of The Neighbors. The Neighbors is more than just a comedy; it's a commentary on suburban living, and the misadventures and mirth represent a broader analysis of societal norms and how we perceive 'foreign' cultures. Between the laughs and lovable characters, the show offers viewers the chance to reflect on breaking barriers of differences and embracing diversity. In summary, The Neighbors offers charm and wit, underpinned by a resonating theme of unity and acceptance. As the Weavers navigate their absurd reality alongside their alien neighbors, audiences are drawn to the compelling absurdity that pushes the boundaries of traditional sitcom norms but in a way that is refreshingly pleasant with plenty of sweet moments and laughter. It's a sitcom that cleverly combines humor and heart with a generous helping of sci-fi, making it a must-watch for comedy and fantasy enthusiasts alike.
The Neighbors is a series categorized as a canceled/ended. Spanning 2 seasons with a total of 44 episodes, the show debuted on 2012. The series has earned a moderate reviews from both critics and viewers. The IMDb score stands at 6.9.
How to Watch The Neighbors
How can I watch The Neighbors online? The Neighbors is available on ABC with seasons and full episodes. You can also watch The Neighbors on demand at Hulu Plus, Amazon Prime, Apple TV, Amazon, Google Play, Vudu online.
Cast
Lenny Venito, Tim Jo, Jami Gertz, Simon Templeman, Mobin Khan, Tracy Weisert, Toks Olagundoye, Clara Mamet, Ian Patrick, Max Charles, Isabella Cramp

Stream shows like The Neighbors