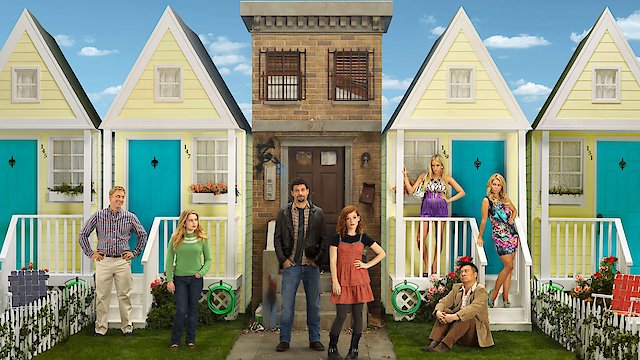 Where to Watch Suburgatory
In the first season finale, Tessa feels she's missing out when Chatswin celebrates mothers. George and Eden attend the Lerners' baby shower and Fred shocks Sheila with a performance by JAMES INGRAM.
Watch Suburgatory Season 1 Episode 22 Now
While Tessa tries to acclimate to living with Eden, George is offended by Eden's parenting; Lisa and Malik consider which camp they should attend.
Watch Suburgatory Season 1 Episode 21 Now
George and Eden's relationship goes to the next level so he decides to introduce her to Tessa.
Watch Suburgatory Season 1 Episode 20 Now
George is attracted to Eden when he first meets her.
Watch Suburgatory Season 1 Episode 19 Now
Dalia makes progress in therapy with her psychiatrist and Lisa and Malik try to play matchmaker for Tessa.
Watch Suburgatory Season 1 Episode 18 Now
Tessa decides it's time to buy herself her own mode of transportation when George is late picking her up from school. But first, she must get a job.
Watch Suburgatory Season 1 Episode 17 Now
Fred misinterprets Sheila's interest in George during a croquet match. Meanwhile Tessa vies for the attention of the new poetry teacher, Ms.
Watch Suburgatory Season 1 Episode 16 Now
When Jill seeks support from a single Dallas, her marriage to Noah is jeopardized. Meanwhile Dallas begins spending a lot of time with her hot younger boyfriend, Yoni (Wilmer Valderrama), which causes tension with George.
Watch Suburgatory Season 1 Episode 15 Now
Tessa learns she is failing her gym class, so she decides to run for student body president, hoping to change Chatswin High's obsession with sports.
Watch Suburgatory Season 1 Episode 14 Now
Tessa rubs it in Dalia's face that Scott picked her. George is worried with how close Tessa gets to Scott.
Watch Suburgatory Season 1 Episode 13 Now
When George scores an all expense paid trip to Atlantic City, all the guys decide to go.
Watch Suburgatory Season 1 Episode 12 Now
Tessa believes the new guy Josh is gay. Unbeknownst to her, he is an undercover narcotics officer.
Watch Suburgatory Season 1 Episode 11 Now
Tessa gets her driver's license and Dalia has her drive her around to stalk a guy she likes.
Watch Suburgatory Season 1 Episode 10 Now
George hosts a tree-trimming party and the guest list includes his ex, a potential girlfriend, and the Royces. Tessa thinks it's her fault that George ended things with Zoe so she does everything she can to get them back together again.
Watch Suburgatory Season 1 Episode 9 Now
Tessa is bummed she has to spend Thanksgiving in the suburbs and convinces Dallas to take her to the city for a girl's day out.
Watch Suburgatory Season 1 Episode 8 Now
When Tessa reveals she wants a simple sweet sixteen get together, Dallas persuades her to let Dalia plan the ultimate birthday extravaganza at the country club. Meanwhile George throws his back out and Sheila Shay (Ana Gasteyer) takes it upon herself to care for him.
Watch Suburgatory Season 1 Episode 7 Now
Tessa is bothered by all the cafeteria waste at school and decides to get the student body involved with giving back.
Watch Suburgatory Season 1 Episode 6 Now
Tessa makes her own Halloween costume, but freaks out her friends and everyone at school due to her resemblance of a recently departed resident of Chatswin.
Watch Suburgatory Season 1 Episode 5 Now
Sheila Shay's Shirley Temple doll collection is stolen. Dallas and Dalia fear being burglarized so they stay at the Altmans'.
Watch Suburgatory Season 1 Episode 4 Now
George becomes a member of the PTA. The former PTA queen bee feels jealous with all the attention he is getting from the other moms.
Watch Suburgatory Season 1 Episode 3 Now
Tessa finds herself unexpectedly attracted to her exact opposite, her jock suburban neighbor. George is pressured by the town to throw the perfect barbecue.
Watch Suburgatory Season 1 Episode 2 Now
George, a single dad taking care of his 16-year- old daughter, decides to move from New York to the suburbs.
Watch Suburgatory Season 1 Episode 1 Now

Suburgatory is a contemporary single-camera sitcom produced by the ABC network that aired between 2011 and 2014. The show, known for its down-to-earth humor and well-observed societal satire, was created by Emily Kapnek, who also served as the executive producer. The ensemble cast included an array of popular personalities, with notable performances from Jeremy Sisto and Jane Levy. Suburgatory revolves around the compelling story of a single father named George Altman, played by Jeremy Sisto, and his 16-year-old daughter, Tessa, played by Jane Levy. George is a devoted and loving father, who, upon finding a box of contraceptives under Tessa's bed, promptly decides that it is time for them to leave the city. He believes the urban environment is filled with unfit influences for his impressionable teen daughter. This leads to them relocating to the suburbs, where George believes it's a safer and more wholesome place to raise his daughter. The fun begins when the Altmans find themselves plunged into a brightly colored, superficial, and stereotype-laden world that is in stark contrast to what they were used to. Hence the show's portmanteau title, Suburgatory, capturing the horror Tessa feels of being in suburban purgatory. The move represents George's aspiration for a simpler, moral, yet secure life for his daughter. However, this plan takes an ironic twist as the suburban neighborhood is anything but a calm getaway. The world of manicured lawns, picket fences, nosy neighbors, and conformity becomes a dystopia for Tessa. The suburb, intended as a haven, comes across as odd, artificial, and bizarre, full of quirky neighbors and strange traditions. Levy's character, Tessa, is sarcastic, street-smart, and urban, making her a fish out of water in her new sterile environment. The crux of the comedy comes from her dry, ironic observations about life in the suburbs and her attempts to navigate around these strange waters. It focuses on her coming-of-age journey that is significantly different from any teenager because of the plastic world she's forced into. Jeremy Sisto's George also has his fair share of societal clashes and humorous engagements. He is admittedly bewildered by the deluge of nosy housewives and gimmicky suburbanite men. The comedy is naturally rooted in these situations where George and Tessa find themselves struggling to fit into a society that is ironically comical in its pursuit of an eerily perfect life. Suburgatory boasts a versatile ensemble cast with Cheryl Hines playing Dallas Royce, a quintessential suburban housewife with an over-the-top personality. Allie Grant stars as Lisa Shay, Tessa's fun-loving best friend, providing a consistent ally within the new city's madness. Alan Tudyk, famous for his quirky roles, plays Noah Werner, a suburbanite obscenely invested in the pursuit of the perfect suburban life. Consisting of three seasons, the show was praised and well-received for its biting satire and fresh comedic take on suburban life. Its strength lies in its witty dialogues, relatable characterizations, and comic timing, making it a unique comedy about a single father-daughter relationship set in the absurdly perfect suburban world. Suburgatory successfully brings to light a humorous critique of suburban life's superficiality by portraying suburbia in stark contrast to the real, grey aura of a city. It offers comedic yet thought-provoking commentary on social stereotypes, materialism, and the hypnotic illusion of a perfect life. The show uses satire and humor to subtly sketch out the anomalies of an overly idealized lifestyle, making it an enjoyable and momentous watch. The offbeat humor, engaging plot, captivating performances, and sharp dialogue propelled Suburgatory to the limelight. Its clever parody of life in suburban America added an edge to a beloved television trope. However, the beauty of the show is that despite its satirical nature, it is layered with genuine emotional moments that make you feel connected to the characters. In essence, Suburgatory offers a finishing twist on the sitcom format, serving up a funny, endearing, and sometimes painfully accurate portrait of suburban life. Its unique blend of comedy, societal critique, and poignant emotion ensures that it becomes more than just a comedy show – it becomes a part of the viewer's life. It's not just about the laughs; it truly is a heartfelt story of a father and a daughter trying to find their place in a world that seems to be unsettlingly perfect.
Suburgatory is a series categorized as a canceled/ended. Spanning 3 seasons with a total of 57 episodes, the show debuted on 2011. The series has earned a moderate reviews from both critics and viewers. The IMDb score stands at 7.2.
How to Watch Suburgatory
How can I watch Suburgatory online? Suburgatory is available on ABC with seasons and full episodes. You can also watch Suburgatory on demand at Amazon, Google Play, Vudu online.
Cast
Allie Grant, Cheryl Hines, Jeremy Sisto, Alan Tudyk, Ana Gasteyer, Rex Lee, Chris Parnell, Carly Chaikin, Jane Levy

Stream shows like Suburgatory