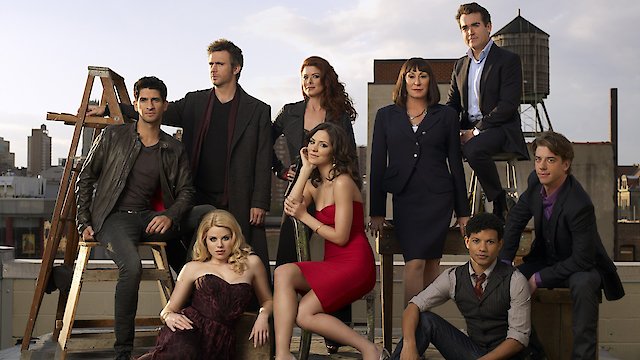 Where to Watch Smash
It's the night of the TONYS, but the awards may not provide the answers everyone is looking for. As Jimmy faces a final reckoning, Tom, Julia, Derek, Karen, Ivy, and most of all, Eileen wait to see if the ceremony will preserve their position in the Broadway pantheon permanently.
Watch Smash Season 2 Episode 17 Now
Both shows await the Tony nominations, while trying to stay focused. As Tom crosses an influential Tony voter and Ivy copes with some very distracting news, Derek's past has consequences for the entire "Hit List" team.
Watch Smash Season 2 Episode 16 Now
With his sights set on the Tony, Tom is willing to stop at nothing at a Houston & Levitt tribute night, but can Julia turn away from "Hit List" long enough to help? Ivy is afraid of ruining her reputation when Tom asks her to perform a risqué number.
Watch Smash Season 2 Episode 15 Now
An unexpected event connects "Bombshell" and "Hit List."
Watch Smash Season 2 Episode 14 Now
Jimmy could ruin "Hit List's" future. Meanwhile, Tom and Julia's partnership reaches it's breaking point as Ivy, Eileen, and the entire "Bombshell" team attempt to outshine the competition.
Watch Smash Season 2 Episode 13 Now
It's opening night and Ivy's nerves are calmed by an unlikely source. Meanwhile, Tom and Julia look to their next project.
Watch Smash Season 2 Episode 12 Now
As Tom and Julia work hard to get "Bombshell" ready for previews, Tom's willingness to prove himself may be detrimental.
Watch Smash Season 2 Episode 11 Now
Tom plans a surprise for Ivy in an attempt to navigate through their work life and their friendship. Relations between Karen, Jimmy, and Derek explode just as "Hit List's" rehearsal process nears its close.
Watch Smash Season 2 Episode 10 Now
After Leigh Conroy joins the cast of "Bombshell," Tom struggles to keep the peace between her and Ivy. Jimmy and Karen's connection is put to the test.
Watch Smash Season 2 Episode 9 Now
When Ivy brings Sam, back to town, Tom finds himself in an uncomfortable situation. Jimmy and Derek disagree over the direction of "Hit List," while both Ana and Karen struggle to stand up for themselves.
Watch Smash Season 2 Episode 8 Now
New circumstances create obstacles for Karen, Tom, Julia and Derek as they adjust to their new surroundings. Meanwhile, Eileen may be able to save "Bombshell" with the help of her daughter, Katie.
Watch Smash Season 2 Episode 7 Now
Derek and Karen find themselves at a fork in the road and are faced with a dilemma. Jerry's troubled partnership with Eileen hits a snag, as does "Hit List's" first performance at the Fringe Festival.
Watch Smash Season 2 Episode 6 Now
The focus is on Julia's revamped book, Hit List has its first read-through and Ivy is introduced to her new co-star. Sean Hayes guest stars.
Watch Smash Season 2 Episode 5 Now
Derek recruits help for a special event. Jimmy's pride may prevent him from a huge opportunity Karen has planned for him and Kyle.
Watch Smash Season 2 Episode 4 Now
Loyalties are tested when Eileen asks Tom and Julia to contend with an unwelcome new collaborator. Jimmy and Kyle anticipate their presentation.
Watch Smash Season 2 Episode 3 Now
Karen is mentored by a Broadway star and happens upon a new artist in an unexpected place. Julia and her husband are faced with a trial.
Watch Smash Season 2 Episode 2 Now
The second season opens with "Bombshell" making it's way back to New York in an effort to find a theater on Broadway, but personal and professional obstacles may prevent that from ever happening.
Watch Smash Season 2 Episode 1 Now

Smash, which aired on NBC from 2012 to 2013, is a fascinating television drama series that offers a behind-the-scenes look into the world of Broadway, from the whispers of a new idea through the thrilling pinnacle of opening night. Built around the frenzied journey of creating a Broadway musical, this show is a distinctive blend of drama and musical theater that provides an intriguing and rare insight into the highs and lows of the entertainment industry. Starring Emmy Award-winner Debra Messing, known for her unforgettable time on Will & Grace, this musical drama series is infused with a parade of Broadway stars and original music. Messing takes on the role of Julia Houston, a successful Broadway lyricist. Julia embarks on the challenging task of creating a musical based on the life of Marilyn Monroe, alongside her long-time creative partner, Tom Levitt, played by Christian Borle—best known for his Tony-winning performances in Peter and the Starcatcher and Something Rotten. The drama quickly accelerates when a competition for the lead role ignites between two immensely talented but vastly different actresses. On the one hand, we have the inexperienced Midwestern beauty, Karen Cartwright, wonderfully portrayed by American Idol runner-up and more-recently-established Hollywood name, Katherine McPhee. On the other hand, seasoned Broadway actress Ivy Lynn, played by Tony-nominated Megan Hilty of Wicked fame, has all the experience and is just waiting for that one big break. At the helm of the show is Eileen Rand, a tenacious Broadway producer, played by Academy Award winner Anjelica Huston. She is resolute in seeing "Bombshell," their Marilyn Monroe musical, come to fruition. As the characters navigate their complicated personal lives while keeping their professional dreams afloat, they form a multi-dimensional ensemble that's as engaging and colorful as Broadway itself. Smash stands out not merely as an engaging drama, but a moving homage to Broadway theater itself while simultaneously serving a fiercely unique plotline. Their musical revue "Bombshell" forms the storyline's backbone, but more than just a musical within a TV show, "Bombshell" forms a parallel narrative tackling love, ambition, fame, and heartbreak, echoing the real lives of the characters creating it. The series explores aspirations, passion, and the relentless pursuit of dreams with an almost infectious energy, capturing the essence of the Broadway world in a splash of drama, music, and overload performances. It engrossingly depicts the myriad of trials faced by actors, writers, directors, and producers alike, varied and multi-faceted, yet tied together by a common thread of undeterred passion, gritty determination, and audacious creativity. Creating an innovative fusion of reality and fiction, the show features original scores that punctuate the plot, turning scenes into full-blown musical numbers performed by the incredibly talented cast. With music by Marc Shaiman and lyrics by Scott Wittman—the duo responsible for the Tony-winning Hairspray—the tunes harmoniously express the characters' emotions, acting as integral plot devices. Further enhancing the musical theatre realism, Smash also showcases beautiful choreography by Joshua Bergasse, who beautifully translates the energy of Broadway dancing onto the small screen. Transitioning from intimate, poignant moments to joyous, crowd-filled grand finales, Bergasse's choreography is a spectacle in itself, giving Smash a unique edge over other television dramas. Smash is not merely a show—it's an experience. It's an on-screen musical journey that artfully combines the elements of performance, drama, and the stunning, complex world of Broadway. Extravagantly executed, this series is peppered with guest appearances from showbiz luminaries like Bernadette Peters, Uma Thurman, and Nick Jonas, adding more star-power to the bright lights of Smash's Broadway. From the last-minute script revisions and friction-filled auditions to the very moment the curtain lifts, Smash offers viewers a genuine taste of the anticipation, dedication, and exhilaration that comes with producing a Broadway musical - all told through a medley of unforgettable characters and a sparkling original score. These complex elements, woven together, form the vibrant, tantalizing tapestry that is Smash. A musical drama that avid fans continue to consider one of the best portrayals of the theatrical world on prime-time television.
Smash is a series categorized as a canceled. Spanning 2 seasons with a total of 32 episodes, the show debuted on 2012. The series has earned a moderate reviews from both critics and viewers. The IMDb score stands at 7.7.
How to Watch Smash
How can I watch Smash online? Smash is available on NBC with seasons and full episodes. You can also watch Smash on demand at Apple TV, Amazon, Google Play, Vudu, Amazon Prime online.
Cast
Megan Hilty, Christian Borle, Debra Messing, Anjelica Huston, Katharine McPhee, Jack Davenport, Raza Jaffrey, Jennifer Hudson, Leslie Odom Jr., Jeremy Jordan, Andy Mientus, Krysta Rodriguez, Jaime Cepero, Brian d'Arcy James