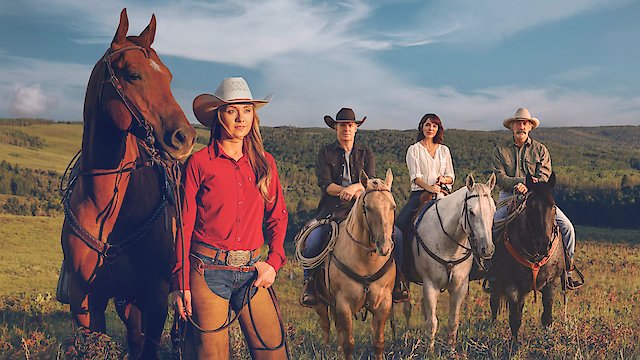 Where to Watch Heartland
TV-PG. Jack faces the truth about his rift with Al Cotter. Lou and Peter take the next step in their relationship. Georgie makes a decision about her future, while Amy sees her own future in a new light.
Watch Heartland Season 16 Episode 15 Now
Georgie returns to the ranch and Amy helps her reconnect with an old love: show jumping. Peter has surprising news for Lou.
Watch Heartland Season 16 Episode 14 Now
TV-PG. Amy helps Lisa with Platinum Bow. Tim has a difficult visit with Shane. Katie leads a strike at Maggie
Watch Heartland Season 16 Episode 13 Now
TV-PG. A visitor causes Amy to see Finn differently. A weekend trip to the cabin has Jack struggling with his past while Katie finally opens up. Lou and Peter
Watch Heartland Season 16 Episode 12 Now
While a furious Tim searches for Mike, Amy has a heartfelt talk with Jack about Finn. Katie notices Logan making eyes at Sherri's granddaughter.
Watch Heartland Season 16 Episode 11 Now
Amy is shocked to learn she has an imposter and sets out on a road trip to meet her. Mysterious events threaten Tim and Caleb's rodeo school showcase.
Watch Heartland Season 16 Episode 10 Now
TV-PG. Amy leads an overnight trail ride to help with Jessica
Watch Heartland Season 16 Episode 9 Now
TV-PG. Amy teaches Lyndy how to barrel race. Logan
Watch Heartland Season 16 Episode 8 Now
TV-PG. A storm leads to a sad goodbye and the return of old friends. Amy thinks her fears about Finn have come true until she learns about his past. Lou reads Katie
Watch Heartland Season 16 Episode 7 Now
Tim tries to make amends for a past mistake when he joins Jessica in NY for her photography show. Amy works with an unusual animal rescued from a zoo.
Watch Heartland Season 16 Episode 6 Now
TV-PG. When flood evacuees come to Hudson, Amy works with a traumatized horse. Jack and Lisa help a young couple. Tim connects with an evacuee. Rick steps up in Lou
Watch Heartland Season 16 Episode 5 Now
TV-PG. Amy
Watch Heartland Season 16 Episode 4 Now
TV-PG. Amy and Caleb train one of Sam
Watch Heartland Season 16 Episode 3 Now
With a difficult horse — and client — on her hands, Amy works with Moondance, which upsets Logan. Katie is inspired by her great-grandmother's diaries.
Watch Heartland Season 16 Episode 2 Now
TV-PG. After another Miracle Girl moment, Amy reconsiders her role at the Youth Centre. Jack misses Lisa, especially after Tim and Jessica are forced to move into the house.
Watch Heartland Season 16 Episode 1 Now

Heartland is a beloved family drama television series produced by CBC, which debuted in 2007. Set against the stunning vistas of the Alberta Rocky Mountains, Heartland is a sprawling family saga that follows the Fleming-Bartlett clan through the ups and downs of life on a horse ranch. Central to the series is Amy Fleming, a young woman played brilliantly by Amber Marshall, who possesses an uncanny ability to understand and heal troubled horses. Amy's journey through adolescence, young adulthood, and beyond is the beating heart of the series. As the seasons progress, viewers are witness to her growth in confidence and skill, showcasing invaluable life lessons of resilience, love, and determination. Equally compelling is Michelle Morgan as Lou Fleming, Amy's slightly older sister, who leaves a high-powered job in New York to help bring the family ranch back to financial health. Lou brings a different yet equally vital set of skills to Heartland, providing a counter-balance to Amy's hands-on, intuitive approach with her strategic, business-minded perspective. Nathaniel Arcand takes on the role of Scott Cardinal, a local veterinarian and the Fleming's long-time family friend. His character provides invaluable guidance to Amy as she develops her horse-healing abilities. Chris Potter and Shaun Johnston, as Tim Fleming and Jack Bartlett respectively, play pivotal roles as the elder statesmen of the family. Tim, Amy's and Lou's father, is a washed-up rodeo star struggling to find his place in the family structure, while Jack, their grandfather, provides the cornerstone of wisdom and stability as the patriarch of the family. Jessica Amlee masterfully plays Mallory Wells, a vibrant and quirky character who provides comedic relief in a variety of situations, a balance to the drama and intensity of the series. The beauty of Heartland lies not just in the fantastic landscapes of Heartland Ranch, but also in the depth and complexity of its characters. Over the seasons, viewers watch as these figures grow and change while they confront various challenges, both personal and professional. The series expertly intertwines the characters' personal trials with the practical issues of running a horse ranch, which often come with their challenges. From adopting abused or neglected horses to navigating bureaucratic red tape and defending the ranch against ruthless developers, the Fleming-Bartlett family never has a dull moment. In addition to its family and ranching storylines, Heartland also emphasizes the profound connection between humans and horses. This unique aspect of the series is exemplified most directly in Amy's character, as she exhibits a profound instinct for understanding and healing troubled horses. Such interactions often convey a sense of transcendence, adding an almost ethereal dimension to typical ranching life. The skillful depiction of horse training and recovery is one of the show's unique strengths. This aspect serves as a metaphor for the characters' human relationships, particularly the familial bonds, friendships, and romantic relationships that develop over the series' course. Heartland isn't solely focused on the heart-warming and the uplifting; it doesn't shy away from addressing real-life issues either. Themes of love, loss, recur across the series, painting a profound and moving picture of life in rural Alberta. In summary, Heartland from CBC is more than just a television series about a family and their ranch. It delves into the nuances of human relationships, personal growth, and the healing power of love for all creatures – human and equine alike. With a sterling cast headlined by Amber Marshall, Michelle Morgan, Nathaniel Arcand, Chris Potter, Shaun Johnston, Jessica Amlee, and stunning landscapes serving as a backdrop, Heartland successfully captures the beauty, resilience, and spirit of rural life. Above all, it is a heart-warming tale of a family that hangs together through thick and thin, underscoring the universal truth that home is indeed where the heart is.
Heartland is a series categorized as a canceled. Spanning 16 seasons with a total of 287 episodes, the show debuted on 2007. The series has earned a mostly positive reviews from both critics and viewers. The IMDb score stands at 8.5.
How to Watch Heartland
How can I watch Heartland online? Heartland is available on CBC with seasons and full episodes. You can also watch Heartland on demand at Amazon Prime, Netflix, Apple TV Channels online.
Cast
Amber Marshall, Michelle Morgan, Shaun Johnston

Stream shows like Heartland