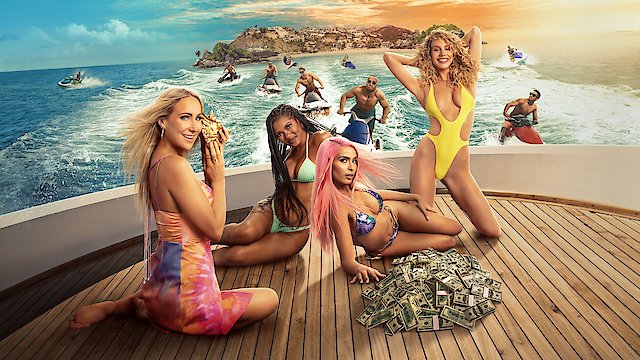 Where to Watch FBoy Island
Nikki frees the eliminated guys from Limbro to Mansplain! The ladies are shocked at what they hear, leaving their top two in jeopardy heading into the finale.
Watch FBoy Island Season 3 Episode 9 Now
After a dramatic FBoy status reveal, the ladies go on awkward group dates with their guys to figure out if they can trust them with their hearts. Katie is brought to tears as she struggles with her decision of who to take into the final two.
Watch FBoy Island Season 3 Episode 8 Now
The oven gets set to broil as cupcakes go missing and tensions flair. The women try to weed out more Fboys, but the game takes a revealing turn and hearts get broken.
Watch FBoy Island Season 3 Episode 7 Now
Douchetank returns but leaves a mess of emotions and accusations on the island! When the Fboys think they've perfected a game of sabotage, they leave the Ladies anxious to eliminate.
Watch FBoy Island Season 3 Episode 6 Now
After Hali, Katie, and Daniella send home three nice guys, Nikki surprises them with a deep dive into their social media secrets. The Fboys begin to spiral as the Ladies press them for honest answers.
Watch FBoy Island Season 3 Episode 5 Now
A Fboy makes a stunning announcement that sends shockwaves throughout the house. As the Ladies start to develop feelings, the FBoys and the Nice Guys are forced to scramble to stay in the game (304).
Watch FBoy Island Season 3 Episode 4 Now
From suds to dud, a foam party takes a turn with the arrival of 3 new competitors. Katie and Vince's relationship is tested, while Daniella runs towards Love.
Watch FBoy Island Season 3 Episode 3 Now
From awkward make-outs to a sexy striptease, the dates are in full swing. But with love comes jealousy and Marco's mouth runs wild in all the wrong directions.
Watch FBoy Island Season 3 Episode 2 Now
1
This is Gonna Be a Good Season
Hali, Daniella, and former Bachelorette Katie meet the Fboys and Nice Guys, who battle it out to make the strongest first impressions. An unexpected announcement has the guys on edge.
Watch FBoy Island Season 3 Episode 1 Now

"FBoy Island" is an engrossing, reality show binge-watch available on the streaming platform HBO Max. The program first debuted in 2021, exciting viewers with its fresh take on the dating reality television genre. Straying away from the traditional route of love-searching shows, "FBoy Island" blends romance with competition under a broad array of sunshine, drama, and humor. This reality show throws together twenty-four single men and three eligible bachelorette ladies onto a luxurious island paradise. The unique twist that sets this show apart is that the men's pool is divided into two categories: half are self-proclaimed "nice guys", while the others pride themselves as cunning "FBoys". However, the women remain unaware of this sly dichotomy, sparking an intriguing contest that will challenge preconceptions, tease the novelties of love and test the discerning power of the human heart. "FBoy Island" is a lighthearted, yet thought-provoking marathon, masterminded by Elan Gale, a former producer on "The Bachelor" franchise. Gale collaborates with Sam Dean, the showrunner of "Love Is Blind", another popular reality dating series. The distinctive comedic touches are driven by "The SImpsons" writer Robin Thede and comedian Nikki Glaser, with Glaser also serving as the series' host. The amalgamation of these skilled creators plots a roller-coaster pathway for the show that keeps the audience on edge, whilst also prompting occasional fits of laughter. As the show progresses, the entangled webs of relationships that the contestants weave form the central narrative. The program boldly tackles the modern dating world's intricate and sometimes chaotic landscape tinged by fleeting relationships and unreciprocated emotions. The women embark on a romantic quest, sifting through the complications and facade, to decide who is sincerely interested in building a long-lasting relationship and who is merely playing a tactical game to win the grand cash prize. The beauty of "FBoy Island" rests in its reality-defying reality essence. It provokes thought, questioning societal norms and expectations about masculinity, the increasingly blurry lines of commitment, and the propagation and acceptance of 'FBoy' culture. It explores love as a concept muddled by deception and deceit, yet it also highlights the raw, sincere emotions that sometimes bloom unexpectedly. It's a smart show that knows its audience, and it doesn't pretend to be something that it's not. It's a potentially cringe-worthy premise that's surprisingly easy to swallow due to the show's self-awareness and the candid, humorous commentary provided by Nikki Glaser. In essence, "FBoy Island" delivers a reinterpretation of the well-known battle between "nice guys" and "FBoys". This conflict drives the entire series, inspiring reflections on complex social dynamics, power of appearances and the fragility of human emotions. The show exhibits an amusing tango full of truth and lies, sincerity and pretense, reality and façade. The glittering tropical backdrop intensifies anything and everything - friendships are solidified, rivalry lines are carves, and emotions twist and turn under this scorching tropical pressure. Simultaneously the core of the series is romance, yet the audience can question if romance really exists in such a constructed, high-stakes environment. It is a delicate dance between illusions of love in a high-pressure setting, the depth of sincere connections, and the show's inherent artificiality that creates this unique, intriguing brew called "FBoy Island". Its raw exploration of the various facets of love and relationships, combined with its laid back, comedic approach to dating reality television, offers unique entertainment in an age where "FBoy" culture has become a trending topic. "FBoy Island" is not just another regular show on the reality dating carousel. Its premise, setting, candid approach, and entertaining narrative offer a compelling binge-watch, for those viewers, who seek romance with a twist. Approach this show with an open mind, accept its innate reality show contradictions, and get ready for laughter, tears, surprises, and an enlightened view on love and relationships. Each episode delivers unexpected twists, ensuring you'll be left in suspense, eagerly anticipating the next round of island drama. Whether you're a fan of reality television or not, "FBoy Island" guarantees to have you hooked, right from the get-go.
FBoy Island is a series categorized as a new series. Spanning 3 seasons with a total of 29 episodes, the show debuted on 2021. The series has earned a moderate reviews from both critics and viewers. The IMDb score stands at 5.3.
How to Watch FBoy Island
How can I watch FBoy Island online? FBoy Island is available on HBO Max with seasons and full episodes. You can also watch FBoy Island on demand at The CW online.
Cast
Nikki Glaser, Casey Johnson, Peter Park

Stream shows like FBoy Island