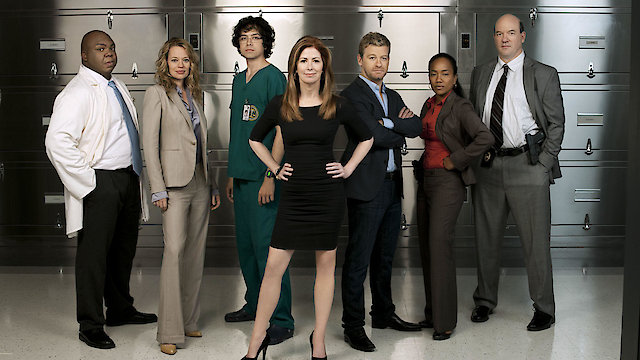 Where to Watch Body of Proof
Megan delves deeper into her father's suicide, which leads to more mystery.
Watch Body of Proof Season 3 Episode 13 Now
An inmate escapes from a prison transport van and goes on the run in Philadelphia. When a man turns up dead, it's discovered that he was a witness in the escaped prisoner's murder trial.
Watch Body of Proof Season 3 Episode 12 Now
After a gunman opens fire while in flight, the plane crashes into a main power grid in Philadelphia. The entire team is forced into disaster mode and must work through sporadic blackouts.
Watch Body of Proof Season 3 Episode 11 Now
When a schizophrenic teenage girl at a mental institution is found murdered, Megan and Tommy interview a young patient named Darby, who tells them that she was the target and witnessed the killer climb down from a heating vent in the ceiling.
Watch Body of Proof Season 3 Episode 10 Now
A rich investment fund manager, Gerry Roberts, is accused of defrauding investors of a billion dollars. Things turn chaotic when Gerry exits the court.
Watch Body of Proof Season 3 Episode 9 Now
A young girl is murdered and when Megan arrives at the scene of the crime, she discovers Tommy covered in blood. With no recollection of what happened, all the evidence suggests Tommy is responsible.
Watch Body of Proof Season 3 Episode 8 Now
During their investigation of a brutal murder of a young woman, Tommy and Megan are lead to her neighbor, who bites Tommy.
Watch Body of Proof Season 3 Episode 7 Now
Kate is instantly attracted to Sergei, a mysterious guest at a political event. After meeting him at his hotel, a young Russian girl is found murdered near the same location, and Kate becomes suspicious of Sergei's involvement.
Watch Body of Proof Season 3 Episode 6 Now
Megan and Tommy investigate two slayings that appear to be the work of vigilante killer. After Megan raises questions with the grief counselor, she decides she could benefit from a few counseling sessions herself.
Watch Body of Proof Season 3 Episode 5 Now
Tommy, Adam and Megan become shooting targets during an investigation of the murder of the son of a New York mob boss.
Watch Body of Proof Season 3 Episode 4 Now
A murder appears to be a case of severe child abuse, but the girl's parents, Caleb and Laura Banks, claim that their daughter was killed by the Devil after being possessed.
Watch Body of Proof Season 3 Episode 3 Now
In Part 2 of the third season premiere, Megan discovers the reason why the serial killer targeted war veterans and how one of their prime suspects is involved. But the killer has kidnapped Megan's daughter as insurance to force Megan to stay quiet about the truth.
Watch Body of Proof Season 3 Episode 2 Now
In the third season premiere, Megan returns to work and is met by a man from her past. Meanwhile, the team works together to stop a serial killer whose victims are young war veterans.
Watch Body of Proof Season 3 Episode 1 Now

Body of Proof is an exciting American medical drama that aired on ABC from March 29, 2011, to May 28, 2013. The series creator was Chris Murphey. The leading role was executed proficiently by accomplished actress Dana Delany, who played the character of Dr. Megan Hunt, an innovative neurosurgeon whose world is turned upside down when her life takes an unexpected turn. Before her sudden shift into forensic pathology, Dr. Hunt was established as a top-tier neurosurgeon who had everything she wanted - her career was flourishing, and her personal life was content. However, a life-changing car accident forces her to leave her thriving career as a neurosurgeon due to permanent damages in her hands, changing her life in an instant. With her life thrown into disarray, Dr. Hunt starts a new journey in forensic pathology, using her vast knowledge of the human body to help solve murder cases. Dana Delany's character is a strong, intelligent woman with a demanding yet fulfilling job. However, she struggles with the fact that her life has changed, and occasionally reminiscing about what was and could have been. Dr. Hunt's character growth throughout the series is a significant drawing point for viewers, pulling at heartstrings as she manages to blend her life, including the constant tug-of-war between her career and her personal life. The supporting cast also delivers engaging performances that tie in neatly with the plot. Jeri Ryan plays Dr. Kate Murphy, the Chief Medical Examiner and Dr. Hunt's boss, with grit and grace. Geoffrey Arend plays a quirky medical examiner, Dr. Ethan Gross, complementing Dr. Hunt's work process well. John Carroll Lynch plays Detective Bud Morris, a dedicated and intense law enforcement agent who partners with Dr. Hunt. Sonja Sohn as Detective Samantha Baker, Mary Mouser as Lacey Fleming, Sam Robards as Dr. Tom Pike, Jeffrey Nordling as Todd Fleming, and Robert Altman as Peter Dunlop also add depth to the storyline with their stellar performances. Body of Proof is much more than a medical drama. Its charm lies in the fact that it draws elements from crime, investigation, and personal drama, creating a beautiful tapestry of storytelling of a woman's strength, determination, resilience, and intelligence in the face of adversity. The episodes are filled with the suspense of solving murders, intricacies of forensic science, and court trials - a perfect recipe for anyone who loves a good mystery. The character of Dr. Megan Hunt is very relatable as she tries to maintain a balance between her high-pressure job and complex personal life. She tries to reconnect with her daughter after her divorce, while also navigating through the waters of a budding romance. These personal aspects of Dr. Hunt's life enhance the plot depth and allow viewers to connect with the reality of her existence. The series doesn't shy away from diving deep into the emotional and psychological aspects of its characters. It paints a profound picture of people's lives working in high-pressure professions, their personal sacrifices, their victories, and their defeats. It frames a panoramic view of how every decision affects the individual, their family, and their professional relationships. Body of Proof puts together an admirable portrayal of the reality of a pathologist's job. It includes some gruesome details, but it's done so in a way that draws in the viewer, gives them an enhanced understanding of forensic science without overwhelming them with extraneous, unnecessary details. Overall, Body of Proof presents a dramatic mix of medical, detective work, personal strife, and triumph. Though it ran for just three seasons, it managed to captivate viewers with its compelling narratives, relatable characters, and suspenseful mysteries.
Body of Proof is a series categorized as a canceled. Spanning 3 seasons with a total of 47 episodes, the show debuted on 2011. The series has earned a moderate reviews from both critics and viewers. The IMDb score stands at 7.1.
How to Watch Body of Proof
How can I watch Body of Proof online? Body of Proof is available on ABC with seasons and full episodes. You can also watch Body of Proof on demand at Hulu Plus, Apple TV, Amazon, Google Play, Vudu online.
Cast
Sonja Sohn, Jeri Ryan, John Carroll Lynch, Nicholas Bishop, Windell D. Middlebrooks, Geoffrey Arend, Mary Matilyn Mouser, Elyes Gabel, Mark Valley, Joanna Cassidy, Dana Delany

Stream shows like Body of Proof