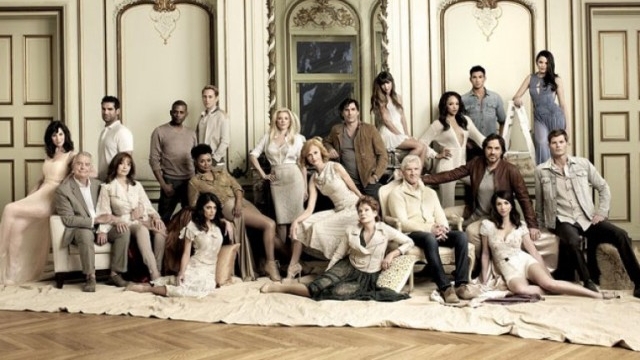 Where to Watch All My Children
13
We'll Always Have Homicide
Three years after Judge Natalie Rodman's killer gets away, evidence in a new homicide suggests the killer may have resurfaced. The whole team reunites to finally closing the case.
Watch All My Children Season 4 Episode 13 Now
After an explosion at a high-profile judge's home kills Angie's mentor, the team hunts for a sophisticated killer, who is an expert at covering their tracks.
Watch All My Children Season 4 Episode 12 Now
The team investigates the death of a costumed woman who appears to have been killed with a medieval weapon.
Watch All My Children Season 4 Episode 11 Now
When the team investigates the homicide of a young woman who's been nail-gunned to death, they discover the truth is stranger than fiction.
Watch All My Children Season 4 Episode 10 Now
The murder of a visionary video game designer sends the team on a hunt through the past to find a killer.
Watch All My Children Season 4 Episode 9 Now
When the murder of a British politician's son, draws the attention of Interpol, Angie finds herself navigating a new working relationship with an international Agent.
Watch All My Children Season 4 Episode 8 Now
A soldier with a bomb takes the bullpen hostage, demanding justice for her son. Angie stays with the increasingly desperate mother as the rest of the team reinvestigates the son's case.
Watch All My Children Season 4 Episode 7 Now
The team's investigation into the murder of a suburban mom takes a drastic turn when the victim's ill child is abducted.
Watch All My Children Season 4 Episode 6 Now
5
The Scorpion and the Frog
A gruesome murder with the same signature as one of Paula's previous homicide cases could mean an innocent woman was convicted of a crime she didn't commit.
Watch All My Children Season 4 Episode 5 Now
Angie and Paula find their personal boundaries tested when investigating the murder of an ex-con. Meanwhile, Vega also addresses boundary issues of his own with both Dr.
Watch All My Children Season 4 Episode 4 Now
Angie and the team race against time to snag a killer who is inadvertently spreading a deadly pathogen across the city.
Watch All My Children Season 4 Episode 3 Now
Angie temporarily steps in as Staff Sergeant as she investigates the murder of a football player'Ûªs wife.
Watch All My Children Season 4 Episode 2 Now
Angie and newly minted Staff Sergeant Vega must adjust on the fly to their changed working dynamic, while dealing with the added pressure of bringing a cop killer to justice.
Watch All My Children Season 4 Episode 1 Now

"All My Children" is a classic and prominent soap opera that aired primarily on ABC. The one-hour show was conceived by soap opera queen Agnes Nixon and made its debut in early 1970 before concluding in 2011. It's well known for its in-depth exploration of social issues, captivating narratives, and complex characters, making it a fan-favorite and a household name. The iconic daytime drama revolved around the lives, loves, tragedies and triumphs of the residents of the fictional but all-American midwestern town of Pine Valley, Pennsylvania. Each episode drenched viewers in a rich tapestry of romance, suspense, and intrigue, ensuring that followers returned day after day, curious about the fate of their favorite characters. Susan Lucci, a mainstay of the series, played the role of the ruthless, yet deeply layered character, Erica Kane, the ambitious and manipulative queen bee of Pine Valley. Being one of daytime TV's most famous figures, Kane served as the catalyst for most of the series' intriguing scenarios. Her magnetic performance drew viewers in, and along with her revolving collection of husbands, friends, and enemies, intricately spun the web of Pine Valley's everyday drama. Rebecca Budig, famous for her role as the vibrant and willful Greenlee Smythe, consistently portrayed a character filled with passion and determination, adding an essential layer of emotional depth to the storyline. Similarly, the likes of Daniel Cosgrove, Cameron Mathison, Michael Nouri, and more gave life to a host of multifaceted characters, each with their distinct arcs, personalities, and influences on the narrative. The portrayal of strong, independent women by actors such as Alicia Minshew, Lindsay Hartley, and several others marked this show as a pioneer in showcasing feminist ideals and progressive themes. The women of Pine Valley were never pushovers, but complicated characters with their own set of ambitions and desires. "All My Children" also excelled at handling poignant social issues, dealing with topics range from abortion, addiction, and homosexuality to social class disparity, race relations, and environmentalism. This willingness to explore more than just love triangles and wealth accomplished a powerful blend of escapism and education for the viewers. Throughout its four-decade run, "All My Children" made stars out of many of its cast members and received numerous accolades, including numerous Daytime Emmy Awards. The series was renowned for its compelling and emotional storytelling, three-dimensional characters, and unflinching approach to social commentary. Cornelius Smith Jr., Tonya Pinkins, and Debbi Morgan played significant roles representing the African American community, highlighting the series' excellent strides in diversity representation, years before it became a norm in television. They were integral in pushing the narrative forward, many times shouldering challenging, emotionally-charged storylines. Underpinning the entire series is its heart – the community of Pine Valley. It's a town like any other and unlike any other, a familiar-feeling place where life's trials and tribulations play out in a heightened reality. "All My Children" did not only offer romance, rivalry, and familial bonds, but it also served a slice of American life that resonated with millions of viewers around the globe. Its loveable, hateable, and relatable characters navigated life's complexities, seamlessly capturing the audience's hearts and minds. In summary, "All My Children" marks a significant era in American daytime television history. This game-changing soap opera, with its complex characters, riveting drama, and progressive themes, provided audiences with daily obsession and emotional investment. It gave its viewers a unique blend of lovingly crafted stories filled with suspense, drama, romance, and a robust exploration of society's most pressing issues. Its cancellation in 2011 marked the end of an era, but those magic years in Pine Valley remain etched in the memories of soap opera lovers worldwide.
All My Children is a series categorized as a canceled. Spanning 4 seasons with a total of 95 episodes, the show debuted on 2013. The series has earned a moderate reviews from both critics and viewers. The IMDb score stands at 6.7.
How to Watch All My Children
How can I watch All My Children online? All My Children is available on Hulu Originals with seasons and full episodes. You can also watch All My Children on demand at Google Play, Vudu online.
Cast
Cameron Mathison, Michael E. Knight, Alicia Minshew, Susan Lucci, Jacob Young, David Canary, Thorsten Kaye, Melissa Claire Egan, Eileen Herlie, Bobbie Eakes, Rebecca Budig, Walt Willey, Vincent Irizarry, Darnell Williams, Chrishell Stause, Jill Larson, Aiden Turner, Ricky Paull Goldin, Candice Earley, Debbi Morgan, James Mitchell, Liam Thomas, Aidan Patrick O'Donnell, Jason Olive, Jennifer Bassey, Jesse McCartney, Justin Bruening, Josh Duhamel, Marc Menard, Mathew St. Patrick, Olga Sosnovska, Sarah Michelle Gellar, Terri Ivens, Brittany Allen, Eden Riegel, Mark Consuelos, Julia Barr, Marcy Walker, Lawrence Leritz, Lawrence Leritz, Cady McClain, Susan Lucci, Kathleen Noone, Peter Bergman, Dorothy Lyman, Matthew Bomer, Andrea Moar, Elizabeth Lawrence, Gillian Spencer, Louis Edmonds, Robert LuPone, Warren Burton, Francesca James, Michael Gill, Mary Fickett, Robert Scott Wilson, Eva LaRue, Theresa Saldana, Socorro Santiago, Michael B. Jordan, Emerson Brooks, Cornelius Smith Jr., Lynne Thigpen, Leslie Uggams, Keith Hamilton Cobb, Amelia Marshall, Jeff Phillips, Tonya Pinkins, Shari Headley, Olivia Moss

Stream shows like All My Children