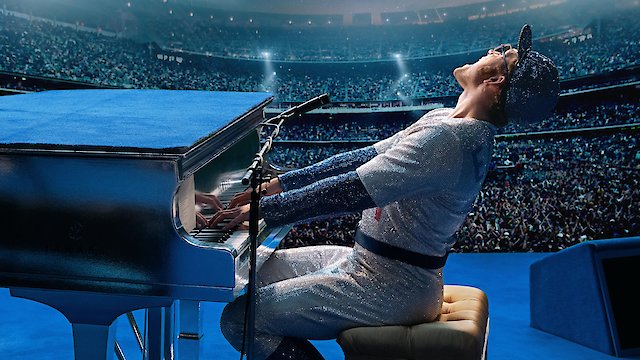 Where to Watch Rocketman

Rocketman is a 2019 biographical musical drama film directed by Dexter Fletcher, the man behind the equally successful musical biopic, "Bohemian Rhapsody." This film carries viewers through the life of celebrated musician Elton John, whose tumultuous life, swirling maelstrom of addictions, toxic relationships, and gradual self-discovery ultimately leads to him becoming a cultural icon. Rocketman stars Taron Egerton as Elton John. Best known for his work in "Kingsman: The Secret Service," Egerton's portrayal of the iconic music artist is moving and spectacular, immersing viewers into the emotional rollercoaster that was Elton John's life. He offers an intimate glimpse into the man behind the shades and the sequins, delivering a performance that is at once sympathetic, charming, and captivating. Egerton, who performed his own vocals for the movie, also captures John's vocal style and range perfectly, enhancing the film's authenticity. Co-starring Jamie Bell and Richard Madden, who portray Bernie Taupin, Elton's lifelong lyricist and best friend, and John Reid, Elton's manager and one-time lover, the film also offers a look into Elton John's relationships. The trio strikes a satisfactory balance as they explore the complexities of their connections with Elton, each character being integral to both the musician's life and the story as presented in the movie. The script, written by Lee Hall, captures the route of fame, downfall, and redemption quite deftly, illustrating the struggles that accompany stardom. The story is told through a non-linear structure, transforming the typical biopic style into a uniquely formatted musical. Throughout the film, John occasionally converses with his younger self, a narrative technique that lends greater depth to the character's emotional journey. One of Rocketman's standout features is the extravagant costumes, reminiscent of the musician's real-life wardrobe. The film uses Elton's flashy, larger-than-life stage costumes to mirror his emotional state throughout the movie. Brilliantly designed by Julian Day, these costumes have a narrative of their own, subtly reflecting Elton's internal struggles and personal growth. The film's lively and memorable musical numbers, choreographed by Adam Murray, are especially worthy of note. The performances are vivid and expressive, providing a fresh perspective on some of Elton John's biggest hits, such as "Rocket Man," "Your Song," "Tiny Dancer," and "Goodbye Yellow Brick Road," among others. These songs, which drive the narrative as they punctuate key moments in John's life, also illuminate the man's emotional arc throughout the film. Director Fletcher brilliantly incorporates the blend of reality and fantasy in Rocketman, juxtaposing dark personal experiences and dazzling musical performances. This technique of using musical numbers to reflect pivotal life events and emotions gives this movie a unique and creative energy. Fletcher uses music and artistry as key elements to transport viewers into the depth of Elton John's experiences, making the film a genuine and insightful musical journey. The cinematography, led by George Richmond, captures the magic and frivolity of John's rise to stardom, complemented by the grim reality of his personal struggles. Richmond deftly enhances the surrealist elements of the film, making the fantastical musical numbers even more spectacular and contributing to the narrative's overall emotional gravity. Rocketman ultimately presents a compelling, moving, and wildly entertaining look at one of pop culture's preeminent figures. It is a heartfelt tribute to Elton John's enduring music and influence, the journey to self-acceptance, and the power of enduring friendships, all wrapped in an uplifting and resonant musical package. The movie underscores the transformative power of music and the importance of finding and embracing one's identity, making it a memorable cinematic experience.
Rocketman is a Music, Drama, History movie released in 2019. It has a runtime of 121 min.. Critics and viewers have rated it moderate reviews, with an IMDb score of 7.3. It also holds a MetaScore of 69.
How to Watch Rocketman
Where can I stream Rocketman movie online? Rocketman is available to watch and stream, buy on demand, download at Amazon Prime, Apple TV, Amazon, Google Play, Vudu. Some platforms allow you to rent Rocketman for a limited time or purchase the movie for downloading.


Stars
Taron Egerton, Jamie Bell, Richard Madden, Bryce Dallas Howard
Genres
Music, Drama, History

Stream movies like Rocketman
Also directed by Dexter Fletcher
Also starring Taron Egerton
Watch movies on Apple TV+