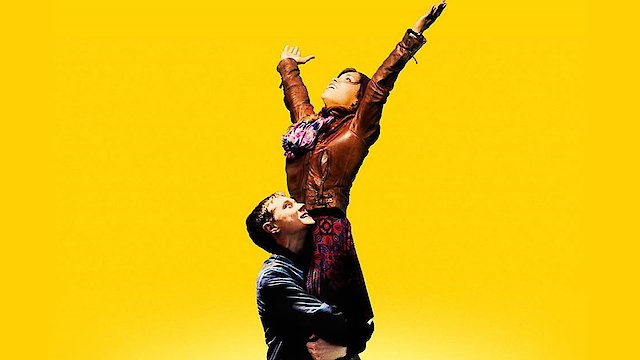 Where to Watch Sunshine on Leith

Sunshine on Leith is a British musical film that was released in 2013. The film was directed by Dexter Fletcher and starred an ensemble cast including Paul Brannigan, George MacKay, Kevin Guthrie, among others. The charming film is based on the stage musical of the same name, which in turn is fueled by the songs of the popular Scottish band, The Proclaimers. Sunshine on Leith's plot is centered around two principal characters, Davy and Ally, who are best friends played by George MacKay and Kevin Guthrie respectively. The narrative follows their lives after they return to Edinburgh after having served in Afghanistan as soldiers of the British Army. As they reacclimate to civilian life, they also deal with the emotional and physical scars of war, forming a profound subtext to an otherwise light-hearted narrative. The film aptly unfolds like a moving portrait of ordinary lives, presenting an enchanting blend of romance, drama, and music- tinged with the undiluted flavor of life's bitter-sweet symphony. And through it all, the streets, the bars, the homes of Leith, Scotland, serve as a picturesque background adding a distinctive charm to the narrative. As the film progresses, it doesn't just focus on the journey of the two war veterans, but also delves into the contrasting stories of their respective families and love interests. This involves Davy's parents Rab and Jean, played by seasoned actors Peter Mullan and Jane Horrocks, painting a realistic portrayal of marriage's highs and lows. Davy finds love with Yvonne, played by Antonia Thomas, while Ally renews his romance with Davy's sister, Liz (Freya Mavor). A remarkable aspect of Sunshine On Leith is it's unique way of story-telling - setting the emotional beats of its narrative to the tunes of The Proclaimers' songs. Despite being a musical, the film opts for a naturalistic approach. Each song and dance routine feels organic, fitting seamlessly into the drama, often echoing the themes, emotions and humor inherent to the situations and the characters. The versatile cast delivers a commendable performance, embodying their roles with realness and relatability. Veteran actors Peter Mullan and Jane Horrocks shine in their roles providing the drama with substantial depth, while the younger actors, especially George MacKay and Antonia Thomas, lend an appealing freshness to the romantic arcs. Not to be overlooked, Kevin Guthrie and Freya Mavor effortlessly bring alive the romance-cum-friendship angles of the story, weaving an intricate tapestry of love, longing, friendship, and renewal. But at its heart, Sunshine on Leith is about second chances, life's unpredictability, and the warmth of home. It portrays how life can throw you off balance, but also offers opportunities to dance again, mirroring the ebullient spirit of The Proclaimers' music. Director Dexter Fletcher, who has made a reputation for himself directing feel-good films, strikes the right chords in Sunshine on Leith. He manages to maintain a delicate balance between drama and humor, life's trials and triumphs, love and heartache; all while subtly addressing weighty issues such as post-war trauma and marital strain. Technically, Sunshine on Leith engages viewers with its lush cinematography, capturing picturesque Scotland with an artistic flair. The film's lively and well-choreographed musical sequences, along with its brilliant music score leave viewers tapping their feet, with catchy and emotionally poignant Proclaimers' tunes like "Letter from America," "I'm Gonna Be (500 Miles)" and of course, "Sunshine on Leith." In summary, Sunshine on Leith is a charming film that captivates the viewers with its heartwarming narrative, foot-tapping music, and endearing characters. It brilliantly interweaves the timeless music of The Proclaimers with a touching, often realistic storytelling style. Whether you're a musical enthusiast or a fan of the Scottish band, Sunshine on Leith offers an enjoyable cinematic experience that leaves you feeling a little warmer, a little brighter and with a lingering melody in your heart.
Sunshine on Leith is a Music, Romance, Comedy, Drama movie released in 2013. It has a runtime of 100. Critics and viewers have rated it moderate reviews, with an IMDb score of 6.6. It also holds a MetaScore of 66.


Stars
Paul Brannigan, George MacKay, Kevin Guthrie, Jane Horrocks
Genres
Music, Romance, Comedy, Drama

Stream movies like Sunshine on Leith
Also directed by Dexter Fletcher
Also starring Paul Brannigan
Also starring George MacKay
Watch movies on Apple TV+