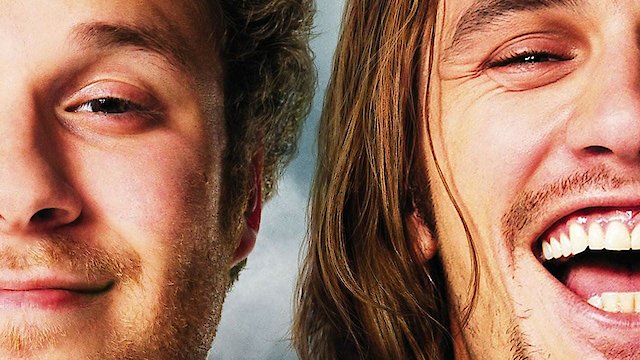 Where to Watch Pineapple Express

Released in 2008, Pineapple Express is an action/comedy film masterfully directed by David Gordon Green. Touted as a unique blend of stoner humor and action-thriller, the film drops the audience into a wild ride through illegal undergrounds, bizarre situations, and hilarious mishaps. The central focus of the film winds around the character of Dale Denton, adroitly played by Seth Rogen, a process server who smokes pot on the job to get through his less than exhilarating workdays. Rogen has crafted a benchmark role in Pineapple Express, offering a quintessential display of his signature style of humor. His performance adds layers to a character that could have easily been a one-dimensional joke. Alongside Dale is Saul Silver, a pot dealer who has more to him than meets the eye, portrayed with a sublime blend of comedic flair and ungainliness by James Franco. Franco, diverging from his usual roles, brings a unique, earnest charm to his portrayal of Saul. His character is not just a drug dealer but also a well-meaning but misguided individual who forms an unlikely friendship with his customer Dale. The eponymous Pineapple Express is actually a highly potent strain of marijuana that serves as the driver of the plotline. After Dale witnesses a murder involving corrupt cops and a renowned drug lord while smoking this very strain, he leaves a roach at the scene. The distinctiveness of the Pineapple Express strain leads the antagonists back to Saul, forcing the terrified duo on the run. Rather than making the film merely a goofy stoner comedy, the creators instill an undercurrent of action and violence, which powers the narrative. The humor created from the amalgamation of pot-head characters and violent action scenes keeps the audience on their feet. The film often surprises with precise comic timing, peculiar dialogue exchanges, and surreal sequences coated in marijuana smoke. The antagonist, Ted Jones, is effectively interpreted by Gary Cole. He adds a menacing flavor to the film without overshadowing its humor. Other supporting characters have been perfectly imbued, creating a vivid, colorful, and dangerous world our protagonists navigate in their hazy state. The film is more substantial than just pothead humor, packed with themes of friendship and unexpected heroism. Franco and Rogen demonstrate a deeply felt and convincing bromance, coming to each other's aid in the most ridiculous and dangerous predicaments. The overall camaraderie creates both humorous and heartfelt moments. Moreover, Pineapple Express beautifully balances the stereotypical stoner characteristics with unstinting bravery and quick-wittedness. Despite the protagonists' intoxication and mild panic, they never falter down a path of stupidity. Instead, they think on their feet, concocting plans that are often as ingenious as they are absurd. The film boasts a 1980s style of high-action cinema that parallels the comedic aspects, resulting in a cascade of unexpected turns, with car chases, shootouts, and an explosive climax. The visuals are laced with nostalgia and have an entertainingly old-fashioned feel that is artfully counterbalanced with a distinctively modern sense of humor. The direction, screenplay, and the performances of the lead and supporting actors have meshed seamlessly together in Pineapple Express, imparting an unforgettable addition to the comedy-action genre. This energetic and chaotic journey is highlighted by unexpected hilarity and wild escapades, creating a cinematic experience that is both hilarious and thrilling. The humor, action, and character development in Pineapple Express are wonderfully integrated into its engaging storyline. The comedic timing is sharp, and the writing fuels both the action and hilarity. Behind the smokescreen of stoner humor, the film possesses hidden depths, offering a fresh perspective on the comedy-action genre. This iconic Franco-Rogen pair up delivers a funny, exhilarating and, at times, a surprisingly touching tale of camaraderie and survival in a world of pot smoke and bullet showers. Suffice it to say, Pineapple Express serves an ingeniously baked concoction of comedy, action, and friendship. Filled with laugh-out-loud moments, riveting chase sequences, and refreshing performances, this Seth Rogen and James Franco starrer promises an outlandishly entertaining ride for diehard fans of the comedy-action genre.
Pineapple Express is a Action, Comedy, Crime movie released in 2008. It has a runtime of 111 min.. Critics and viewers have rated it moderate reviews, with an IMDb score of 6.9. It also holds a MetaScore of 64.
How to Watch Pineapple Express
Where can I stream Pineapple Express movie online? Pineapple Express is available to watch and stream, buy on demand, download at Hulu Plus, Amazon Prime, Apple TV Channels, Starz, The Roku Channel, Apple TV, Amazon, Google Play, YouTube VOD, Vudu. Some platforms allow you to rent Pineapple Express for a limited time or purchase the movie for downloading.


Director
David Gordon Green
Stars
Seth Rogen, James Franco, Gary Cole, Rosie Perez, Craig Robinson, Amber Heard, Kevin Corrigan, Danny R. McBride
Genres
Action, Comedy, Crime

Stream movies like Pineapple Express
Watch movies on Apple TV+
Also directed by David Gordon Green
Also starring James Franco