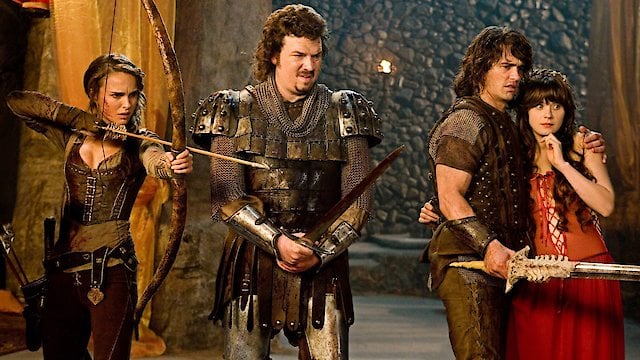 Where to Watch Your Highness

Your Highness is a 2011 comedy-fantasy adventure film directed by David Gordon Green, whose diverse body of work ranges from indie dramas to mainstream comedies. The film boasts an ensemble cast featuring Danny McBride, James Franco, Natalie Portman, and Zooey Deschanel, imbuing it with a diverse range of comedy and acting chops. In the film, we are introduced to two royal brothers: Prince Fabious, portrayed by the magnetic James Franco, and his much-less-heroic brother, Thadeous, embodied by the comedic mastery of Danny McBride. Fabious is the archetypical valiant prince – handsome, brave, and revered, embodying the Arthurian ideals of chivalric knighthood. He has been on numerous successful quests, much to the joy and pride of his father, the King. On the other hand, we have Thadeous, who is an absolute antithesis to his elder brother. Thadeous is lazy, rude, and cowardly, content with his life of privileges without responsibilities. The plot drives forward once Prince Fabious's bride, the beautiful Belladonna (played by Zooey Deschanel), is kidnapped by the evil wizard Leezar (portrayed by Justin Theroux). Fabious embarks on a quest to rescue his love, and in an unusual change of events, Thadeous is obligated to accompany him. This sets the stage for an epic fantasy journey filled with deceit, monsters, and heroic deeds, with an unusual blend of crass humor and vulgarity. Natalie Portman joins the ensemble cast as Isabel - an agile, fierce warrior who is a master archer. Unlike the pampered and cowardly Thadeous, she seeks revenge, and her path converges with the two brothers. Her character breathes fresh air into the narrative, and her dynamics with the royal brothers add another layer of comedy and intrigue to the plot. The film combines elements of adventure, comedy, and fantasy, juxtaposed with a unique crass and vulgar humor that pushes the envelope of the genre. While it employs the traditional tropes of medieval fantasy narratives, Your Highness refuses to take itself seriously, which might be its greatest asset. The humor is outrageous and slips into absurdity, filled with anachronistic language and modern references that complement the film's comedic intent. Amidst the humor, Your Highness embraces impressive landscape shots, detailed CGI effects, and well-crafted action sequences, tying together the various narrative threads in a visually appealing manner. The set design and cinematography work in unison to craft a world that, while due to its genre belongs to a bygone era, is meticulously detailed with the aura of grand medieval fantasy tales. Authentic medieval castles, opulent costumes, and fascinating mythical creatures contribute to the film's visual appeal. The film's comedic arsenal is powered by the performances of its leading duo, Danny McBride and James Franco. Despite their contrasting characters — one a typical hero and the other an idle coward — both lend a certain charm and hilarity to their roles. They effortlessly deliver the humor with a sense of self-awareness and rapport that holds the film together. Natalie Portman and Zooey Deschanel, who are primarily revered for their dramatic roles, are great additions to the cast, they maintain the perfect balance between the narrative's silliness and seriousness, adding to the comic fabric of the plot. Your Highness is, at its core, an edgy and outrageous medieval stoner comedy. It is filled with fantastic quests and adventures, knighthood, wizards, mythical creatures, damsels in distress, love stories, unlikely heroes, and improbably perfect solutions. All this, coupled with a deliberate distortion of the archaic English language and an unexpected marriage of stoner jokes with the fantasy genre, makes Your Highness a truly unique viewing experience. It must be said that this movie is not for everyone. Its charm lies in its absurdity and crass humor. If you enjoy parodies and aren't easily offended, this ludicrous comedic spin on a typically solemn fantasy genre could offer a delightful cinema experience. For others, it's a zany and daring experiment that doesn't conform to the traditions of adventure fantasies or comedies. So, prepare yourself for Your Highness – it's not your usual knight's tale.
Your Highness is a Comedy, Fantasy, Adventure, Action movie released in 2011. It has a runtime of 103 min.. Critics and viewers have rated it moderate reviews, with an IMDb score of 5.5. It also holds a MetaScore of 31.
How to Watch Your Highness
Where can I stream Your Highness movie online? Your Highness is available to watch and stream, buy on demand, download at Amazon Prime, Apple TV, Amazon, Google Play, Microsoft Movies & TV, YouTube VOD, Vudu. Some platforms allow you to rent Your Highness for a limited time or purchase the movie for downloading.


Director
David Gordon Green
Stars
Zooey Deschanel, Natalie Portman, James Franco, Damian Lewis, Danny McBride, Justin Theroux, Toby Jones
Genres
Comedy, Fantasy, Adventure, Action

Stream movies like Your Highness
Watch movies on Apple TV+
Also directed by David Gordon Green
Also starring Danny McBride
Also starring Natalie Portman