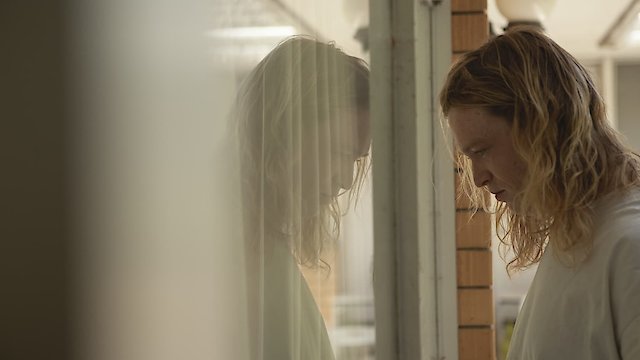 Where to Watch Nitram

Nitram is a 2021 drama film that operates on the disturbing fringes of reality, exposing unspeakable acts through a lens of unsettling cinematic storytelling. The film is written by Shaun Grant and stylishly directed by Justin Kurzel, who have previously collaborated on the acclaimed movie "Snowtown." Kurzel, a celebrated Australian director known for his dark thematic explorations and stylistic audacity, once again weaves a compelling narrative with Nitram. The film creates a profound sense of discomfort as it delves into the life of one of Australia's most infamous criminal figures. It pushes boundaries and explores areas often considered taboo, presenting a deeply unsettling picture of a man who ultimately commits unimaginable horror. Nitram is not an easy watch. Instead, it is a mortifying plunge into the psychological abyss of a human soul scarred by loneliness, rejection, and disconnection. It is certainly not your conventional drama film. It is nerve-wracking, poignant, and brutally honest in its depictions. Caleb Landry Jones, known for his gripping performances, brings a remarkably intense acting prowess into the character of the eponymous Nitram, humanizing this controversial figure while also not shying away from the darker shades of his personality. It's a complex portrayal that is likely to evoke different emotions among viewers. Judy Davis and Anthony LaPaglia, two of the most seasoned actors in Australia, lend their considerable talent to Nitram. Their performances are utterly captivating and add yet another layer of authenticity and emotional depth to the narrative. Davis, in particular, delivers a heart-rending performance, enfolding a sense of helplessness and confusion that resonates deeply with the viewers. The film unfolds against the backdrop of a serene, small-town Australia, which Kurzel presents to us in an almost eerily calm manner. The idyllic settings, a stark contrast to the turmoil brewing within the protagonist, are depicted in vivid, haunting visuals that leave an indelible impression. To say Nitram is disturbing would be an understatement. However, what makes it equally compelling is its absolute refusal to sensationalize or glamorize the atrocities that it portrays. Instead, the film seeks to explore the psyche of a deeply troubled individual, presenting a disconcerting picture of his life's trajectory leading up to the horrific event. It treads a delicate balance between empathizing with the character's sociological plight and blatantly condemning his heinous acts, leaving viewers to contemplate the various facets of the tragedy. The film's soundtrack subtly complements the narrative and is used effectively to enhance the viewers' experience, setting the mood for the unfolding drama and providing a palpable tension that grips you throughout the movie. Nitram effectively employs its runtime to expose the audience to the cascading series of events that implode into a cataclysmic climax, lending the film an emotional heft that remains with you long after the credits roll. It demands patience and a strong stomach, as it does not give easy answers or resolutions, choosing instead to let the horror settle in and provoke thought. In the end, Nitram is a disquieting exploration of the distorted human psyche, familial dynamics, and societal apathy towards individuals grappling with mental illness. It is a deeply moving and unsettling piece of cinema that pushes the boundaries of storytelling while forcing us as viewers to confront uncomfortable realities. In many ways, Nitram is reminiscent of classic film noir, both in its stylistic choices and in the way it allows its narrative to unfold. The grim tone, the gradually building tension, and the tragic figure at its center are all well-worn tropes of the genre, yet the film manages to feel both fresh and original thanks to the committed performances and expert direction. Nitram is a cinematic experience that's both difficult and vital, a film that, like its title character, can't be easily dismissed or ignored. It's a movie that demands to be seen, to be discussed, and to be pondered over. It is a dark chapter in Australian history depicted with unflinching honesty and empathetic understanding. This is a film that boldly plunges into the darkest corners of humanity and emerges with a story that is haunting, brutal, and profoundly moving.
Nitram is a Mystery, Thriller, Crime, Drama movie released in 2021. It has a runtime of 112 min.. Critics and viewers have rated it moderate reviews, with an IMDb score of 7.1. It also holds a MetaScore of 81.
How to Watch Nitram
Where can I stream Nitram movie online? Nitram is available to watch and stream, buy on demand, download at Hulu Plus, Amazon Prime, Apple TV Channels, The Roku Channel, Apple TV, Amazon, Google Play, Vudu. Some platforms allow you to rent Nitram for a limited time or purchase the movie for downloading.


Stars
Caleb Landry Jones, Judy Davis, Essie Davis, Anthony LaPaglia
Genres
Mystery, Thriller, Crime, Drama

Stream movies like Nitram
Also directed by Justin Kurzel
Also starring Caleb Landry Jones