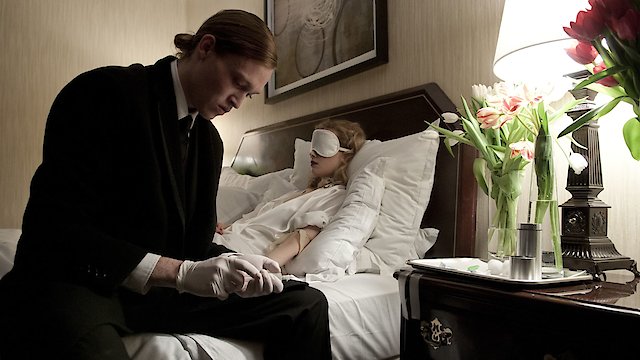 Where to Watch Antiviral

Antiviral is a thought-provoking and unique dystopian science fiction horror movie from Brandon Cronenberg, the son of famous film director David Cronenberg. The film takes a chilling and somewhat disturbing dive into the nature of celebrity obsession and the commodification of the human form in an eerie, not-too-distant future. Released in 2012, the film features performances from Caleb Landry Jones, Sarah Gadon, and Lisa Berry. Set in a society fixated on celebrities to an extreme extent, the story primarily revolves around Syd March, a character brought to life in a captivating performance by Caleb Landry Jones. Syd works for the Lucas Clinic, a dedicated facility where fans can purchase live viruses harvested from their favourite celebrities. In this reality, the obsessions of fans are so strong that they are willing to become physically ill, sharing the exact same sicknesses as their celebrity idols, as a means of experiencing a deep, pseudo-intimate connection with them. Syd doesn't merely work in the clinic; he uses his own body as a vessel to smuggle these viruses out, selling them on the black market. His motivations go beyond monetary; Syd seems to be drawn towards the raw human experience and the existential exploration of his own being. Adeptly played by Jones, Syd is a fascinating and somewhat troubled character with a host of complex emotions, which Jones skillfully brings to life. Meanwhile, actress Sarah Gadon plays the beautiful and internationally adored superstar Hannah Geist. She is at the center of the film's plot, where her illnesses are the most sought after by ravenous fans. Gadon delivers a poised performance that hints at her character's understanding and simultaneous disdain for her dehumanizing status as a physical commodity. Lisa Berry plays Arvid, a black-market dealer who plays somewhat of a catalytic role in the movie, driving the plot forward. Her nuanced performance provides a gritty counterpoint to the sanitised, clinical world of the Lucas Clinic. As a true Cronenberg film, Antiviral features a focus on corporeality and biological elements that can be both visceral and gut-wrenching. The visuals are stark and sterile, complementing the clinical and somewhat dystopian tone of the film. There's a constant unease that permeates the atmosphere, with the body horror elements cleverly interspersed within the plot to truly invoke feelings of discomfort and intrigue. Coming from a family with a well-established cinematic legacy, Brandon Cronenberg certainly meets the expectations that accompany his surname. The film showcases its writer-director's vision of a world where the celebrity-obsessed culture has spiraled out of control. His storytelling plays with themes of voyeurism, fame, and the objectification of celebrities, creating an intriguing and chilling social commentary. Antiviral's emphasis on presenting an unfiltered contemplation on modern society's obsession with surface-level fame is its greatest strength. The film's desire to delve into the darker aspects of humanity, our fascination with celebrity culture, and the macabre extents to which we go to feel connected to these powerful figures is both a commentary and a critique of these cultural phenomena. The film presents a dystopian future rather than a story penned for sheer entertainment. This might turn off viewers who gravitate towards more mainstream, feel-good narratives. However, for those who are drawn to unconventional and thought-provoking cinema with a touch of horror, Antiviral is a must-watch. It combines eerie aesthetics, intriguing concepts, and a standout lead performance, forming a compelling critique of society's obsession with celebrities. To sum it up, Antiviral is a stylishly disturbing science fiction horror that takes viewers on a visceral journey into a world consumed by celebrity obsession. While it might not cater to everyone's taste, the film stands as a testament to Brandon Cronenberg's distinct filmmaking style and bold narrative choices. It's a movie that prompts reflection, pushes boundaries, and dares to confront those ideas that we'd rather ignore, making it a noteworthy entry in the realm of sci-fi horror.
Antiviral is a Science Fiction, Horror movie released in 2013. It has a runtime of 110 min.. Critics and viewers have rated it moderate reviews, with an IMDb score of 5.7. It also holds a MetaScore of 55.
How to Watch Antiviral
Where can I stream Antiviral movie online? Antiviral is available to watch and stream, buy on demand, download at Amazon Prime, Apple TV Channels, Plex, Pluto TV, Tubi TV, The Roku Channel, Apple TV, Amazon, Google Play, YouTube VOD. Some platforms allow you to rent Antiviral for a limited time or purchase the movie for downloading.


Director
Brandon Cronenberg
Genres
Science Fiction, Horror

Stream movies like Antiviral
Also directed by Brandon Cronenberg
Also starring Caleb Landry Jones