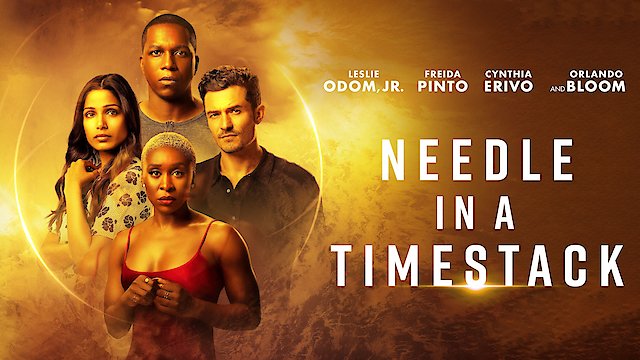 Where to Watch Needle in a Timestack

Needle in a Timestack is an engrossing and complex film from 2021. Directed by the Oscar winner John Ridley, known for his work on '12 Years a Slave', the movie presents a fleshed-out narrative that delicately merges themes of love and time. Starring Lesile Odom Jr., Freida Pinto, Cynthia Erivo, and Orlando Bloom, the film showcases the formidable talent of its cast, exploring their characters with depth and gusto. Leslie Odom Jr., who rose to global fame with his role as Aaron Burr in Hamilton, takes on the leading role in Needle in a Timestack. He adeptly steps into the shoes of Nick, a devoted husband who is entangled in the complex web of time, love, and pain. Odom Jr. puts forth a stunning performance that mirrors the intricate layers of the character's emotions. Freida Pinto, a globally recognized actress known for her performance in the critically acclaimed film "Slumdog Millionaire", plays Janine, Nick's wife. The skilled Pinto showcases a powerfully emotional performance as Janine, navigating the fine line between her past love and her present commitment to Nick with grace and determined realism. Bursting with talent, the cast of Needle in a Timestack is rounded out with Cynthia Erivo, an Oscar-nominated artist, and Orlando Bloom, known for the popular "Pirates of the Caribbean" and "Lord of the Rings" franchises. Their performances lend additional depth to the movie, adding more layers to its complex portrait of love, loyalty, and regret. Set against the backdrop of a world where time-travel is a reality, the characters find themselves in a struggle between the past, present, and future. The ingenious narrative introduces the concept of "time-stacking" - a unique blend of science-fiction fantasy and reality, where people can travel back in time and potentially alter the decisions that shape their lives. However, with every journey through time, there are ripple effects on the present, making every decision fraught with consequences. This is where the story of Nick and Janine truly unfolds. When their marriage is threatened by a blast from the past coupled with a manipulating time-traveller, they are forced to navigate the puzzling maze of love, commitment, and the merciless march of time. As the title suggests, the 'Needle' is seemingly an allegory for threading through the complex tapestry of one's life, with 'Time Stack' representing the convoluted layers of reality manipulated by the threads of time. The film cautions the viewer that tampering with time, driven by the desire to rectify past mistakes or relive cherished moments, can have serious unintended consequences. It becomes a metaphor for how, in reality, we can become unfairly anchored by our past, often stymying our ability to live in the present and dreading the uncertainties of the future. Ridley treats the audience to a riveting mystery, where past and future collide, effectively detailing how the power to control time might not be as desirable as imagined. For the romantics, the film offers an intricate, stormy love story. And for the fans of speculative fiction, it provides high-concept science fiction in its motif of time travel and the ethical sphere surrounding it. Needle in a Timestack has a subdued yet beautiful aesthetic. The cinematography by Kramer Morgenthau provides a stunning visual tapestry of different periods. The film utilizes subtle changes in color and light to contrast the different timelines, providing clever visual cues for the audience. Emotive, complex, and surging with swelling waves of love, regret, and mystery, Needle in a Timestack is a compelling drama that skillfully integrates elements of science fiction and romance. It's a film that truly gets under the skin, daring its audience to ponder over their own path and how they might have trodden down a different one. It impressively examines philosophical questions to do with time, love, and regret through the lens of speculative fiction, becoming an unconventional thought-provoker. In conclusion, Needle in a Timestack is an analyze-worthy, thought-provoking film that wonderfully explores the notions of time, love, and the complexity of human emotional dynamics. It presents a riveting journey of its characters battling their past, present, and future self, to protect what they cherish the most.
Needle in a Timestack is a Drama, Romance, Science Fiction movie released in 2021. It has a runtime of 111 mins. Critics and viewers have rated it moderate reviews, with an IMDb score of 5.3. It also holds a MetaScore of 42.
How to Watch Needle in a Timestack
Where can I stream Needle in a Timestack movie online? Needle in a Timestack is available to watch and stream, buy on demand, download at Amazon Prime, Apple TV, FlixFling VOD, Amazon, Google Play, Microsoft Movies & TV, Vudu. Some platforms allow you to rent Needle in a Timestack for a limited time or purchase the movie for downloading.


Stars
Leslie Odom Jr., Freida Pinto, Cynthia Erivo, Orlando Bloom, Jadyn Wong
Genres
Drama, Romance, Science Fiction

Stream movies like Needle in a Timestack
Watch movies on Apple TV+
Also directed by John Ridley
Also starring Freida Pinto