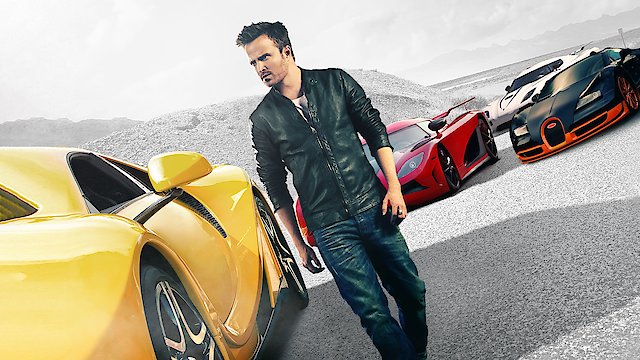 Where to Watch Need for Speed

The 2014 movie "Need for Speed" is a pulsating action thriller flick, based on a popular video game series of the same name by Electronic Arts. It catapults the audience into a high-adrenaline world of underground street racing. Directed by Scott Waugh, the movie leverages the power of breathtaking stunts and audacious car races, stirring up its narrative through a palette of electrifying moments and an intriguing storyline—a demonstration of man's undying thirst for speed and his yearning for justice. The plot of "Need for Speed" centralizes around Tobey Marshall, played passionately by Aaron Paul, who successfully steps out of his "Breaking Bad" shadow to demonstrate his versatility as an actor. Tobey is a blue-collar mechanic in the small town of Mt. Kisco, New York, who struggles to keep his family-owned garage afloat while also practicing his artistry of street racing. In his tightly-woven community, his sheer talent for car modding and speed racing earns him respect, while ultimately threading him through punishing conflicts and rivalry. The movie picks up its pace when Tobey is offered a car-building project by his former rival, Dino Brewster (Dominic Cooper), a wealthy, arrogant ex-NASCAR driver. The project revolves around finishing a legendary Ford Mustang, which their efforts eventually bring about a machine touted to hit "the holy trifecta" - unique in that it's powerful, fast, and it even looks good. This car dealing, although a financial lifesaver for Tobey and his crew, sets the stage for a devastating fallout that dramatically shapes the future course for our protagonist. Moving forward, Tobey finds himself grappling for justice and vying for redemption in an all-or-nothing, cross-country race against time. Along this dangerous and thrilling journey, he's accompanied by an assertive young British car dealer, Julia Maddon (Imogen Poots), whose initial professional relationship with Tobey develops into a camaraderie bound by mutual respect and adrenaline-fueled experiences. Throughout the movie, the viewer is invited to high-adrenaline action sequences boasting mind-boggling stunts, stunning locations, and a fleet of jaw-dropping dream machines that will cater to any car enthusiast's fantasies. The meticulously-crafted racing scenes throughout the movie successfully mimic the game's spectacular crashes and nitrous boosts, spinning it as a key attraction for the gaming audience. Aaron Paul, best known for his gutsy role in the insanely popular TV series "Breaking Bad", proves his mettle as an actor who can anchor a big-budget action movie with his vigorous and emotionally charged performance. Dominic Cooper portrays the cold and villainous Dino with an unflinching ruthless streak, showcasing his acting prowess. Furthermore, Imogen Poots brings character to the narrative with her feisty performance as Julia, creating a perfect blend of chemistry and tension with Paul. What distinguishes "Need for Speed" from most other car racing movies is that director Scott Waugh insists on creating real-life stunts instead of relying heavily on CGI. By using a variety of spectacular real cars and performing death-defying feats, the movie creates an immersive, intense experience that effectively casts the illusion of speed. Adding depth to the narrative is a dynamic score that oscillates between high-impact, adrenaline-pumping music to softer, emotional tunes underlining the emotional stakes of the characters. The occasional comic reliefs from Tobey's crew, including Maverick (Scott Mescudi), Benny (Scott Waugh), and Joe Peck (Ramon Rodriguez), lend an endearing touch to this rollercoaster ride of a movie. In a nutshell, "Need for Speed" delivers what one would expect from a cinematic adaptation of a popular racing video game - high-octane, well-orchestrated car racing sequences combined with a touch of human drama, making for an entertaining movie experience. By delivering passionate performances and flawlessly choreographed stunts, "Need for Speed" strikes a chord with automobile enthusiasts and action movie aficionados alike.
Need for Speed is a Action, Crime, Drama, Thriller movie released in 2014. It has a runtime of . Critics and viewers have rated it moderate reviews, with an IMDb score of 6.4. It also holds a MetaScore of 39.
How to Watch Need for Speed
Where can I stream Need for Speed movie online? Need for Speed is available to watch and stream, buy on demand, download at Hulu Plus, Paramount+, Amazon Prime, Apple TV Channels, Showtime, FuboTV, The Roku Channel, Showtime Anytime, Apple TV, Amazon, Google Play, Microsoft Movies & TV, YouTube VOD, Vudu. Some platforms allow you to rent Need for Speed for a limited time or purchase the movie for downloading.


Stars
Aaron Paul, Imogen Poots, Dominic Cooper, Kid Cudi, Rami Malek, Michael Keaton
Genres
Action, Crime, Drama, Thriller

Stream movies like Need For Speed
Watch movies on Apple TV+
Also directed by Scott Waugh
Also starring Dominic Cooper