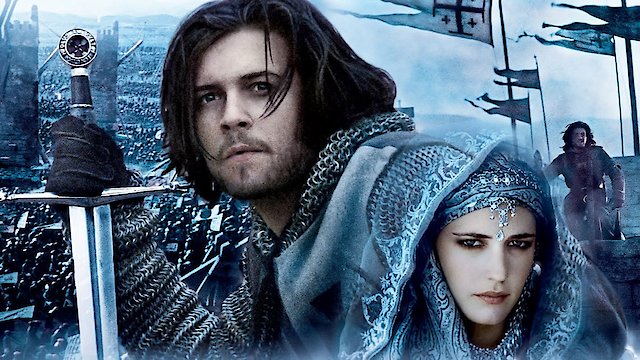 Where to Watch Kingdom of Heaven

Kingdom of Heaven, directed by Ridley Scott, is an epic historical drama that takes audiences on a thrilling journey back in time to the 12th century to witness the tumultuous events surrounding the Crusades. Released in 2005, the film features a star-studded cast, including Orlando Bloom, Eva Green, and Liam Neeson. It beautifully interweaves historical authenticity with captivating storytelling, allowing viewers to delve into the complex and similarly brutal period of history marked by beliefs, honor, and warfare. The movie is centered around Balian (Orlando Bloom), a mournful French blacksmith striving to live a peaceful life after losing his wife and child. His peaceful existence is disrupted when Godfrey of Ibelin (Liam Neeson), a noble Crusader and Balian's previously estranged father, turns up at his workshop door. Godfrey recognizes Balian's innate virtue and tasks him with an essential duty to uphold the Kingdom of Heaven. Balian sets out to the Holy Land, Jerusalem, a city steeped in religious significance yet marred by religious conflict between Christians, Muslims, and Jews. It's a place where followers of different religions lock horns over their beliefs, leading the city into a seemingly indefinite series of wars— this is the dramatic epicenter of Kingdom of Heaven. The historically vibrant city beset with turbulence is captivatingly depicted in the film, drawing audiences further into the story's gritty realism. Orlando Bloom's character Balian undergoes a significant transformation as the film progresses. From a humble blacksmith to a knight determined to uphold peace in Jerusalem, his character's journey is a highlight of the movie. Bloom delivers an emotionally charged performance, reinforcing the narrative's focus on the struggle between personal belief, responsibility, and devotion to a cause. Eva Green plays the role of Sibylla, the enigmatic sister of the leper King Baldwin IV. As a strong-willed princess caught in the male-dominated, politically unstable environment, Sibylla's internal turmoil and complex relationships add depth to Kingdom of Heaven's narrative. Green's exquisite performance coupled with her character's complex story arc sets up an intriguing subplot within the bigger narrative. Liam Neeson's Godfrey of Ibelin, although not in the film for a significant duration, leaves an indelible mark. A wise knight, Godfrey's character becomes the guiding beacon for Balian, influencing his progression from a blacksmith to a man of honor in Jerusalem. Ridley Scott beautifully balances the movie's epic scale with thought-provoking themes of faith, morality, courage, and redemption. Kingdom of Heaven attempts to blur the lines drawn sharply between religions, focusing more on humanity and advocacy for peace. The film asks profound questions about the nature of religious wars, religious tolerance, and the significance of Jerusalem to the Abrahamic religions. The cinematography of Kingdom of Heaven is breathtaking. The film includes grand, sweeping shots of a recreation of medieval Jerusalem and surrounding landscapes, coupled with meticulously choreographed battle scenes, making it visually stunning. Its stellar production design showcases exquisite attention to detail, immersing audiences into the 12th-century milieu. The film's memorable musical score, composed by Harry Gregson-Williams, complements the visual grandeur and emotional gravity of the scenes, and becomes an integral part of the viewing experience. The soundtrack is imbued with an epic and reflective tone, mirroring the story's themes. Although the film faced criticism for its historical liberties, it's praised for its powerful message and presentation. The complex characters, intertwined with human emotions, crown the film into the league of noteworthy historical dramas, while the epic battle scenes give it the thrill typical of a classic war film. It is more than just a retelling of historical events. Kingdom of Heaven unfolds personal journeys, internal conflicts, and explores deeper philosophical and moral questions, making it an engaging watch for not just History buffs, but movie lovers in general.
Kingdom of Heaven is a Drama, Action, Adventure, History, War movie released in 2005. It has a runtime of 144. Critics and viewers have rated it moderate reviews, with an IMDb score of 7.2. It also holds a MetaScore of 63.
How to Watch Kingdom of Heaven
Where can I stream Kingdom of Heaven movie online? Kingdom of Heaven is available to watch and stream, buy on demand, download at Hulu Plus, Amazon Prime, Apple TV Channels, Starz, The Roku Channel, Apple TV, Amazon, Google Play, Vudu. Some platforms allow you to rent Kingdom of Heaven for a limited time or purchase the movie for downloading.


Stars
Orlando Bloom, Eva Green, Jeremy Irons, David Thewlis, Brendan Gleeson, Marton Csokas, Liam Neeson, Edward Norton, Ghassan Massoud
Genres
Drama, Action, Adventure, History, War

Stream movies like Kingdom of Heaven
Also starring Orlando Bloom