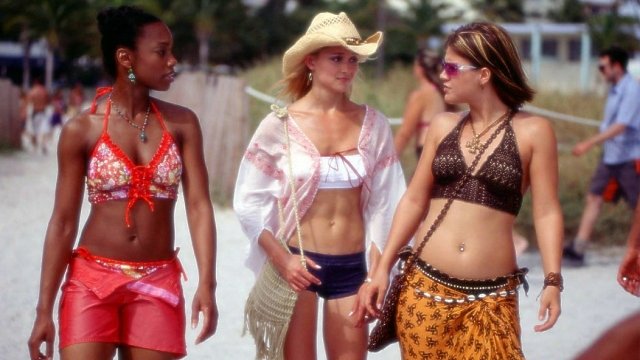 Where to Watch From Justin To Kelly

From Justin to Kelly, released in 2003, showcases the musical talent of the first American Idol winner, Kelly Clarkson, and runner-up, Justin Guarini. Conceived as a modern-day musical and romantic comedy, the film captured the post-show dynamism of American Idol's first season and the pop culture relevance of its two breakout stars. In the film, Kelly Clarkson plays Kelly Taylor, an easygoing Texas girl who's taking a break from her waiter job to enjoy spring break in Miami with her two best friends. On the other side, Justin Guarini plays Justin Bell, a Pennsylvania college student who is also in Miami for spring break, along with his buddies. Justin, unlike his friends, doesn't see the annual break as an opportunity to party and chase girls but rather as a chance to relax and enjoy the surroundings. The film employs a classic 'rom-com' trope as Kelly and Justin meet under the sun-kissed sky of Miami. They share immediate chemistry and despite their contrasting personalities and the interference of their friends, a romance starts to blossom. Their connection is evident both on and off the stage, translating into several heartwarming musical duets peppered throughout the movie. The story explores the tension and affection that burgeon between them, highlighted by the lively beach background, parties, and various performance scenes. Threaded with the theme of youthful exuberance, the film frames a series of enchanting locales nuzzled in Miami's spring break mecca. Be it the sandy beaches, sunsets, or high-energy parties; the film radiates an infectious ambiance of fun and adventure. One of the most appealing aspects of From Justin to Kelly is its music. As one might expect, given its American Idol roots, the film is laden with musical numbers, most of which are performed by Clarkson and Guarini. The soundtrack is a fusion of pop, R&B, and even a little country, displaying the wide range of their talents. The musical performances are core parts of the film, showcasing the singing prowess that initially catapulted both stars to fame. The film's choreography also deserves a mention, balancing both prescribed dance routines and impromptu grooves breathed to life by the cast. Supporting the lead pair, the ensemble cast, which includes Katherine Bailess along with Anika Noni Rose, Brian Dietzen, Greg Siff, Jason Yribar, and Theresa San-Nicholas, does an admirable job. They portray an array of personalities from the earnest to an eccentric crew that often triggers comic relief moments, heightening the movie's entertainment quotient. Despite its title, From Justin to Kelly is not just about its two stars. The film explores relationships among a larger group of friends and highlights the ups and downs of young relationships. As an example, there is a subplot featuring one of Kelly's friends who gets entangled in a messy text-message romance. The film's director, Robert Iscove, known for his work in She's All That and Cinderella, smartly plays in his comfort zone of adolescent drama and rom-com. The screenplay by Kim Fuller intermixes the musical performances with the lively narrative quite seamlessly and offers ample scope for the leads to demonstrate their vocal abilities. In essence, From Justin To Kelly underscores the spirit of young love and friendships. It is a movie with youthful energy and a whole lot of heart, primarily fueled by the talent and chemistry of its leads. The film offers an entertaining blend of music, dance, and romance in the backdrop of Miami's exciting spring break. Its infectious energy and catchy tunes might make you want to get up and dance. Apart from coming-of-age romance, the film also emphasizes meaningful friendships, laced with humor and drama. In a nutshell, From Justin To Kelly is an engaging musical rom-com that caters to a young audience searching for endearing stories, vivid characters, and foot-tapping music. It serves as a vibrant time-capsule representing the American Idol mania of the early 2000s while showcasing the charms and talents of its two lead stars. With its sun-soaked settings, appealing music, and appealing teenage drama, this film is a slice of youthful exuberance and a celebration of young love.
From Justin To Kelly is a Comedy, Musical, Romance movie released in 2003. It has a runtime of 81 min.. Critics and viewers have rated it poor reviews, with an IMDb score of 1.9. It also holds a MetaScore of 14.
How to Watch From Justin To Kelly
Where can I stream From Justin To Kelly movie online? From Justin To Kelly is available to watch and stream, buy on demand, download at Apple TV, Amazon, Google Play, YouTube VOD, Vudu. Some platforms allow you to rent From Justin To Kelly for a limited time or purchase the movie for downloading.


Stars
Kelly Clarkson, Justin Guarini, Katherine Bailess
Genres
Comedy, Musical, Romance

Stream movies like From Justin To Kelly
Also directed by Robert Iscove
Also starring Kelly Clarkson