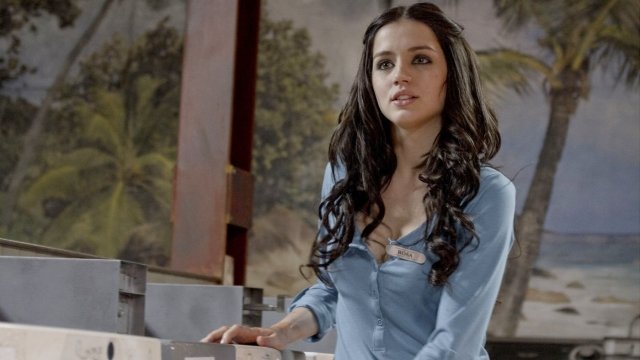 Where to Watch El Callejon

El Callejon, also known as "Blind Alley," is a gripping and intense psychological thriller from 2011. Directed by Spanish filmmaker, Antonio Trashorras, and featuring a compelling cast that includes Ana de Armas, Diego Cadavid, and Leonor Varela, the movie takes viewers on a roller coaster ride filled with suspense, drama, and chilling revelations. In El Callejon, Ana de Armas delivers a captivating performance as Rosa, a young woman caught in a dire situation. An aspiring actress, Rosa works at a night laundry in Madrid to pay her bills. She dreams of Hollywood stardom, hoping to escape her mundane existence someday. Rosa's life takes an unexpected and terrifying turn one day when, on the way home from work, she finds herself locked inside a deserted commercial laundry with a man named Gabriel. Played with chilling intensity by Diego Cadavid, Gabriel is malicious and obsessively infatuated with Rosa. The movie opens on a seemingly ordinary note that quickly spirals into a terrifying scenario, as Rosa realizes that she's not only trapped but also being observed. Unsettling noises echo off the laundry's walls, and Gabriel's eerie presence sends waves of panic coursing through her. Things take an even darker turn when Rosa discovers that Gabriel is no ordinary stalker, but something far more sinister and extraordinary. Adding to the intrigue is the enigmatic character of Sra. Heredia, masterfully portrayed by Leonor Varela. Sra. Heredia is Rosa's neighbour and occasional confidante, who adds an additional depth of mystery to the storyline. Each character's complexities are unravelled gradually, ensuring the viewers remain on edge from start to finish. The film's atmospheric cinematography elevated the overall experience and adds to the viewers' anxiety about Rosa's fate. The labyrinthine laundry setting, filled with dark corners and spinning washing machines, becomes a character in itself as Rosa desperately looks for a way out. The film effectively makes use of shadows, utilizing them to set the menacing tone, maintain suspense, and hint at the dangers lurking around Rosa. El Callejon is not just a horror-thriller, but also a study of its central character, Rosa. The film examines her fears, her dreams, and her struggle for survival under extraordinary circumstances. Ana de Armas' incredible performance effectively personifies a victim's dread and desperation, while also showcasing Rosa's will to live and her courage in the face of terror. Director Antonio Trashorras expertly controls the narrative's tension and builds a sense of terror in the viewer. He showcases his ability to orchestrate a classic cat-and-mouse plot, tapping into basic human fears and survival instincts. His handy work takes the viewers into a darker part of the human psyche and leaves them questioning what they would do if placed in a similar situation like Rosa. Diego Cadavid's portrayal of Gabriel is effectively creepy, adding a significant amount of dread and tension to the film. His delivery provides an interesting foil to Rosa's vulnerability, creating a perverse dynamic that enhances the horror factor of the film. The original Spanish title, "El Callejon," translates to "Blind Alley," and the English title maintains the metaphorical underpinning of the narrative. That is, the characters are trapped in a corner with little to no prospects of safe escapes – a metaphor that could be extended to their lives beyond the laundry, especially for Rosa. In conclusion, El Callejon is a suspenseful horror-thriller that weaves together effective performances, a taut script, and atmospheric direction. It exploits the primal fear of being trapped and observed, keeping viewers on the edge of their seat as they follow Rosa's desperate attempts to escape her horrific circumstances. Fans of psychological thrillers and horror films will find El Callejon captures their imagination with its carefully constructed suspense, unsettling atmosphere, and brilliantly terrifying characters.
El Callejon is a Action, Horror, Thriller movie released in 2011. It has a runtime of 76 min.. Critics and viewers have rated it mostly poor reviews, with an IMDb score of 4.4..
How to Watch El Callejon
Where can I stream El Callejon movie online? El Callejon is available to watch and stream, buy on demand, download at Vudu. Some platforms allow you to rent El Callejon for a limited time or purchase the movie for downloading.

Director
Antonio Trashorras
Stars
Ana de Armas, Diego Cadavid, Leonor Varela
Genres
Action, Horror, Thriller

Stream movies like El Callejon (Blind Alley)
Also directed by Antonio Trashorras
Also starring Ana de Armas
Also starring Diego Cadavid
Watch movies on Apple TV+