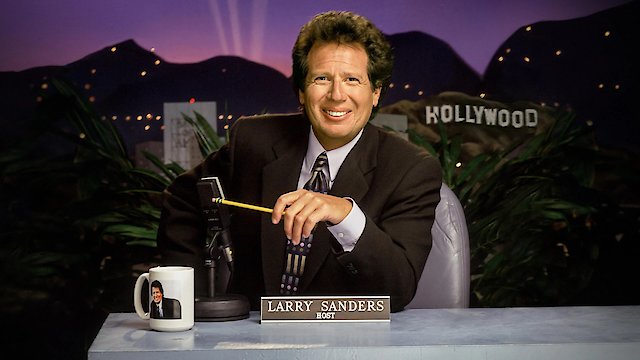 Where to Watch The Larry Sanders Show
While meeting with Arthur and publicist Norman Litkey on the eve of his final show, Larry learns that some high profile guests have either canceled or refused to appear. Meanwhile, as Hank prepares his farewell to Larry, the staff tries to keep their volatile emotions in check.
Watch The Larry Sanders Show Season 7 Episode 23 Now
Unable to stand Phil's relentless gay jokes any longer, Brian threatens to sue the show for sexual harassment. Not wanting anything to mar Larry's final week, Arthur presses Phil to stop.
Watch The Larry Sanders Show Season 7 Episode 22 Now
With Larry going on vacation, his regular guest host Jon Stewart is set to do the show. As part of their plan to groom him to take Larry's job, Melanie and Kenny do their best to make Jon feel welcome.
Watch The Larry Sanders Show Season 7 Episode 21 Now
18
The Begining Of The End
Even though the changes Larry's been forced to make have improved his sagging ratings, the network still assigns Kenny Mitchell as their creative liaison to the show. And upon arriving for his first day in the new job, Kenny makes it clear he has a lot of other changes in store, not least of which are taking away Larry's desk and getting more popular guests.
Watch The Larry Sanders Show Season 7 Episode 18 Now
When Larry is poisoned by some bad frozen yogurt, Arthur presses Paula to find a guest host for the show. But when the list of regulars fails to produce a candidate, Arthur is forced to call on Hank to step in for Larry.
Watch The Larry Sanders Show Season 7 Episode 7 Now
While preparing for a show with guest Carol Burnett, Larry is told that spider expert Steve Kutcher will also be appearing with some of his spiders. Asked to participate in a Tarantula Arm Race, Larry's fear of spiders causes him to worry but, when Arthur insists it will get huge laughs from his audience, he tentatively agrees to join in.
Watch The Larry Sanders Show Season 7 Episode 2 Now
1
What Have You Done For Me Lately?
During a meeting with network executives, Larry is asked to do live commercials to appease his show's sponsors. Reluctant to tamper with the format of his program, Larry worries that they will not work with the style of the show, while Arthur suggests that Hank should be the one to do the spots.
Watch The Larry Sanders Show Season 7 Episode 1 Now

The Larry Sanders Show is a widely acclaimed HBO series that aired from 1992 to 1998, lauded as being a game changer in the world of sitcoms. The show is a cleverly devised concoction of satire, wit, and dark humor that provides an insightful, behind-the-scenes look at the operations of a late-night talk show. The series pivots around the character Larry Sanders, masterfully brought to life by Garry Shandling. Larry is a veteran talk show host on a fictional network with his own late-night series, 'The Larry Sanders Show'. The series never quite separates Larry's on-camera, celebrity-host persona from his off-camera, vulnerable human side, blending the two in a way that accentuates the blend of fiction and reality at the heart of the production. Shandling's portrayal of Larry Sanders presents a character that is both endearing and frustrating. He oscillates between being a charming host who mesmerizes audiences with his quick-wit and charisma, and an anxious, often self-absorbed individual grappling with the pressures of fame, the demands of the show, and complicated personal relationships off-stage. Jeffery Tambor portrays Hank Kingsley, Larry's obsequious yet ambitious sidekick, enriching the show's layers of humor and complexity. Tambor's performance makes Hank's eccentric personality and perpetual desire for validation a consistent source of humor. Meanwhile, Rip Torn plays Arthur, the show's producer and handler of its star host. His gritty, no-nonsense approach provides balance amidst the chaotic world of show business, consistently trying to keep Larry focused on the show and manage his bouts of insecurities and apprehensions. The series is famed for its strong ensemble cast, including Penny Johnson Jerald, Janeane Garofalo, Jeremy Piven, Wallace Langham, Linda Doucett, Mary Lynn Rajskub, Kathryn Harrold, Scott Thompson, and Megan Gallagher, each contributing to the seamless narrative with their distinct characters. They play the roles of talk show staff members, sketch performers and guest bookers—crucial cogs in the machinery running 'The Larry Sanders Show'. Their characters deal with the daily grind of working in a high-pressure environment while navigating the complex dynamics it entails. A significant element that adds to The Larry Sanders Show's appeal is its genuine portrayal of celebrity culture, heightened by appearances from real-life celebrities who engage in tongue-in-cheek self-parodies. This feature sets the series apart and adds a unique flavor to the storyline – maintaining an element of surprise and unpredictability for the audience. In essence, The Larry Sanders Show offers a smart, often biting satire on late-night television and the entertainment industry more generally. It's poignantly funny, eye-opening, and at times, agitating because of its ability to pull the curtain back on celebrity culture, revealing its complexities and insecurities. It never shies away from exposing the frantic pace and the sometimes absurd demands of the world of show business, while keeping an underlying thread of humor intact. Further, it is a great credit to the show that it neither completely demonised its characters for their flaws, nor absolved them—instead, it presented them in their raw, human complexity. The viewers were invited to both laugh at and sympathise with the characters due to their precisely drawn personas. The Larry Sanders Show is an innovative experimentation with sitcom conventions. Its introduction of fresh storytelling techniques inspired future television series and left an indelible mark on the television landscape. The skillful blend of reality and make-believe in its portrayal of a late-night talk show carved a niche for the series as a pioneer in its genre. In conclusion, The Larry Sanders Show expertly captures the peculiarly fascinating world of the television industry laden with idiosyncrasies and eccentricities. It's an undeniably engaging exploration of the role that fame, pressure, and success play in shaping personalities and relationships. Over six seasons and countless memorable moments, the characters of Larry, Hank, and Arthur, as well as the rest of the show's quirky cast, have been etched into the minds of audiences. The series offers both laughter and layered insights, making it a classic worth revisiting.
The Larry Sanders Show is a series categorized as a canceled. Spanning 7 seasons with a total of 96 episodes, the show debuted on 1992. The series has earned a mostly positive reviews from both critics and viewers. The IMDb score stands at 8.5.
How to Watch The Larry Sanders Show
How can I watch The Larry Sanders Show online? The Larry Sanders Show is available on HBO with seasons and full episodes. You can also watch The Larry Sanders Show on demand at Amazon, Apple TV online.
Cast
Garry Shandling, Jeffrey Tambor, Wallace Langham, Rip Torn, Penny Johnson, Janeane Garofalo, Linda Doucett, Jon Stewart, Megan Gallagher, Mary Lynn Rajskub, Scott Thompson, Jeremy Piven, Kathryn Harrold

Stream shows like The Larry Sanders Show