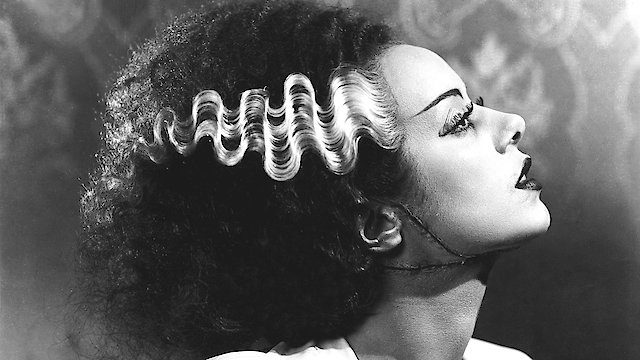 The Bride of Frankenstein

Where to Watch The Bride of Frankenstein

The Bride of Frankenstein is a 1935 classic Universal horror film directed by the visionary storyteller, James Whale. The iconic movie stars Boris Karloff, Elsa Lanchester, and Colin Clive in principal roles. An international success, it is revered as one of the finest examples of early Hollywood horror cinema and a precursor to the science fiction genre. At the heart of the story resides Boris Karloff reprising his role as the infamous monster from Mary Shelley's novel "Frankenstein." Karloff gives a haunting and yet nuanced performance that goes beyond the traditional portrayal of horror beings. His monstrous creation's vulnerability and yearning for companionship is profoundly communicated through his subtle expressions and body language. Elsa Lanchester plays the dual role of Mary Shelley, introducing the story in a sophisticated recreation of a 19th-century salon, and the titular Bride, whose aspects are inspired by a Nefertiti sculpture and were an indelible addition to the horror iconography. Lanchester's ethereal and eerie portrayal is brief yet impactful, and her character's frightening beauty and staged innocence that is quickly shattered makes for a chilling climax. Colin Clive reprises his role as Dr. Henry Frankenstein, the man who dared to play God. Without giving in to overacting, Clive effectively portrays the traumatic aftermath of his past actions and the dread of the road his relentless ambitions are leading him down. His chemistry with Karloff is notable, and their complex creator-creation dynamic forms the crux of the story. The narrative picks up from where the first film ended, with Henry Frankenstein fraught with remorse over the havoc caused by his creation. He longs for a simple life away from his unbridled scientific ambitions, intending to settle down with his loyal fiancée, Elizabeth (played by Valerie Hobson). However, his peaceful existence is disrupted when a fellow scientist, a delightfully unhinged Dr. Pretorius (played by Ernest Thesiger), pulls him back into the murky world of life creation. The developing plot is a gripping saga of ambition, horror, and fervid drama. Director James Whale exhibits a distinctive, gothic style, revisiting the themes of life, companionship, and god-like ambition from a more human perspective. Whale paired humor with horror, intertwining hysterical interactions within a backdrop of terror. His approach adds depth to the genre, turning it into much more than just another fright-fest. Adding immense value to the film is the atmospheric cinematography by John J. Mescall, presenting impressive visuals and an overall aura of eerie dread. The production design is grand and surreal, creating sets that echo Frankenstein's unnatural ambition, from his daunting castle to Dr. Pretorius's peculiar experiments. Of particular note is the creation of The Bride. Her towering beehive hairdo, wrapped in white bandages, and her unique lightning bolt earrings turned her into an instant horror fashion icon. The film's Oscar-nominated special effects and makeup still resonate with audiences today and hold up well against modern techniques. Despite its age, The Bride of Frankenstein remains compelling thanks to its poignant storyline and impressive performances. The film provides social commentary under its gothic narrative, exploring themes of acceptance, love, loneliness, and the consequences of unchecked ambition. It invites viewers to think and ponder, to step into the shoes of the misunderstood monster and his tragic desire to belong. The film's enchanting musical score by Franz Waxman elevates the tension in the film and complements the narrative. The movie's soundscape further engages the audiences, emphasizing the suspense and the emotional depth of the situations. Hailed as one of the pinnacles of the classic era of Hollywood horror, The Bride of Frankenstein is highly recommended for fans of the genre. Its balance of horror and humor, its compelling narrative, and the exceptional performances by its cast make this movie a timeless classic in American cinema. A masterful blend of horror, science fiction, and drama with a dash of comedic relief, this movie leaves an indelible mark on viewers and continues to inspire future generations of cinematographers with its ingeniousness.
The Bride of Frankenstein is a Drama, Horror, Science Fiction movie released in 1935. It has a runtime of 75 min.. Critics and viewers have rated it moderate reviews, with an IMDb score of 7.8. It also holds a MetaScore of 95.
How to Watch The Bride of Frankenstein
Where can I stream The Bride of Frankenstein movie online? The Bride of Frankenstein is available to watch and stream, buy on demand, download at Peacock Premium, Apple TV, Amazon, Google Play, YouTube VOD, Vudu. Some platforms allow you to rent The Bride of Frankenstein for a limited time or purchase the movie for downloading.


Stars
Boris Karloff, Colin Clive, Valerie Hobson, Ernest Thesiger, Elsa Lanchester, Una O
Genres
Drama, Horror, Science Fiction

Stream movies like The Bride of Frankenstein
Also directed by James Whale
Also starring Boris Karloff
Watch movies on Apple TV+