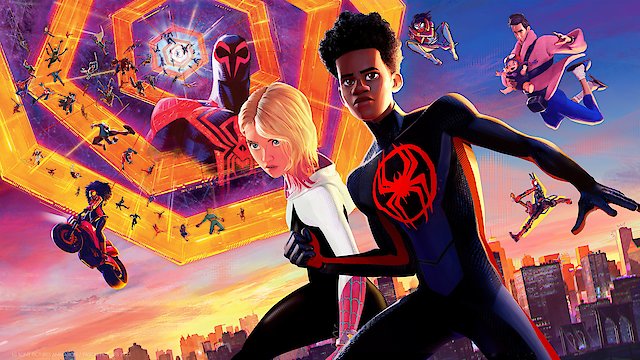 Spider-Man: Across the Spider-Verse

Where to Watch Spider-Man: Across the Spider-Verse

Spider-Man: Across the Spider-Verse is the highly anticipated sequel to Sony Pictures Animation's Oscar-winning Spider-Man: Into the Spider-Verse. The cutting-edge animated feature once again follows teenage web-slinger Miles Morales on an epic dimension-hopping adventure. Set one year after the events of the first film, Miles finds his Spider-Man responsibilities put on hold when he's accepted into his dream school. But when a powerful new villain opens portals to other Spider-Worlds, Miles must reunite with old friends and new allies to stop this threat to all realities. Miles is voiced by Shameik Moore, who brings heart and humorous frantic energy to the Brooklyn teen torn between school and saving the multiverse. Hailee Steinfeld returns as the fierce, witty Spider-Woman Gwen Stacy, Miles' interdimensional partner and budding love interest. They're joined by Oscar Isaac as Miguel O'Hara, the Spider-Man of 2099, a cocky, future-born hero with a slick suit and sonic abilities. Rounding out the gang is Jessica Drew (Issa Rae), an investigator packing venom blasts as her Spider power. When the villainous Vid (Jason Schwartzman) starts opening gateways to strange, dangerous worlds, these Spiders get flung across wildly different realities. From a black-and-white noir realm, to one with Japanese manga-inspired mechanics, the art and animation style evolves stunningly across dimensions. The sequel expands the Spider-Verse exponentially while focusing on Miles' journey toward embracing his role as a champion, leader and hero. Along with death-defying action, trippy visuals and irreverent humor, Across the Spider-Verse promises emotional coming-of-age storytelling. Directors Joaquim Dos Santos, Kemp Powers and Justin K. Thompson ensure a heart-pumping adventure with breathtaking art, breakneck pacing, and immersive worldbuilding. The film vows to break animation boundaries while capturing the heroic essence of Spider-Man. When Peter Parker remarks that "Anyone can wear the mask," Miles took that to heart. Now Across the Spider-Verse proves that by braving new worlds and unlimited creative possibilities, anyone's imagination can soar.
Spider-Man: Across the Spider-Verse is a Animation, Action, Adventure movie released in 2023. It has a runtime of 140 min.. Critics and viewers have rated it mostly positive reviews, with an IMDb score of 8.7. It also holds a MetaScore of 86.
How to Watch Spider-Man: Across the Spider-Verse
Where can I stream Spider-Man: Across the Spider-Verse movie online? Spider-Man: Across the Spider-Verse is available to watch and stream, buy on demand, download at Apple TV, Google Play, Vudu. Some platforms allow you to rent Spider-Man: Across the Spider-Verse for a limited time or purchase the movie for downloading.


Director
Joaquim Dos Santos
Stars
Shameik Moore, Hailee Steinfeld, Oscar Isaac
Genres
Animation, Action, Adventure

Stream movies like Spider-Man: Into The Spider-Verse 2
Also directed by Joaquim Dos Santos
Also starring Shameik Moore
Also starring Hailee Steinfeld
Watch movies on Apple TV+