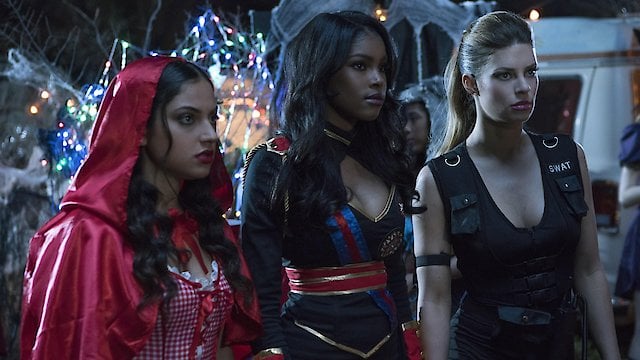 Where to Watch Boo 2! A Madea Halloween

Boo 2! A Madea Halloween is a 2017 American horror comedy film written, directed and produced by Tyler Perry. This fun-filled comedy, a sequel to Tyler Perry's Boo! A Madea Halloween which was released in 2016, is a part of Perry's franchise centered around the beloved character Madea, played by Perry himself. Boo 2! A Madea Halloween reunites the dynamic ensemble cast, including stalwarts like Cassi Davis, Patrice Lovely, and others, contributing to the charm of the series. This film provides equal doses of laughter, life lessons, and a pinch of horror entwined with a captivating plot and memorable characters. The film centers around Madea, an eccentric, strong-willed grandmother who stands as the backbone of the film. It opens as Madea's grandniece, Tiffany, is about to hit her rebellious teenage years. As the story unravels, Perry takes viewers on a wild ride full of laughter and numerous comedic moments. The storyline takes a quick turn when Tiffany's father, Brian, played by Perry, learns about his daughter's plan of celebrating her 18th birthday in a remote, reportedly haunted campground. Brian, who is already struggling with his daughter's unruly behavior and her tracking down her mother's new boyfriend who she considers 'cool,' finds himself in a precarious situation trying to control and protect her from the potential dangers of the upcoming party. Both Madea and Brian's fears about the supposed horrors that haunt the campground are revealed, creating an engaging plotline full of suspense, humor, and unexpected twists. Tyler Perry, the multifaceted actor, writer, and director, brings his unique mix of humor and heartwarming anecdotes to the screen as not just Madea but also two other characters - Brian and Uncle Joe. Perry's performance in all these roles underlines the essence of the Madea series, as he masterfully swings between comedy and emotion. Cassi Davis and Patrice Lovely, reprising their roles as Aunt Bam and Hattie respectively, contribute heavily to the comedy part of the movie. The trio - Madea, Aunt Bam, and Hattie, shares an excellent comedic chemistry and their playful banter, snappy dialogues, and hilarious one-liners highlight Perry's well-established knack for comedy. The film's horror elements are set in motion by the eerie setting of the campground and the creepy images and stories associated with it. While it is a comedy at heart, the movie effortlessly layers in suspense and provides a few jump scares that will surprise the audience. Yet, the signature humor and the personality of the characters ensure that the horror never overpowers the film's comedic essence. All the while, the theme of family values, self-respect, teen rebellion, and parental responsibility are subtly and skillfully woven into the plot. Cinematic presentation also plays a key role in enlivening the overall atmosphere of the movie. From the party scenes filled with chaotic revelry to the spooky segments set in the woods, each scene is crafted to create an impactful visual experience. The striking use of sound and music further enhances the ambiance, and the quintessential Madea humor punctuates the script throughout the film, keeping audiences engrossed from beginning to end. Boo 2! A Madea Halloween scores high on entertainment value with its blend of situational comedy, humorous dialogues, a hint of horror, and the charisma of the cast. Despite the humor and horror, it retains the compelling narrative seen in other Madea movies. Through his impeccable comic timing and his handling of important social themes, Tyler Perry once again proves why he is one of the most admired figures in the comedy genre. In conclusion, Boo 2! A Madea Halloween is not just a film but a laughter-filled experience that showcases Perry's brilliance as a storyteller. It offers an interesting mix of comedy, light-hearted horror, pertinent social issues, and important life lessons, all engrossed in an engaging storyline that will keep audiences hooked till the end. If you love a good laugh coupled with a mild fright and infused with messages that touch the heart, this Tyler Perry comedy is a perfect pick.
Boo 2! A Madea Halloween is a Horror, Comedy movie released in 2017. It has a runtime of 101 min.. Critics and viewers have rated it mostly poor reviews, with an IMDb score of 3.9. It also holds a MetaScore of 17.
How to Watch Boo 2! A Madea Halloween
Where can I stream Boo 2! A Madea Halloween movie online? Boo 2! A Madea Halloween is available to watch and stream, buy on demand, download at Amazon Prime, Peacock Premium, TNT, Apple TV, Amazon, Google Play, Microsoft Movies & TV, YouTube VOD, Vudu. Some platforms allow you to rent Boo 2! A Madea Halloween for a limited time or purchase the movie for downloading.


Stars
Tyler Perry, Cassi Davis, Patrice Lovely, Yousef Erakat, Diamond White, Lexy Panterra, Andre Hall, Brock O'Hurn, Tito Ortiz

Stream movies like Boo 2! A Madea Halloween
Watch movies on Apple TV+
Also directed by Tyler Perry
Also starring Tyler Perry
Also starring Cassi Davis