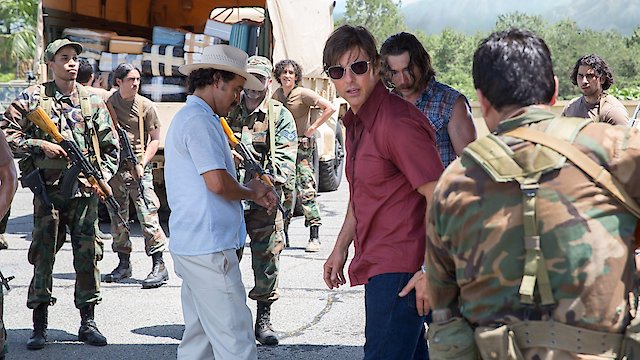 Where to Watch American Made

American Made is a 2017 biographical crime film directed by Doug Liman, starring Tom Cruise in the lead role, supported by Domhnall Gleeson and Sarah Wright. The narrative is inspired by the provocative true story of Barry Seal, an ordinary man who exploits extraordinary opportunities in a time of political instability and geopolitical tension. Tom Cruise's magnetic charm brings life to a character embedded in a world of intricate webs of deceit, power, influence, and marksmanship. As the movie unfolds, Barry Seal (Tom Cruise), initially an ordinary TWA pilot, gets wrapped in the clandestine operations spearheaded by the Central Intelligence Agency (CIA), portrayed by Domhnall Gleeson, and covertly becomes a drug courier for the infamous Medellin Cartel in South America. Barry's character takes the audience through a thrilling journey of audacity, charisma, and opportunism, revealing how easily a man can be swept into the abyss of unlawful activity. Cruise turns in an adrenaline-charged performance as the high-flying smuggler, manipulator, and patriarch striving for the American dream in the most unorthodox way imaginable. As the narrative unwinds, Barry's life becomes a tapestry of deceptions interwoven with illicit drug smuggling, gun running, and money laundering operations, all simultaneously performed under the watchful eye of diverse organizations and governments. Amidst all the mad hustle, his motto becomes as simple as "the gringo who always delivers". This tagline much splendidly explains how earnestly this ordinary pilot arrives into the extravagant world of drug cartels and international espionage. The movie could be read as a stinging critique of American foreign policy in Latin America during the 1980s, seen through Barry's adventures. Doug Liman verily captures the times of the Iran-Contra scandal, showcasing the shady underworld and the political upheaval, offering audiences a taste of history with the right mix of humor, drama, tragedy, and suspense. Sarah Wright shines as Lucy Seal, Barry's dynamic and supportive wife, revealing her struggles to balance family life within the realms of the parallel world her husband ventures into. Her character adds a layer of warmth and sympathy amid the chaotic world of criminality and deception. Domhnall Gleeson, as CIA handler Monty Schafer, impeccably portrays the manipulative force behind Barry's adventure into covert operations. His character unveils the murky side of intelligence services, complicit in international crimes beneath layers of plausible deniability. American Made, while offering an entertaining and high-stakes ride through the world of drug trafficking and intelligence operations, provides a reckoning environment of political and ethical conscience emerging out of 1980s America. The film is filled with fast-paced sequences, primarily shaped by Barry's aerobatic stunt flying scenes, delivering exhilarating thrill and showcasing the central character's audacious spirit. Doug Liman's directions and Cruise's stellar performance beautifully craft the narrative of a man who dared, delivered, enjoyed, lost, and stuck to his ride for his version of the 'American Dream'. The movie is not just a biographical crime piece, but also a social commentary on ambition, desire, manipulation, and the daring lengths to which people go to live their dreams. Lavishly captured by cinematographer César Charlone, the film blends the essence of the vibrant 80s with the intensity of the narrative, juxtaposing stunning aerial panoramas with intimate moments of familial bonds, suspense, and grim realities. The film's screenplay by Gary Spinelli makes it a compelling watch as it seamlessly combines elements of action, drama, comedy, and historical context. The film's narrative allows Cruise to flex his acting muscles, highlighting both comedy and drama while maintaining the charisma his fans expect. The film does not shy away from showcasing the protagonist's moral compass, which doesn't meet the honorable standards but narrates a story that makes Barry a fascinating anti-hero to follow. American Made brilliantly wraps under its envelope the human frailty faced by an outlaw forced to toggle among various power centers. In essence, American Made is an exhilarating and high-energy film, layered with moments of thrilling action, humor, suspense and a unique perspective on a turbulent period in U.S. history. It's a riveting exploration of one man's journey as he gambles with survival, set against the backdrop of power politics, and a blueprint that defines the very fabric of the American dream.
American Made is a Action, Comedy, Crime, Drama, Thriller movie released in 2017. It has a runtime of 115 min.. Critics and viewers have rated it moderate reviews, with an IMDb score of 7.1. It also holds a MetaScore of 65.
How to Watch American Made
Where can I stream American Made movie online? American Made is available to watch and stream, buy on demand, download at Amazon Prime, Apple TV, Amazon, Google Play, Microsoft Movies & TV, YouTube VOD, Vudu. Some platforms allow you to rent American Made for a limited time or purchase the movie for downloading.


Genres
Action, Comedy, Crime, Drama, Thriller

Stream movies like American Made
Also directed by Doug Liman
Also starring Domhnall Gleeson
Watch movies on Apple TV+