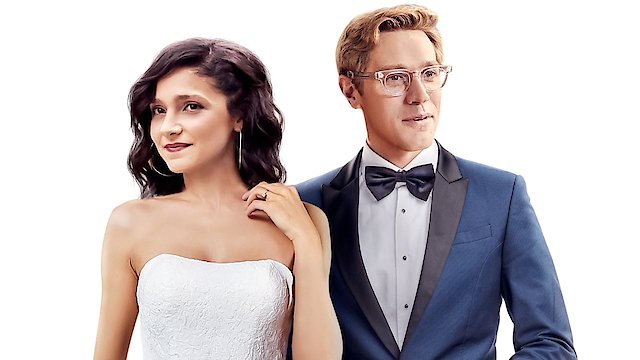 Where to Watch A Simple Wedding

A Simple Wedding is a compelling slice-of-life, romantic comedy-drama film, released in 2018. Directed by rising filmmaker Sara Zandieh and co-written by Zandieh along with Stephanie Wu, the movie seamlessly entwines a collection of relatable themes: culture, family traditions, love, and mixed-heritage identity among others. Set in contemporary U.S.A, the storyline revolves around Iranian-born Nousha Hussan, an effervescent young woman undertaking a career in law, played by Tara Grammy. Unlike many of her peers, she remains uninterested in settling down, frequently sabotaging her relationships, due to her vehement independence and fear of marriage. However, her well-planned single life gets upended when she falls in love with the vivacious Alex Talbot, portrayed by Christopher O'Shea. He's a non-conformist artist, not of Iranian heritage, clashing with Nousha's parents' expectations. The veteran Iranian-American actress Shohreh Aghdashloo, known for her Oscar-nominated performance in "House of Sand and Fog," portrays Nousha's mother Ziba, a sophisticated yet overpowering matriarch. Her quest is to see her daughter nestled in a stable marriage, notwithstanding the daughter's resistance. She and her husband, played by Houshang Touzie, embody the traditional Iranian-values within an American context, painting an authentic depiction of an immigrant family's life. Alex's unconventional character starkly contrasts Nousha's conservative Iranian background and the narrative unveils layers of tension, infused with comedic relief, crafted around this. The plot thickens when Nousha's parents, lacking any knowledge about Nousha and Alex's relationship, unexpectedly confront Alex at a Black Lives Matter rally, making a "simple wedding" seem like an insurmountable task. But Alex, in spite of his free-spirit status, becomes determined to ask Nousha's parents for her hand, all while struggling to get used to her family's customs. This sets the stage for an engaging clash of cultures, sidesplitting comedic sequences and heartfelt moments. Nina Nayebi's performance as Nousha's flirtatious younger cousin further amplifies the comedy component, her character incessantly landing the family in hilarious yet awkward situations. Zandieh, as a second-generation Iranian-American, brilliantly showcases the blend of eastern and western cultures along with its conflicts and idiosyncrasies through her directional capabilities and nuanced cultural insights. The film's exploration of a non-traditional courtship from the perspective of a modern Iranian-American woman forms its unique and relatable selling point. Viewers may recognize themselves in Nousha's struggle to balance her personal choices and her family's expectations. With hilarious banter, playful relationship dynamics, and equally heartwarming moments, A Simple Wedding provides sensitive and earnest insight into the realities of multicultural relationships. The narrative is powered with impactful performances and captivating dialogues, presenting an engaging exploration of culture, identity and the universal theme of love. The film admirably portrays the characters caught in the crossfire of cultural expectations and individuality quite deftly. It provides the audiences with an intimate insight into the world of Persian-American families and breaks down stereotypes delicately. Some aspects of Iranian culture, such as the elaborate tradition of "Taarof," which is a form of polite discourse often leading to humorous results, add more authenticity to the narrative, educating non-familiar audiences about the Iranian diaspora. The soundtrack composed by Alexis & Sam adds a complementary essence to the scenes, enhancing the overall mood. The film also boasts brilliant cinematography, capturing the essence of familial love, interpersonal dynamics, and cultural nuances quite vividly. Despite the comedic outlook, A Simple Wedding is essentially a thoughtful exploration of the discrepancy between one's cultural heritage and one's individual identity. It's a tale of love and sacrifice, tension and release, all while showcasing the immigrant experience and the pressures of multicultural relationships in America with an extraordinary sense of humor and warmth. In conclusion, A Simple Wedding offers a fresh window into multicultural relationships, juxtaposing Eastern and Western culture, breaking through traditional paradigms and expectations while retaining the core values of family, love, and acceptance. It's a feel-good movie for anyone looking to explore a tale of love transcending cultural divides while evoking a broad spectrum of emotions from belly laughs to tender moments.
A Simple Wedding is a Romance, Comedy movie released in 2020. It has a runtime of 88 min.. Critics and viewers have rated it moderate reviews, with an IMDb score of 5.4..
How to Watch A Simple Wedding
Where can I stream A Simple Wedding movie online? A Simple Wedding is available to watch and stream, buy on demand, download at Amazon Prime, The Roku Channel Free, Tubi TV, Apple TV, Amazon, Google Play, Vudu. Some platforms allow you to rent A Simple Wedding for a limited time or purchase the movie for downloading.

Stars
Tara Grammy, Christopher O'Shea, Shohreh Aghdashloo

Stream movies like A Simple Wedding
Watch movies on Apple TV+
Also directed by Sara Zandieh
Also starring Chris O'Shea