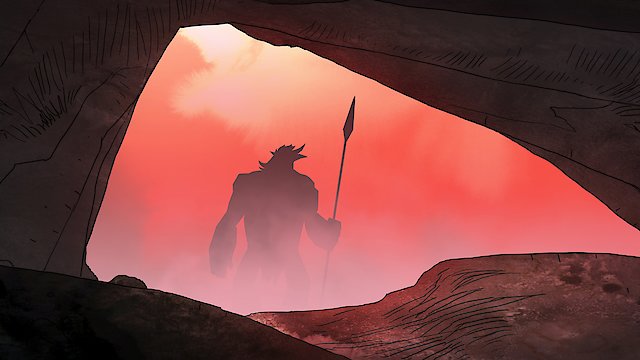 Where to Watch Primal
An old vengeance returns to wreak havoc.
Watch Primal Season 2 Episode 10 Now
9
The Colossaeus, Part III
Spear, Fang and Mira lead a daring escape from the Colossaeus and the Queen bent on their destruction.
Watch Primal Season 2 Episode 9 Now
Spear and Fang are used as instruments of war for the tyrannical queen of a formidable warship, the Colossaeus.
Watch Primal Season 2 Episode 8 Now
Spear, Fang, and Mira
Watch Primal Season 2 Episode 7 Now
Spear, Fang, and Mira are hunted by the last survivors of a village decimated by their carnage.
Watch Primal Season 2 Episode 6 Now
A night of horrors reveals the true nature of man's origin.
Watch Primal Season 2 Episode 5 Now
Spear and Fang fight to save Mira from the warrior clan that enslaved her.
Watch Primal Season 2 Episode 4 Now
The quest to find Mira leads Spear and Fang to the village of fearsome warriors.
Watch Primal Season 2 Episode 3 Now
Spear and Fang get separated in a strange new land.
Watch Primal Season 2 Episode 2 Now
Spear and Fang venture into the unknown to rescue Mira from her captors.
Watch Primal Season 2 Episode 1 Now

Primal is a gripping animated television series from the stables of Adult Swim that debuted in 2019. It is pure, raw and visceral television, expertly blended with two primitive forms of storytelling that we have known since the beginning of time - violence and survival. Designed and brought to life by the creative genius of Genndy Tartakovsky, the Emmy-winning creator of other memorable animations such as Dexter's Laboratory and Samurai Jack, Primal manages to carve a niche of its own on the canvas of contemporary adult animation. Primal is set in a fantastical world, a far-fetched prehistoric past, where dinosaurs and prehistoric beasts still strut the earth, and the survival of the fittest is not just a law but the essential fabric of existence. The series revolves around the potent relationship between two unlikely protagonists, a caveman and a dinosaur. The caveman, named Spear in a nod to his deft handling of this essential tool, is strikingly reminiscent of early man fighting for survival in the brutal, unforgiving landscape of the prehistoric world. He is joined by a fierce and savage female Tyrannosaurus rex, named Fang, by virtue of her lead weapon. Together, littered with personal losses and traumas, these two creatures form a unique bond of mutual dependence to navigate the harsh world around them, locked in a turbulent but electrifying dance of life and peril from the get-go. This mutual understanding of stark survival instincts is what forms the soul of Primal. It's a powerful depiction of the relationship that can form amidst the most hostile of environments, surpassing the conventional limitations of language and species. Throughout the series, terrific battles unfold as Fang and Spear encounter a slew of other predators in their dynamic world, from colossal aquatic creatures, giant bats, horrid insects, to other monstrous dinosaurs and ferocious human beings from other tribes. Alongside this, this duo also grapples with personal demons and their haunting pasts, adding a compelling layer of psychological complexity to their characters. This series masterfully intertwines the compelling narrative of sheer survival, interspecies friendship, and the onward march of time, presenting an existential canvas to explore primal themes such as violence, grief, and the importance of companionship. Opting for a narrative laden with raw action and poignant silent storytelling, Tartakovsky ensures that Primal stands apart from typical animated series. This show does not utilize a single line of spoken dialogue, allowing the captivating visual storytelling, convincing animation, and riveting atmospheric score to communicate volumes. The animation style stands out with a commendable use of color and detail reminding viewers that this is not your usual everyday cartoon show, but is rather anchored in the artistry of animation. Tartakovsky's artistic signature can be spotted in the startling transformation sequences, meticulous details, and the tactile sense of its environments and creatures. The sharpened edges and jagged lines of the characters, coupled with deep shadows and stark contrasts, contribute to the urgency and rawness of the show. The melancholic tones and detailed depiction of the prehistoric background transports the viewer to an age long past, while the vivid character designs bristle with personality despite the paucity of dialogue. Another noteworthy element that every audience will appreciate in Primal is the score. Injecting a mix of intense soundscapes and atmospheric melody, Tyler Bates's music score enhances the gut-punch intensity of the visceral battles and the heart-rending moments of grief or empathy. Primal is a daringly unique animated series that burns itself into your consciousness, drawing you in with its brutal yet moving narrative. It is a definitive example of powerful storytelling through minimalist dialogues and maximum visuals. Tapping into raw emotions, it showcases the relentless fight for survival and the precious bond between two disparate beings, brutally exposing what it really means to be primal.
Primal is a series categorized as a new series. Spanning 2 seasons with a total of 20 episodes, the show debuted on 2019. The series has earned a mostly positive reviews from both critics and viewers. The IMDb score stands at 8.7.
How to Watch Primal
How can I watch Primal online? Primal is available on Adult Swim with seasons and full episodes. You can also watch Primal on demand at Max, Adult Swim, Amazon, Google Play online.
Genres
Action & Adventure, Adult Cartoon, Animation & Cartoon
Cast
Aaron LaPlante, Laëtitia Eïdo, Fred Tatasciore