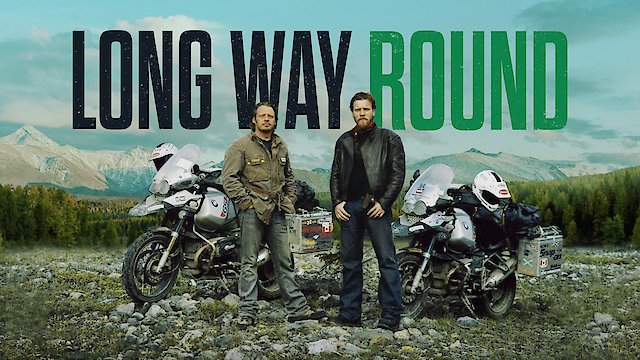 Where to Watch Long Way Round
Series finale. Reminiscing about the journey, the team discusses their favorite moments and the most hilarious, emotional, and challenging days.
Watch Long Way Round Season 1 Episode 10 Now
On the final leg of the journey to New York City Ewan McGregor and Charley Boorman are involved in collisions with cars.
Watch Long Way Round Season 1 Episode 9 Now
Damage to the bikes cause a delay in Alaska. Ewan McGregor and Charley Boorman marvel at the Alaskan wildlife before heading towards Canada.
Watch Long Way Round Season 1 Episode 8 Now
7
Yakutsk to Magadan (The Road of Bones)
Ewan McGregor and Charley Boorman run into some difficulty in Siberia. With unwelcoming locals, impassable rivers, collapsed bridges and a lack of food, they find themselves facing a real fight for survival.
Watch Long Way Round Season 1 Episode 7 Now
6
Western Mongolia to Yakutsk
The team is forced to buy crew member Claudio a new bike, and in the Mongolian city of Ulan Bator, Ewan McGregor and Charley Boorman are taken on a tour of the sewers. Then to Siberia where a 24-hour train ride turns out to bad idea.
Watch Long Way Round Season 1 Episode 6 Now
5
Barnaul to Western Mongolia
Ewan McGregor and Charley Boorman are disheartened when they find no roads at all en route to Mongolia. Bad luck occurs when there's a bike break down and their support team gets into a dangerous accident.
Watch Long Way Round Season 1 Episode 5 Now
After riding along some of the worst-kept roads in the world and admiring some of the country's native woolly camels, Ewan and Charley are in for a fright after one of the locals points a gun at them.
Watch Long Way Round Season 1 Episode 4 Now
Ewan McGregor and Charley Boorman make the first extended stop of their journey in Prague, before continuing onward to the Ukrainian border where a simple crossing turns into a 12-hour nightmare.
Watch Long Way Round Season 1 Episode 3 Now
Ewan McGregor and Charley Boorman continue to make preparations for their trip, heading for Wales for some much-needed off-road motorcycle training. Getting reading to start the journey, everybody scrambles to make last minute plans.
Watch Long Way Round Season 1 Episode 2 Now
Ewan McGregor and Charley Boorman prepare for their epic adventure, including lessons for kidnap avoidance, fitness training, first aid instruction and vaccinations.
Watch Long Way Round Season 1 Episode 1 Now

Long Way Round is an invigorating television documentary series that aired from 2004 to 2010 and chronicled the epic motorcycle journey undertaken by actors Ewan McGregor and Charley Boorman. The series offers an explorative look into the beauty, challenges and camaraderie that come with long-distance motorcycle trips, presenting viewers with an endearing mix of travel documentary, adventure, and personal discovery. The series begins with the planning stage of their journey, where McGregor and Boorman deal with the nitty-gritty of organizing such an ambitious trip. They undergo intensive training to prepare for various situations they might face, acquire sponsorships, secure visas, and plan their route. The setup is like an adventure novel's opening chapters, enticing viewers with tales of meticulous preparation and foreshadowing the inevitable challenges that lie ahead on the route. Long Way Round documents their remarkable endeavor to travel the globe on their motorbikes, starting from London and eventually ending their journey there, after circumnavigating the world. The trip compasses Europe, Asia and North America, taking them through diverse and often challenging terrains, where they encounter several unique cultures and stunning landscapes along the way. The series includes a number of memorable moments from crossing the vast Mongolian plains to experiencing the freezing climates of Siberia, all with the purpose of immersing the audience into the journey. The documentary series also gives viewers an intimate glimpse into McGregor and Boorman's friendship. The actors started as co-stars on the movie "The Serpent's Kiss" and have since developed into best friends. Their camaraderie and brotherhood form the heart of the series, giving audiences an authentic look at their relationship, resilience, and individual growth. Long Way Round does more than just showcase their journey; it also displays how they interact with the people they meet along the way. With visits to UNICEF projects and interactions with locals in different countries, it showcases human experiences that go beyond language and cultural barriers. A key element that sets Long Way Round apart is the fact that it chronicles a live journey. This means the events and experiences featured in the series weren't scripted or planned and involve McGregor and Boorman reacting to genuine situations. This adds a raw, unfiltered element to the series, allowing viewers to enjoy an authentic travel experience from the comfort of their homes. The series was produced by David Alexanian and Russ Malkin, known for their expertise in intriguing adventure documentaries, and they have done an exceptional job in guiding the series through its many impactful moments. Their careful crafting of the narrative knits together the various threads of the journey, balancing out the thrills and spills of adventure riding with profound, quiet moments of reflection. The cinematography deserves special credit, given the inherent obstacles of filming a globe-trotting journey on motorcycles. The series employs a combination of helmet cameras, handheld cameras operated by the riders, and professional camerawork, which together form an engaging visual narrative that brings the journey to life for viewers. Be it the breathtaking expanse of the Mongolian steppe or the congested city lanes, the series manages to capture a variety of environments, presenting an eye-catching visual treat that is rare for a travel documentary. The series also features a rich musical score that sets the tone for the different sections of their journey. From uplifting and energizing tracks designed to reflect the momentum of their journey to more solemn and subdued tunes used to underscore moments of hardship and introspection, the music helps to channel the emotions rendered by each scene. The take-home message of Long Way Round centers on a celebration of adventure, friendship, determination, and the human spirit. It showcases the immeasurable value of stepping outside of one's comfort zone, breaking cultural barriers, and embarking on an adventure of a lifetime. In conclusion, Long Way Round is a captivating and inspiring series that chronicles a journey touched by joy, hardship, camaraderie, and self-discovery. Whether you're an avid adventure enthusiast, a motorcycle lover, or someone who enjoys heartfelt, uplifting stories, this series offers much to enjoy and appreciate. From awe-inspiring landscapes to touching human interactions, Long Way Round offers viewers a vibrant, truly global experience from the unique perspective of a motorcycle journey.
Long Way Round is a series categorized as a canceled. Spanning 1 seasons with a total of 10 episodes, the show debuted on 2005. The series has earned a mostly positive reviews from both critics and viewers. The IMDb score stands at 8.6.
How to Watch Long Way Round
How can I watch Long Way Round online? Long Way Round is available on Long Way Round with seasons and full episodes. You can also watch Long Way Round on demand at Apple TV+, Apple TV, Amazon online.
Genres
Documentary & Biography
Cast
Ewan McGregor, Charley Boorman

Similar Shows like Long Way Round