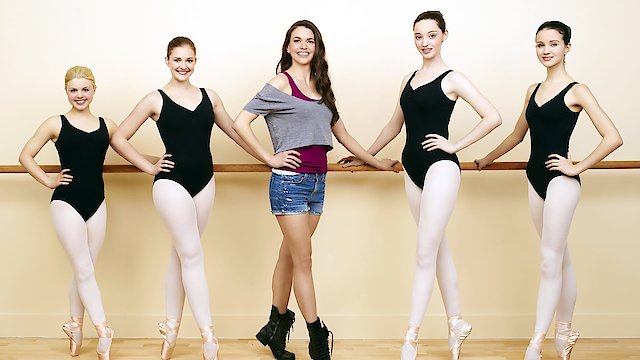 Where to Watch Bunheads
Without Michelle knowing, the girls follow her to a Broadway musical audition in Hollywood. Meanwhile, Scotty stays home to do chores.
Watch Bunheads Season 1 Episode 18 Now
The dance studio is set up as an evacuation headquarters.
Watch Bunheads Season 1 Episode 17 Now
16
There's Nothing Worse Than a Pantsuit
Milly finds out about the preservation society's plan to discuss the new amphitheatre. Meanwhile, Sasha and Roman take their relationship public; and Talia shares some big news.
Watch Bunheads Season 1 Episode 16 Now
Michelle has bad news for her brother. Milly offers financial assistance and advice for Fanny's upcoming recital.
Watch Bunheads Season 1 Episode 15 Now
14
The Astronaut and the Ballerina
Michelle's brother, Scotty, seeks comfort after going through another divorce. Meanwhile, Melanie's hobby leaves Ginny feeling abandoned, while Boo and Carl are overwhelmed with child care duties.
Watch Bunheads Season 1 Episode 14 Now
13
I'll Be Your Meyer Lansky
Michelle and Fanny must find resources to supplement the dance studio. Meanwhile, the girls are fascinated by the new students and Sasha faces a personal dilemma.
Watch Bunheads Season 1 Episode 13 Now
12
Channing Tatum Is a Fine Actor
Michelle helps Truly renegotiate her lease following her eviction. Boo seeks Michelle's advice and Michelle lets Talia set her up on a blind date.
Watch Bunheads Season 1 Episode 12 Now
11
You Wanna See Something?
Michelle readjusts to life in Las Vegas and is hired as a magician's assistant. Elsewhere, Ginny assumes responsibility of her mom's real-estate company; Melanie and Boo care for family members; and Sasha delays her return home after her summer away.
Watch Bunheads Season 1 Episode 11 Now
10
A Nutcracker in Paradise
Michelle messes up during the "Nutcracker" performance.
Watch Bunheads Season 1 Episode 10 Now
9
No One Takes Khaleesi's Dragons
Fanny is out of control trying to find her new Clara for 'The Nutcracker.'
Watch Bunheads Season 1 Episode 9 Now
Michelle is shocked when she discovers Fanny has a longtime, long-distance boyfriend. Meanwhile, Fanny and Michelle head to L.
Watch Bunheads Season 1 Episode 8 Now
7
What's Your Damage Heather?
When the dance studio has a leak, Michelle offers her home to the girls to change their clothes. But when one of them lies about stealing from her, Michelle demands the truth.
Watch Bunheads Season 1 Episode 7 Now
When Michelle's friend, Talia, visits from Vegas, their plans for a wild birthday road trip are ruined by Fanny. Just when things couldn't get worse, Talia discovers Truly's clothing boutique, Sparkles.
Watch Bunheads Season 1 Episode 6 Now
Michelle tries to help Fanny with her finances but her efforts could potentially jeopardize the upcoming Spring Flower Festival and Fanny's original ballet, "Paper or Plastic.
Watch Bunheads Season 1 Episode 5 Now
Michelle attempts to create distance from her new mother-in-law. And Fanny is upset when the Joffrey Ballet threatens to move Summer Program auditions to a different city.
Watch Bunheads Season 1 Episode 4 Now
Fanny receives some surprising news from her attorney and creates awkwardness for Michelle. Michelle leaves in Hubbell's car to diffuse the situation.
Watch Bunheads Season 1 Episode 3 Now
Michelle and her mother-in-law seem to finally be back on good terms, until something unexpected happens. Michelle is on edge with Fanny again but finds herself still feeling empathy towards her.
Watch Bunheads Season 1 Episode 2 Now
In the series premiere, meet Michelle Simms - a classically-trained professional dancer who was enticed by life in Las Vegas. Now, with a dead-end job as a 30-something showgirl, she's found the excitement of Sin City has lost its appeal.
Watch Bunheads Season 1 Episode 1 Now

Bunheads is an American comedy-drama television series that aired on FreeForm from June 2012 to February 2013. Created by Amy Sherman-Palladino of Gilmore Girls' fame, the show stars Broadway sensation Sutton Foster and veteran actress Kelly Bishop, with a talented ensemble that comprises Julia Goldani Telles, Emma Dumont, Stacey Oristano, Bailey De Young and Kaitlyn Jenkins. Spanning 18 episodes over one season, Bunheads deftly weaves heartfelt drama with the lighter, funnier moments of life, using ballet as its backdrop. The narrative pivots around the life of Michelle Simms (portrayed by Sutton Foster), a classically-trained ballerina-turned-Las Vegas showgirl with heaps of talent, ambition, and a sprinkling of regret over the career that could have been. A whirlwind courtship, a spontaneous marriage, and an impulsive decision to relocate to the quaint coastal town of Paradise quickly displace her from the glitzy sin city she's used to, launching her into a whirlwind life she hadn't exactly prepared for. In Paradise, she finds herself living with her new mother-in-law, the sharp-tongued yet compassionate Fanny Flowers (Kelly Bishop). Fanny owns Paradise Dance Academy, a ballet school at the heart of the community. Michelle's arrival stirs up the town while breathing fresh vibrancy into the school. She unintentionally steps into Fanny's shoes and finds an unexpected calling in guiding the academy's promising young dancers known as the "Bunheads," a group of four young ballet students. The Bunheads - Sasha Torres (Julia Goldani Telles), Melanie Segal (Emma Dumont), Ginny Thompson (Bailey De Young), and Boo Jordan (Kaitlyn Jenkins) - are at the core of the series. Each with their unique personalities, dreams and family dynamics, these talented dancers befriend and seek Michelle's guidance both on and offstage. The girls' full-throttle dedication to their craft leads to plenty of hilarity and drama, making the show as much about the journey of these girls as it is about Michelle's unexpected return to ballet. Stacey Oristano provides additional color to Paradise town playing Truly Stone, Fanny's quirky and endearing neighbor, who triumphs and stumbles in her romantic and professional life. Her character further adds to the diverse and colorful palette of the rural town's inhabitants. The show's strength lies not just in its endearingly flawed characters and their trials and tribulations but also in the layered writing. Michelle's humorous, occasionally biting, repartee with Fanny, their mutual exploration of mother-daughter bonds, Michelle's struggle to find her place in this new world and the evolution of these young ballerinas, make the show a compelling watch. The eloquent dialogue is enriched with pop culture references and fast-paced exchanges, the signature style of Amy Sherman-Palladino. Bunheads also strikingly showcases dance as a metaphor in stunning routines and performances that are seamlessly woven into the narrative complimenting the emotional journey of the characters. This adds a unique dimension to the series and serves as an allegory to express the feelings, stories, and conflicts of its characters. Bunheads beautifully encapsulates the essence of a small town with its close-knit community dynamics, all underpinned by human relationships, dreams, and the pursuit of a passion. From exploring the exchange of wisdom across generations to the growing pains of coming-of-age, the show tells an engaging and heartwarming tale of love, friendship, self-discovery, and the love of dance. Whether you're a ballet aficionado, a fan of finely-tuned character drama, or simply someone who enjoys good storytelling, Bunheads is a series that throws you a charming twirl.
Bunheads is a series categorized as a canceled. Spanning 1 seasons with a total of 18 episodes, the show debuted on 2012. The series has earned a moderate reviews from both critics and viewers. The IMDb score stands at 7.6.
How to Watch Bunheads
How can I watch Bunheads online? Bunheads is available on FreeForm with seasons and full episodes. You can also watch Bunheads on demand at Hulu Plus, Apple TV, Amazon online.
Cast
Sutton Foster, Kelly Bishop, Julia Goldani Telles, Bailey De Young, Emma Dumont, Stacey Oristano, Kaitlyn Jenkins

Stream shows like Bunheads