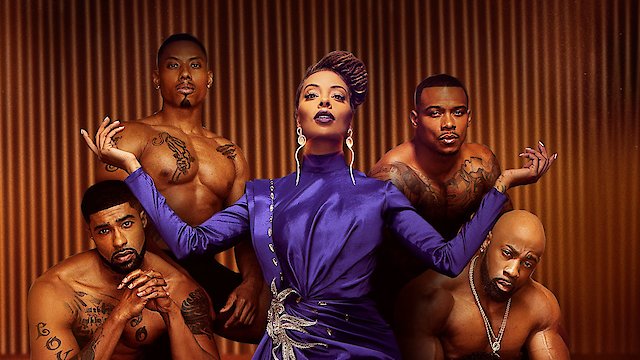 Where to Watch All the Queen's Men
Davis uses her intel as leverage with Madam, Champ and Trouble take matters into their own hands as Rayshon recovers his money from Tandy, and Fernando reveals a sinister plan.
Watch All the Queen's Men Season 3 Episode 8 Now
Detective Davis must find a way out when Madam catches her in a sticky situation. Meanwhile, one of Madam's weaknesses gets exposed and catches her by surprise.
Watch All the Queen's Men Season 3 Episode 7 Now
Big D makes a desperate bid to convince Tommy he's not shady, Detective Davis brings interrogation tactics to the bedroom, and Midnight takes Babyface to task for his treatment of Rayshon.
Watch All the Queen's Men Season 3 Episode 6 Now
Amp confronts Big D after an act of blatant disrespect. Madam and Blue catch a break in the investigation of her missing money.
Watch All the Queen's Men Season 3 Episode 5 Now
AMP advises Fuego to stay in line, Madam gets a lead on her stolen bills, Casanova takes a dangerous risk, and Trouble must decide how far she'll go to prove herself to Madam.
Watch All the Queen's Men Season 3 Episode 4 Now
El Fuego begins to realize he may be stuck under Madam's thumb, whether he likes it or not. Madam moves cautiously, unaware of The Concierge's plans of revenge.
Watch All the Queen's Men Season 3 Episode 3 Now
Trouble goes to great lengths to prove her loyalty to Madam. Madam receives unfiltered advice from her father after one of her temper tantrums lands her in hot water.
Watch All the Queen's Men Season 3 Episode 2 Now
Amp begins to spiral out of control while thinking of ways to rectify his shower mishap. Madam comes up against a formidable opponent and begins to use her power to turn the tides her way.
Watch All the Queen's Men Season 3 Episode 1 Now

All the Queen's Men is a dynamic and bold scripted drama series that premiered in 2021 on the WOW Presents network. The show is designed to entertain a broad spectrum of audiences, captivating fans of genres such as drama, adventure, crime, and comedy. Combining laughter, tears, and drama, the show holds its audience on the edge of their seats, making them eagerly anticipate what is to happen in the next episode. At the core of the series is a plot that navigates the intriguing and glamorous world of male exotic dancing, a prevalent yet often unexplored aspect of nightlife and entertainment. Known for their pulsating performances and awe-inspiring theatrics, male exotic dancers are at the show's heart. But All the Queen's Men delves far beyond the surface level of entertaining performances and revealing costumes, showing the audience that these individuals are more than just performers – they are living, breathing human beings with their own stories, motivations, dreams. The drama series revolves around the captivating and fiercely independent character of Marilyn 'Madam' DeVille, performed excelli by the talented Eva Marcille. Madam is the no-nonsense owner of Club Eden, a premier exotic male dance club in Atlanta that serves as the central location for many of the series' events. Much of the narrative force of the show lies in Madam's relationships with her dancers and her struggles to deal with the myriad troubles that owning such a club inevitably brings. All the Queen's Men plays with the duality of personalities of its protagonists, presenting a sincere portrayal of them as both performers and individuals grappling with their own private lives. The series excellently balances the public and private personas of the dancers, giving the audience a peak into their lives outside of the club – their families, relationships, and the other concerns that exist beyond the stage. Furthermore, the show gives insightful representations of different relationship dynamics, including friendships, romantic relationships, and struggles for power. There's an attempt to spotlight complex human emotions and the high stakes that can often come with relationships in such a unique setting as Club Eden. These tensions often serve as the backbone of the series' storyline and play a significant role in the progression of characters and their arcs. While All the Queen's Men is, in many ways, a drama series, it also has elements of comedic relief, splendidly woven into its narrative. The comic highs and lows serve as a buffer to the intense, dramatic storyline, offering audiences a brief respite from the thrilling roller coaster ride of emotions. A notable aspect of the series is its behind-the-scenes team, comprised of a band of skilled and creative experts. The series is brought to life under the guidance of renowned playwright and series creator Christian Keyes. In addition, Michelle Sneed for Tyler Perry Studios serves as the show's executive producer, bringing her industry expertise to ensure each episode is of the highest possible quality. To add to the allure of the storyline, the show boasts an exceptional cast. The lead role is played by Eva Marcille, a notable actress and model, winner of America's Next Top Model, and an actress on the Real Housewives of Atlanta. The ensemble of male actors forming the entourage of dancers consists of Skyh Alvester Black, Michael 'Bolo' Bolwaire, Keith Swift, Dion Rome, and Jeremy Williams, each of them breathing life into their characters, adding layers of depth, complexity, and relatability. All the Queen's Men strives, captivating its audiences with an engaging storyline, engaging characters, and an in-depth exploration of a fascinating world. The series isn't just about male exotic dancing; it's a heartfelt journey of human experiences and emotions that resonate with audiences, irrespective of their background. It offers a unique blend of drama, action, comedy, love, camaraderie, and ambition, making it a must-watch for lovers of well-rounded, powerful storytelling. The release of All the Queen's Men in 2021 on WOW Presents now allows a worldwide audience to enjoy this riveting series, which previously had a cult following in the United States. It's a show that proves that everyone has a story to tell, and no narrative is too unconventional to explore.
All the Queen's Men is a series categorized as a new series. Spanning 3 seasons with a total of 38 episodes, the show debuted on 2020. The series has earned a moderate reviews from both critics and viewers. The IMDb score stands at 6.7.
How to Watch All the Queen's Men
How can I watch All the Queen's Men online? All the Queen's Men is available on WOW Presents with seasons and full episodes. You can also watch All the Queen's Men on demand at Amazon Prime, BET+, Apple TV Channels online.
Cast
Eva Marcille, Skyh Black, Racquel Palmer

Similar Shows like All the Queen's Men