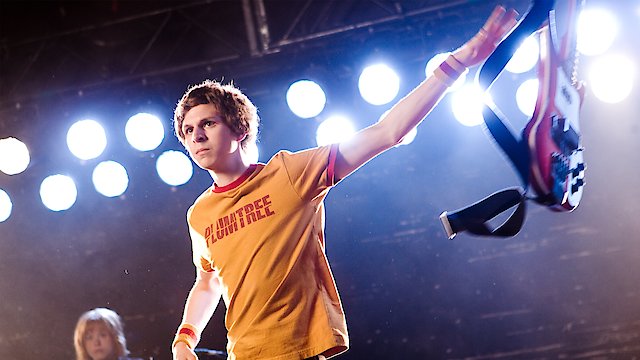 Scott Pilgrim vs. the World

Where to Watch Scott Pilgrim vs. the World

Scott Pilgrim vs. the World is an iconic and vibrant 2010 film directed by Edgar Wright and starring Michael Cera, Mary Elizabeth Winstead, and Kieran Culkin. With a charming mix of comedy, romance, and action, this film certainly captures the perfect essence of a comic book adaptation. It is set against the backdrop of Toronto, Canada and displays a range of impressive locations throughout the city. The movie is primarily based on "Scott Pilgrim," a popular graphic novel series written by Bryan Lee O'Malley. Utilizing a unique narrative, the film integrates elements of video games culture and indie rock in its mise-en-scene, complete with sped-up transitions mirroring level-ups in video games and on-screen graphics reminiscent to pop-art comics. Michael Cera plays the protagonist, Scott Pilgrim, a 22-year old bass guitarist for the somewhat successful band, Sex Bob-omb. Scott leads a relatively peaceful life, until he falls head over heels for an intriguing American delivery girl, Ramona Flowers, played by Mary Elizabeth Winstead. However, Scott soon discovers that dating Ramona is not without peril. The heart of the story unfolds when Scott learns he must defeat Ramona's seven evil exes to win her heart. The character Scott Pilgrim is brilliantly portrayed by Michael Cera as being boyish, naive, and sincere, but also effortlessly cool. His charm is rounded off with his typical "nice guy" reputation, making him a relatable underdog. Ramona Flowers, on the other hand, is the quintessential mysterious and aloof woman, adding that element of intrigue to the story. As Scott enters the battle with each ex, with each fight symbolising a level in a video game, the film takes a surreal twist. There are comic book-style graphics accompanying the intense and well-crafted fighting scenes which have been executed innovatively, each carrying its unique signature style. Since music is an integral part of the narrative, Scott Pilgrim vs. the World features an exuberant indie rock soundtrack. Those familiar with the genre will appreciate the original scores from bands like Metric and Beck, and even those who are not as knowledgeable about the genre will probably find themselves tapping their feet to the infectious tunes. Visually, the film is a spectacular array of vibrant colors and swift, kinetic energy. Wright's excellent usage of quick cuts, slick transitions, and on-screen text only amplify the 'graphic novel come to life' feeling that pervades the film. The special effects are stunning and innovative, flawlessly intertwining reality and video game world to create an extraordinary filmic universe. Moreover, the movie boasts an outstanding supporting cast. Kieran Culkin portrays Scott's sarcastic, wisecracking roommate Wallace Wells, who often aids and goads Scott through his ordeals. The supporting characters also bring their unique energy to the film, including the members of Scott's rock band, his ex-girlfriends, and of course, Ramona's seven evil exes, each played by a familiar face. The portrayal of relationships, both romantic and friendly, is a major aspect of Scott Pilgrim vs. the World. These are not only characterized by the moments of humor and affection but also by emotional complexities and individual growth. The film balances its extraordinary concepts and animations with genuine human emotions, making for a fully-rounded cinematic experience. The film's overall vibe is a combination of charm, quirk, and nostalgia that will appeal to a wide demographic, especially millennials. With its humorous dialogue, heartwarming storyline, exhilarating action sequences, and dazzling visuals, Scott Pilgrim vs. the World is not just a movie; it's a pop-culture expedition offering an immersive cinematic experience of a graphic novel. In conclusion, Scott Pilgrim vs. the World is a visually engaging, fast-paced film that's full of personality. The transformative journey of its protagonist balances romance, friendship, and personal growth amidst an explosion of vibrant effects and rock music. It takes the viewer on a wild ride, one that's as entertaining as it is delightful. It's a must-watch for anyone who appreciates unique films that offer a fresh take on narrative storytelling or are especially keen on music or the graphic novel aesthetic.
Scott Pilgrim vs. the World is a Action, Comedy, Romance movie released in 2010. It has a runtime of 112. Critics and viewers have rated it moderate reviews, with an IMDb score of 7.5. It also holds a MetaScore of 69.
How to Watch Scott Pilgrim vs. the World
Where can I stream Scott Pilgrim vs. the World movie online? Scott Pilgrim vs. the World is available to watch and stream, buy on demand, download at Amazon Prime, Netflix, Apple TV, Amazon, Google Play, Vudu. Some platforms allow you to rent Scott Pilgrim vs. the World for a limited time or purchase the movie for downloading.


Genres
Action, Comedy, Romance

Stream movies like Scott Pilgrim vs. the World
Also directed by Edgar Wright
Also starring Michael Cera
Also starring Mary Elizabeth Winstead
Watch movies on Apple TV+