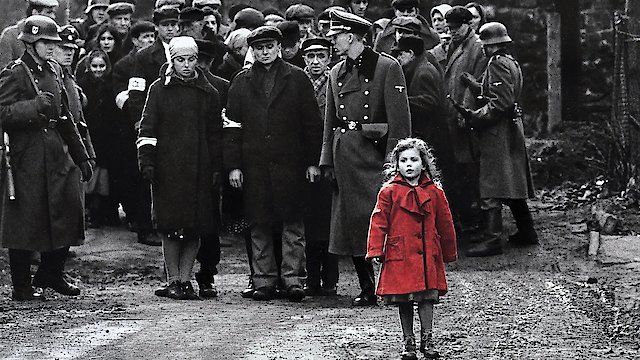 Where to Watch Schindler's List

Schindler's List is an epic historical drama film that was released in 1993, directed by the acclaimed filmmaker Steven Spielberg. He masterfully presents a devastating yet significant chapter in the world's history. The film stars high-profile actors such as Liam Neeson, Ralph Fiennes, and Ben Kingsley, who put on career-defining performances to bring life into this poignant tale of humanity during a time of inhumanity. Set against the spectacularly grim backdrop of the second World War, the movie boldly peels back the layers of the uncouth horrors inflicted on the Jews. We follow the tale of Oskar Schindler (Liam Neeson), a charming yet complex German businessman and member of the Nazi party. Schindler starts his grappling journey driven by ambition and profiteering motives, but as the plot unfolds, an unexpected humane angle pierces through his industrialist facade. Initially, Schindler takes interest in Krakow, Poland, because it harbors business profit given its abundance of the captive Jewish workforce, who can be employed at cheap rates. To this end, he commences operation of a factory that produces enamelware with the help of Itzhak Stern (Ben Kingsley), a Jewish accountant. Stern aids Schindler not only in business logistics but also becomes a catalyst to his slow transformation. One of the defining characters in the film is Amon Goeth (Ralph Fiennes), a chilling SS officer. Goeth is the commandant of the Plaszow concentration camp where disregarding human life is an everyday occurrence. His cold-blooded nature and drastic contrast to Schindler helps define the value of human life and gives a deeper insight into the realities of the Holocaust, thereby amplifying the horrors of war and genocide. As the film progresses, Schindler's character evolves from a man motivated by monetary gain to a figure consumed by a moral conscience that compels him to risk his life, fortune, and reputation in a daring attempt to save his Jewish employees from the impending doom of extermination. Spielberg uses black and white cinematographic techniques in the film, bringing a stark realism to the screen. The absence of color underscores the moral seriousness of the narrative and the harsh realities of the Holocaust. Notably, though the film is almost entirely in black and white, there are selective uses of color. Spielberg uses this cinematographic tour de force not only to evoke raw emotions but also to candidly recreate the appalling realities of the Holocaust era. Schindler's List is not merely a biographical account of Oskar Schindler. It's a sensory journey that submerges viewers into an age of unspeakable cruelty and violence, only to resurface with inspiring tales of hope, courage, and redemption, beautifully encapsulated in Spielberg's narrative. Liam Neeson, as Oskar Schindler, delivers a stellar performance. He brings depth to Schindler's character through subtlety and nuance, portraying the industrialist's transformation with poignancy. Ralph Fiennes, as Amon Goeth, adeptly plays his cold-blooded character and represents the personified evil with an eerily unsettling ease, while Ben Kingsley, playing Itzhak Stern, showers the film with quiet resilience, embodying an unsung hero's determination in the face of sorrow-filled adversity. Schindler's List boldly tackles not just history but the raw core of humanity, using a potent mix of war, horror, courage, and salvation. With its haunting rawness and a sobering testament to human resilience, the movie serves as a powerful reminder of a dark epoch in human history while celebrating Schindler's heroic deeds. The film ultimately prompts its observers toward introspection on the inexplicable depths of both human cruelty and benevolence. From Spielberg's masterful direction and performances by an outstanding cast to John Williams's stirring score and Janusz Kaminski's emotive cinematography, every aspect of Schindler's List remains indelibly etched in the annals of cinematic brilliance.
Schindler's List is a Drama, History, War movie released in 1993. It has a runtime of 195 minutes. Critics and viewers have rated it outstanding reviews, with an IMDb score of 9.0. It also holds a MetaScore of 95.
How to Watch Schindler's List
Where can I stream Schindler's List movie online? Schindler's List is available to watch and stream, buy on demand, download at Hulu Plus, Paramount+, Amazon Prime, Apple TV Channels, Showtime, FuboTV, Peacock Premium, The Roku Channel, Showtime Anytime, Apple TV, Amazon, Google Play, Microsoft Movies & TV, YouTube VOD, Vudu. Some platforms allow you to rent Schindler's List for a limited time or purchase the movie for downloading.


Director
Steven Spielberg
Stars
Liam Neeson, Ben Kingsley, Ralph Fiennes, Caroline Goodall, Embeth Davidtz
Genres
Drama, History, War

Also starring Liam Neeson
Also starring Ralph Fiennes
Watch movies on Apple TV+