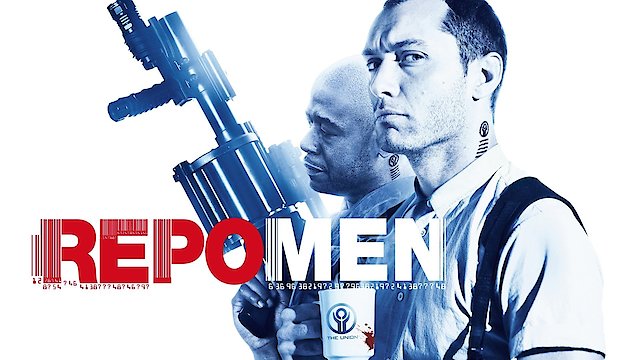 Where to Watch Repo Men

Repo Men is a 2010 science fiction action movie directed by Miguel Sapochnik. The story is an adaptation of Eric Garcia's novel "The Repossession Mambo," which explores a dystopian near-future that highlights the dark underbelly of human health services. In a world where mechanized organs are a norm, and people extend their lifespans artificially, the line between life and death becomes financially defined. The film stars an ensemble cast, including Jude Law, Forest Whitaker, Alice Braga, Liev Schreiber, Carice van Houten, and Chandler Canterbury. Jude Law plays the lead role of Remy, a repossession agent for The Union, a corporation that sells biomechanical organs at a high-interest rate to desperate clients needing transplants. Steely and unsympathetic, Remy prowls the streets and strip away artificial organs from defaulted customers, oblivious to their pain and pleas. This dark job that is nigh on assassination has eroded Remy's relationship with his wife Carol (Carice van Houten) and his son Peter (Chandler Canterbury). Accompanying Remy in this gruesome task is his long-time friend and partner in crime, Jake Freivald, portrayed by Forest Whitaker. Jake is a complex paradox of brutality covered in a coating of charming camaraderie. He relishes in the brutal business of repossession and is fervently loyal to The Union and Remy. Together, they embark on chilling escapades where lives hold negligible value, and collecting "artiforgs" (artificial organs) is akin to a predator hunting its prey. In this grim social landscape that values life through the lens of repayable loans, Alice Braga's character, Beth, emerges as a beacon of hope and human resistance. A lounge singer struggling with multiple artificial organ failures and mounting debts, Beth's character offers a poignant depiction of the humanity stripped away by The Union. Then there's Liev Schreiber's character, Frank Mercer. As the head of The Union, Frank is a suave manifestation of corporate greed and apathy. His sole concern is to ensure the profitability of The Union, even if it involves immoral methods. A sudden unfortunate event in Remy's life turns the table, and he finds himself being hunted instead of being the hunter. His life takes a U-turn when a mishap on a job leads to him receiving an artificial heart. Now in the very circumstances he once exploited, Remy becomes a defaulter, owing to his mounting Union debts. Alongside Beth, Remy embarks on a journey through the city's underworld to escape The Union's collectors. As Remy and Beth race against time, they struggle with moral questions regarding their past actions and the sanctity of life. Together, they challenge the ruthless corporate entity even as they grapple with their own demons in this dystopian future. Repo Men effectively uses fast-paced action sequences and a fascinating premise to provide scathing commentary on the commodification of human life. The sleekly designed technological advancements and the grimy underworld offer a sharply contrasting backdrop, enhancing the film's atmosphere. Jude Law's nuanced portrayal of Remy brings out the complexities of a man caught in the moral quagmire of his own making. Whitaker's performance as the relentless Jake underscores the film's thematic exploration of human indifference in the face of profit. Braga's portrayal of Beth is deeply moving, symbolizing the harsh realities of people caught in the spiral of dehumanizing health-care commodification. Director Miguel Sapochnik presents an engaging narrative that marries visceral action with a socio-political critique. Using the tools of dystopian science fiction, he effectively highlights issues of healthcare accessibility, corporate greed, and the cost of human life. Repo Men is an original and engaging film that leverages its action-fueled plot to touch upon socio-political issues. The performances are compelling, and the darkly dystopian world it presents is simultaneously thrilling and thought-provoking. The film is a must-watch for lovers of science-fiction, action, and films with profound underlying themes.
Repo Men is a Action, Science Fiction, Thriller, Crime movie released in 2010. It has a runtime of 111 minutes. Critics and viewers have rated it moderate reviews, with an IMDb score of 6.3. It also holds a MetaScore of 32.
How to Watch Repo Men
Where can I stream Repo Men movie online? Repo Men is available to watch and stream, buy on demand, download at Apple TV, Amazon, Google Play, YouTube VOD, Vudu. Some platforms allow you to rent Repo Men for a limited time or purchase the movie for downloading.


Stars
Jude Law, Forest Whitaker, Liev Schrieber, Alice Braga, Carice van Houten, Chandler Canterbury, RZA
Genres
Action, Science Fiction, Thriller, Crime

Stream movies like Repo Men
Also starring Forest Whitaker
Watch movies on Apple TV+