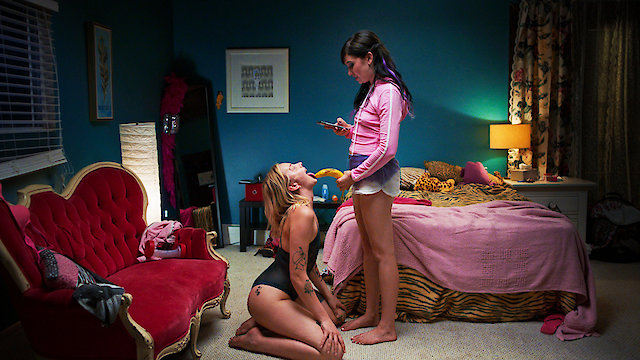 Where to Watch Pleasure

"Pleasure" is a 2021 Swedish drama that premiered at the Sundance Film Festival. Directed by Ninja Thyberg and co-produced by Plattform Produktion and Film i Väst, it explores a young woman's journey into the adult film industry in Los Angeles. The cast includes newcomer Sofia Kappel in her superb debut as lead character, Bella Cherry, with supporting roles portrayed by Zelda Morrison and Evelyn Claire. Bella Cherry, played by Sofia Kappel, is a 20-year-old woman from a small town in Sweden. Aiming to chase her American dream, Bella ventures to Los Angeles, bewitched by the allure of fame and fortune promised by the glitz and glamour of the adult film industry. The movie centers around her journey to become the world's next big adult film star. Bella's innocence, naivety, and strong determination make her an intriguing and relatably flawed protagonist. Sofia Kappel's realistic portrayal of this vulnerable yet powerful young woman offers a captivating watch. Zelda Morrison and Evelyn Claire further add to the depth of the storyline, delivering exceptional performances that enhance the narrative's gritty realism. They are amongst the cast of real adult film actors who make up the essential background characters of the movie, giving an authentic feel to the world they depict. Together, their performances create a factual truth about the industry and the people working in it. "Ninja Thyberg" showcases her ability as a first-time feature director, creating an immersive setting that explores a controversial and often misunderstood industry. Her talent for unflinching, stylistic storytelling adds a raw and compelling bedrock to the movie. Thyberg avoids passing moral judgments on her characters or the industry, instead offering an observant eye on its challenges and realities. The movie cleverly unleashes the dichotomy of the adult film industry – its allure versus its darkness. By doing so, it catalyzes an important dialogue about the world that lies behind the velvet curtains of adult entertainment. "Pleasure" goes further than just being about the adult film industry; it discusses themes such as female empowerment, ambition, and the lengths a person will go to achieve their dreams. Bella's journey is less about stardom and more about personal growth, understanding limits, and navigating vulnerability. Her fight to retain power and control over her body and career in a male-dominated industry delivers an underlying feminist message. The instrumental score keeps the audience rooted in the film's atmosphere, giving an energetic undercurrent to Bella's journey. Cinematographer Sophie Winqvist Loggins crafts a sun-kissed but often murky visual palette for the film, using a camera that seems to stalk its characters, constantly flipping viewer's perspectives on the industry's glamour and harshness. "Pleasure" is unquestionably graphic and could be confrontational for some viewers. However, its purpose is far from the aim of exploiting or shocking its audience. Instead, the director starkly utilizes these elements to depict the trials and tribulations Bella faces in an industry known for its graphic nature. Viewer discretion is advised due to explicit content and adult themes. In all, "Pleasure" is a daring and honest film about a young woman's journey in pursuit of dreams in an unexpected setting. The film works hard to break the viewer's preconceived notions about the adult film industry, shedding light on the human stories within it and igniting conversations about consent, exploitation, and personal boundaries. A story of an ordinary woman in an extraordinary world, "Pleasure" is a brave endeavor to bring the untold side of the adult film industry to light, wrapped in a narrative of self-discovery and personal empowerment. Its unflinching portrayal of the highs and lows of an industry often cast aside brings forth a unique cinematic experience, challenging the audience's perception, and igniting critical conversations surrounding the narrative.
Pleasure is a Drama movie released in 2021. It has a runtime of 109 min.. Critics and viewers have rated it moderate reviews, with an IMDb score of 6.4. It also holds a MetaScore of 75.
How to Watch Pleasure
Where can I stream Pleasure movie online? Pleasure is available to watch and stream, buy on demand, download at Paramount+, Amazon Prime, Apple TV Channels, Showtime, FuboTV, The Roku Channel, Kanopy, Showtime Anytime, Apple TV, Amazon, Google Play, Vudu. Some platforms allow you to rent Pleasure for a limited time or purchase the movie for downloading.


Stars
Sofia Kappel, Zelda Morrison, Evelyn Claire

Stream movies like Pleasure
Watch movies on Apple TV+