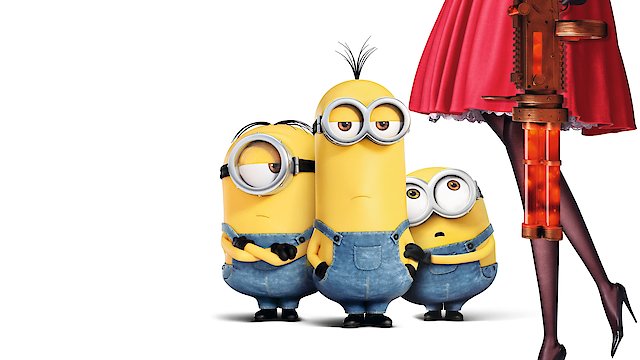 Where to Watch Minions

Minions is an action-packed, animated adventure comedy film released in the year 2015. Directed by Pierre Coffin and Kyle Balda, the movie was produced by Illumination Entertainment. Written by Brian Lynch, Minions features a star-studded voice cast including Sandra Bullock, Jon Hamm, and Michael Keaton. The plot of Minions is set in the vibrant, exciting world of the Despicable Me franchise. Instead of following the notorious villain Gru and his adopted daughters, this movie catapults the side characters, the small, yellow, gibberish-speaking Minions, into the spotlight. Notably, this standalone feature chronicles the journey of these loyal henchmen before they met Gru. Fundamentally, the film portrays Minions as creatures who have existed since the dawn of time, evolving from single-cell organisms into adorable beings with one single purpose: serving the most despicable master they can find. The story navigates through their adventures over the ages while serving various masters, from dinosaurs to the Pharaohs and even Dracula. However, the Minions' clumsy nature often leads them to unintentionally kill their masters. Left without a despicable villain to serve and isolated in a frozen cave, the Minions plunge into despair. In a desperate attempt to find a new boss, three brave Minions named Kevin, Stuart, and Bob go on an epic odyssey to New York City. They soon find their way to Villain-con, a convention for villains looking for henchmen. There, Kevin, Stuart, and Bob are hired by the world's first-ever female supervillain, Scarlet Overkill, voiced by Sandra Bullock. Scarlet is a woman of style, sophistication, and lethal ambition. With her husband Herb, voiced by Jon Hamm, they plan on world domination, specifically by stealing the queen's crown in London. The three Minions, thinking they have finally found their perfect master, are thrilled and they dive headlong into the evil duo's service, setting themselves up for a wild, larger-than-life adventure. This journey takes them from frosty Antarctica to 1960s New York City, ending in modern London. The film showcases the distinctive humor and heart that made the Minions a global phenomenon. Its humor ranges from slapstick antics from the trio as they make their way in the big, bad world and the tongue-in-cheek commentary on popular culture phenomena of the era like the Beatles and the British royalty, making this film enjoyable for both children and adults alike. The visual style of Minions is brightly colored and playful, featuring expressive character designs and a visually stunning world, including the vibrant 1960s era New York and London. It bolsters the zany antics and larger-than-life action sequences that are a hallmark of Illumination studio. Fast-paced and often hysterical, the Minions effortlessly steal the show with their infectious energy and likability. Sandra Bullock and Jon Hamm offer excellent performances, lending their voices to the master supervillains, bringing them to life with charisma and menace. Bullock's Scarlet Overkill, with her fiery red hair, perfectly embodies the spirit of the 60's era femme fatale. Hamm's Herb Overkill, with his cocky attitude and dashing charm, stands out to become one of the movie's many highlights. Michael Keaton lends his voice to another character in the story, marking an impressive entry to the cast. Further, the film features the directing brilliance of Pierre Coffin, who voices all the Minions in their adorable garbled tongue, a charming mix of various languages. This intriguing language adds a unique humorous tone to their dialogue, maintaining intrigue and comedy throughout the film. In conclusion, Minions with its vivacious animation, hilarious gags, engaging storytelling, and memorable characters provides a family-friendly watch, successfully carving a place for the Minions in our hearts. Whether it's the creative historical and cultural references, the characteristic humor, or the captivating and charming characters, Minions has something for everyone, making it a great animation classic.
Minions is a Kids & Family, Animation, Adventure, Comedy movie released in 2015. It has a runtime of 91. Critics and viewers have rated it moderate reviews, with an IMDb score of 6.4. It also holds a MetaScore of 56.
How to Watch Minions
Where can I stream Minions movie online? Minions is available to watch and stream, buy on demand, download at Amazon Prime, Peacock, Apple TV, FlixFling VOD, Amazon, Google Play, Vudu. Some platforms allow you to rent Minions for a limited time or purchase the movie for downloading.


Director
Pierre Coffin, Kyle Balda
Stars
Sandra Bullock, Jon Hamm
Genres
Kids & Family, Animation, Adventure, Comedy

Stream movies like Minions
Also starring Sandra Bullock