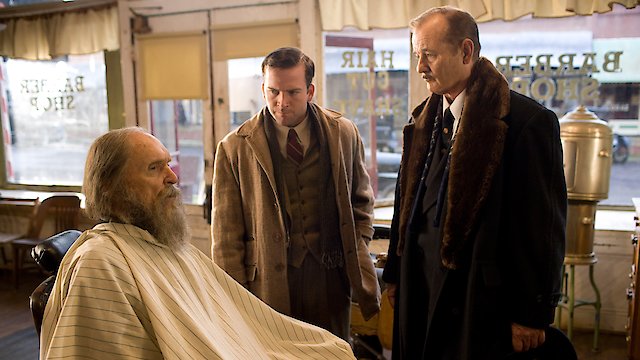 Where to Watch Get Low

Get Low is an offbeat, captivating southern tale set in the 1930s, directed by Aaron Schneider. This 2009 film brings together an incredible ensemble cast including the legendary Robert Duvall, the always compelling Bill Murray, the venerable Sissy Spacek, and the remarkable Lucas Black. With a story rich in humor, drama, and intrigue, Get Low stands as an engaging parable about redemption, forgiveness, and the power of coming to grips with one's past. Robert Duvall plays the role of Felix Bush, a notorious hermit living on the outskirts of a small town in Tennessee. Bush is a figure cloaked in mystery and dread – a man whose bearded, weathered face is as much part of local folklore as the tales that surround his life. Consumed by guilt and remorse, he spends forty years in self-imposed exile, his dog being his only companion. He's also a man of property, having spent years hopscotching the woods, carving out a life out of solitude, and accumulating a bit of wealth over time. The story truly takes flight with the audacious decision by Felix to "get low" - a colloquial term indicating one's readiness to contemplate mortality. Felix makes the strange request of having his funeral party while he's still alive, wanting to hear the stories that the townsfolk have spun about him over the years. A live funeral, in his eyes, serves as an opportunity to confront his past, to hear the murmured rumors, and glimpse how he will be remembered. Bill Murray plays Frank Quinn, an opportunist funeral director barely managing to keep his business afloat. Quinn, along with his young, more compassionate assistant Buddy (Lucas Black), seizes the opportunity presented by Bush's odd request. The pair become the architects of the unprecedented event, promising a spectacle that could reignite their struggling business. Sissy Spacek plays the role of Mattie Darrow, Felix's past love whose sudden reappearance in town sets the rumor mill buzzing again. Meanwhile, Frank and Buddy conduct the necessary arrangements, milking public curiosity and employing various gimmicks to lure a large crowd for the unusual spectacle. Between these characters, schisms of the past are opened up, personal narratives are unpacked, and layers of secrets are peeled away. The live funeral conceit, which at first might seem a gimmick, is, in fact, a vehicle for the exploration of guilt, regret, and redemption, beautifully intertwined with the themes of love, loss, and loneliness. Shot in the lush landscape of Georgia, the cinematography effectively mirrors the mood, lending a sepia-toned, nostalgic quality to the story, thereby creating an atmosphere of simultaneous eeriness and enchantment. The period detail - from the architecture to the costume design - is meticulously handled, reinforcing the authenticity of the setting while providing a sense of immersion for the viewer. With his portrayal of Felix Bush, Robert Duvall gives a world-class performance – his nuanced acting brings out the vulnerability, the strength, and the raw emotion of his character. Murray, in a departure from his more comedic roles, does an excellent job as the embattled funeral home director. His subtly inflected performance gives Quinn a depth that balances humor with a quiet desperation. Sissy Spacek ably emulates the charm and grace of the Southern belle, imbuing her character with a warmth and empathy that shine through. The screenplay, inspired by a true event, is beautifully crafted, filled with rich dialogue - occasionally humorous, sometimes poignant - all fleshed out in vivid scenes that offer insightful glances into the characters' lives. Get Low is a well-crafted cinematic gem that explores the inner workings of human nature and redemption, bringing together outstanding performances and beautiful storytelling. The strength of the film rests on the depth of its characters and their complexities. Despite being a period drama it, it echoes the timeless theme of the quest for atonement and the capacity for people to change. The movie's charm lies in its ability to handle such profound themes lightly, without losing impact or depth. Get Low delivers a unique and engaging experience, establishing it as an unmissable cinema masterpiece that resonates long after the credits roll.
Get Low is a Drama, Mystery, Comedy movie released in 2010. It has a runtime of 100 min.. Critics and viewers have rated it moderate reviews, with an IMDb score of 7.0. It also holds a MetaScore of 77.
How to Watch Get Low
Where can I stream Get Low movie online? Get Low is available to watch and stream, buy on demand, download at Amazon Prime, Apple TV, Amazon, Google Play, YouTube VOD, Vudu. Some platforms allow you to rent Get Low for a limited time or purchase the movie for downloading.


Stars
Robert Duvall, Sissy Spacek, Bill Murray, Lucas Black, Scott Cooper
Genres
Drama, Mystery, Comedy

Stream movies like Get Low
Also directed by Aaron Schneider
Also starring Robert Duvall
Watch movies on Apple TV+