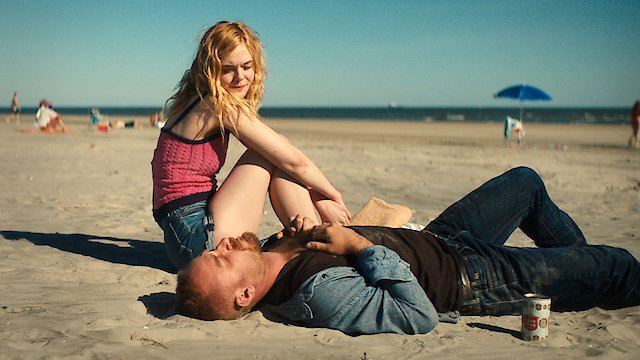 Where to Watch Galveston

Galveston, released in 2018, is an intense drama that merges elements of crime, suspense, and emotional depth into a riveting cinematic delight. Helmed by French actress and filmmaker Mélanie Laurent, the movie is adapted from the critically acclaimed novel of the same name by Nic Pizzolatto, the creator of HBO's True Detective. The film stars the talented Ben Foster as Roy Cady, an enigmatic man plagued by personal demons and professional turmoil. A seasoned hit-man stationed in New Orleans, Roy is diagnosed with a terminal condition -- a chilling reminder of his mortality and a catalyst for his urge to redefine his remaining lifespan. Struggling against his inevitable demise, he fights not just for survival but also for redemption, as he embarks on a journey entwined with violence, responsibility, and complex human connections. Jeffrey Grover gives a brilliant performance as Lou, fittingly adding depth and layers to the drama, while Christopher Amitrano, in the role of Stan, brings a grim sense of realism to the narrative. As the plot thickens, on a routine assignment gone wrong, Roy discovers Rocky (Elle Fanning) - a young woman being held captive. Refusing the stereotypical path the genre usually takes, and driven by a reluctant spark of compassion, he chooses to rescue her. This decision steers the narrative into unfamiliar and thrilling territories. The potent dynamic and evolving relationship between Roy and Rocky form the crux of the movie, making for an emotionally gripping and thought-provoking experience. A blend of suspense and tenderness, their duo becomes a beacon of human vulnerabilities and resilient spirits amidst the shroud of darkness. The film does not shy away from depicting the raw side of life. It delves into themes of criminality, desperation, morality, and existential uncertainty. Yet at the core of all the brutal chaos, the story explores the figure of a hard man finding his softer side—a move that makes the characters more relatable and humane. While the action sequences stay true to the thriller genre, they are counterbalanced by moments of unexpected gentleness and poignancy. One of the highlights of Galveston is its visual storytelling. Its cinematography excellently captures the landscape paralleling the tumultuous internal states of its characters. The film uses its Gulf Coast setting to great advantage, creating an animated palette of colors and textures that amplify the narrative's weight. The grueling grit of New Orleans combined with the atmospheric tranquility of Galveston, Texas, enriches the narrative elements of the film, drawing the viewer deeper into its world. Enriched by its intricate characterization, Roy is not just another hitman; he's flawed, haunted and more human than his professional choices suggest. Similarly, Rocky doesn't end up as a mere damsel-in-distress; her aspirations and bottled-up world make her a character of her own, struggling and fighting in a brutal world. Their nuanced portrayal speaks volumes about survival instinct and the ways in which the bleakest corners often yield the most resilient spirits. Galveston, additionally, boasts a moving, evocative soundscape. Marc Chouarain's original music is haunting and atmospheric, hinting at the depth of emotions and the escalating tension in the storyline. It provides an unspoken commentary on the characters' minds, amplifying the apparent intensity. In conclusion, Galveston is a potent mix of action-packed plotlines and deep-seated emotional core. It may be a straightforward tale of life and death, survival and redemption, but the execution is anything but conventional. With a strong cast, compelling narrative, and captivating cinematography, this film offers a poignant exploration of desperate lives on the run. If you appreciate closely detailed character-driven narratives embodied with significant highs and lows, this movie is sure to leave a lasting impression.
Galveston is a Thriller movie released in 2018. It has a runtime of 94 min.. Critics and viewers have rated it moderate reviews, with an IMDb score of 6.2. It also holds a MetaScore of 57.
How to Watch Galveston
Where can I stream Galveston movie online? Galveston is available to watch and stream, buy on demand, download at Amazon Prime, The Roku Channel Free, Tubi TV, Apple TV, Amazon, Google Play, YouTube VOD, Vudu. Some platforms allow you to rent Galveston for a limited time or purchase the movie for downloading.


Stars
Ben Foster, Elle Fanning, Lili Reinhart, Adepero Oduye, Robert Aramayo, María Valverde, CK McFarland, Beau Bridges

Stream movies like Galveston
Also directed by Mélanie Laurent
Also starring Jeffrey Grover
Watch movies on Apple TV+