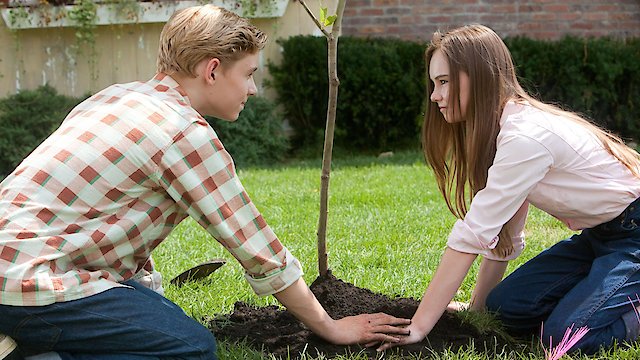 Where to Watch Flipped

Flipped is a heartwarming romantic comedy-drama movie released in 2010. The film is based on the 2001 novel of the same name by Wendelin Van Draanen, and is directed by the acclaimed Rob Reiner. Known for his unique storytelling style and engaging subjects, Reiner brings to the fore a captivating bildungsroman tale of young love. The talented cast features Madeline Carroll and Callan McAuliffe in the lead roles, supported by Rebecca De Mornay, and an ensemble of superb character actors. The plot revolves around the story of two neighbors, Julianna 'Juli' Baker (played by Madeline Carroll) and Bryce Loski (played by Callan McAuliffe), that commences from the second grade when Juli becomes infatuated with Bryce, who moves in across the street from her. It is a sweet and innocent crush that continues to mushroom in her heart, while Bryce's feelings remain more ambiguous. However, the interesting storytelling aspect of Flipped is its refreshing shift between Bryce and Juli's perspectives. The movie employs a "he said, she said" narrative style, with the two young protagonists narrating their relationship from their point of view. This dual-narration approach creates a clever dichotomy of perspectives, eliciting both laughs and sighs from the audience as they experience love, empathy, and relationships through the innocent and unadulterated minds of children growing into adolescence. Set in the mid-20th century in America, Flipped is decorated generously with period pieces, presenting a nostalgic ambiance. Juli's unique obsession with the sycamore tree and her profound reflections about her relationship with her surroundings offer interesting insights into her character and help to elevate the simple narrative to an exploration of the human spirit and the invaluable lessons we learn in our journey towards maturity. On the other hand, Bryce's experiences are more direct and conventional. Yet, his journey is far from simplistic. As the film progresses, he is forced to confront his own feelings and navigate his relationships, particularly with Juli. Among the supporting characters, Rebecca De Mornay plays Bryce's mother in an empathetic role, reflecting the struggles and dilemmas of parenthood, contributing substantially to the conflict and charm of the narrative. The remarkable performances by Carroll and McAuliffe succeed in convincing the audience of the authenticity of their emotions, as they switch between being in love, confused, and heartbroken. Their chemistry is palpable and delightful, while their navigation of teenage angst, familial tensions, and realizations about societal prejudices add depth to their characters and the movie's narrative as a whole. Deftly using humor to balance out the more serious themes in the plot, Flipped offers profound commentary on adolescent love, empathy, understanding, and the process of growing up against a backdrop that reveals societal hypocrisies about status and appearances. Cinematically, the film is beautifully shot, with effective use of colors that not only evoke a sense of nostalgia but also subtly underscore significant moments and revelations in the story. The period detail is meticulous, and the soundtrack, filled with catchy tunes from the era, enhances the film's appeal. Flipped develops with a warm and slow-paced cadence that adds to its charm. Like a sweet memory from childhood or a first love remembered fondly, the film wraps you in a nostalgic embrace. It's a simple story, yet nuanced with insightful life lessons, capturing the complexities of adolescence and pre-teen life with utmost simplicity. Whether it is going through school, dealing with family, or understanding the dynamics of friendship and love, Flipped presents scenarios that most people can relate to. The innocence and naivety of first love are portrayed beautifully, and the heartaches are equally ensnaring. The emotional roller coaster ride that Juli and Bryce take the viewers on, serves as a vivid reminder of the heartache, joy, confusion and wonder that comes with growing up and gradually understanding the world and people around us. The simplicity of Flipped's narrative is complemented by the depth of its emotional resonances, making it an engaging experience. In conclusion, Flipped is more than just a coming-of-age love story. It's an exploration of perception and misperception, of seeing and not seeing, of learning to understand and appreciate what's truly valuable in life. With its charming characters, clever narrative technique, and nostalgic setting, it's a film perfectly crafted to warm the hearts of its viewers, making it a timeless tale of youth and love.
Flipped is a Romance, Drama movie released in 2010. It has a runtime of 90 min.. Critics and viewers have rated it moderate reviews, with an IMDb score of 7.7. It also holds a MetaScore of 45.
How to Watch Flipped
Where can I stream Flipped movie online? Flipped is available to watch and stream, buy on demand, download at Apple TV, Amazon, Google Play, Vudu. Some platforms allow you to rent Flipped for a limited time or purchase the movie for downloading.


Stars
Madeline Carroll, Rebecca De Mornay, Anthony Edwards, John Mahoney, Callan McAuliffe, Penelope Ann Miller, Aidan Quinn, Kevin Weisman

Stream movies like Flipped
Watch movies on Apple TV+
Also directed by Rob Reiner
Also starring Madeline Carroll