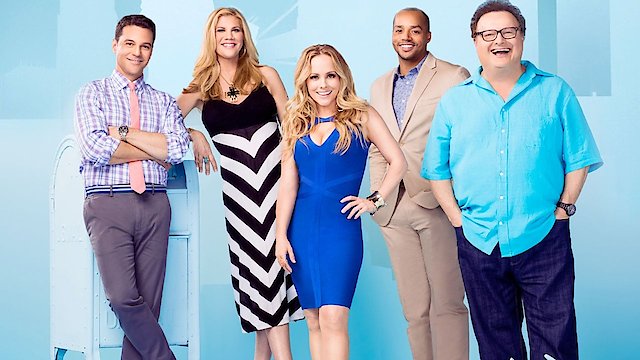 Where to Watch The Exes
Stuart and Holly persuade Margo to have the wedding at the restaurant, but Haskell tries to stop her.
Watch The Exes Season 4 Episode 22 Now
Holly inadvertently forces Stuart to change careers. Also, Haskell encourages his ex-wife Margo to marry her fiancé, so that he can stop paying alimony.
Watch The Exes Season 4 Episode 21 Now
Holly and Nicki have a girl's night out, but it doesn't go as planned when they fight over the same man.
Watch The Exes Season 4 Episode 20 Now
19
10 Things They Hate About You
Phil makes a big mistake on his first date with a movie star so Holly swoops in to save the day. Stuart and Haskell compete over who can get the most Twitter followers.
Watch The Exes Season 4 Episode 19 Now
Phil's stint on a movie set leads to romance with the female star. Holly struggles with having to fire someone for the first time.
Watch The Exes Season 4 Episode 18 Now
17
Haskell Doesn't Live Here Anymore
After getting into a fight with Phil and Stuart, Haskell moves out. Holly tells them they have to make him come back.
Watch The Exes Season 4 Episode 17 Now
16
The Forty Year Old Her-Gin
Stuart's sister is back from holiday in Europe and she's brought home a female lover, which inspires Holly to begin dating women.
Watch The Exes Season 4 Episode 16 Now
After Stuart convinces Phil to become a member of his a cappella group, Phil leads a rebellion. Haskell leaves Holly out of his will and she seeks revenge.
Watch The Exes Season 4 Episode 15 Now
Holly, tired of all the drama that comes with dating, decides to only pursue men she's not interested in.
Watch The Exes Season 4 Episode 14 Now
Holly becomes obsessed with a voice-activated operating system she was given as a gift.
Watch The Exes Season 4 Episode 13 Now
It's Holly's special day. Now in business together, Haskell and Nicki get rich.
Watch The Exes Season 4 Episode 12 Now
Holly's engagement to Congressman Charles Hayward is threatened when a risque photo of her lands in the media. Haskell has an idea for a great new app, but needs an investor.
Watch The Exes Season 4 Episode 11 Now
10
Holly Franklin Goes to Washington
Holly's new boyfriend, Congressman Charles Hayward, receives a grand introduction to the crew.
Watch The Exes Season 4 Episode 10 Now
Holly is determined to find out why she was rejected by a sorority years ago now that Eden is pledging. Haskell turns the guys' apartment into a pretend AirBnB to attract a woman.
Watch The Exes Season 4 Episode 9 Now
A silent auction scores Haskell a police ride-along, Phil a dinner with a sitcom star, and Stuart and Holly a cooking lesson from a celebrity chef.
Watch The Exes Season 4 Episode 8 Now
There's a big event planned honoring Haskell for his past bowling glory, unfortunately he's quarantined with Phil and Stuart. Holly secretly rewrites Eden's college paper, but it doesn't turn out well.
Watch The Exes Season 4 Episode 7 Now
Holly has ulterior motives when she hosts a birthday party for Stuart and Nicky.
Watch The Exes Season 4 Episode 6 Now
5
Oh Brother Here Art Thou
Haskell's estranged brother shows up and asks him for his kidney. Holly mentors a teenager who ends up liking Eden's job more than hers.
Watch The Exes Season 4 Episode 5 Now
4
An Officer and a Dental Man
Haskell starts dating a beautiful woman, but Phil is convinced she is actually a he. Phil persuades Holly to dress up in drag to try and see if Haskell's date shows any interest.
Watch The Exes Season 4 Episode 4 Now
In an effort to meet new men, Holly joins a grief support group. Stuart and Haskell help prepare Phil for a talk show appearance after he develops a lisp.
Watch The Exes Season 4 Episode 3 Now
Holly represents Nicki in her divorce, but her past interrupts the process. Phil tries to prove he is not getting old.
Watch The Exes Season 4 Episode 2 Now
In the aftermath of Haskell declaring his love for Nicki, Holly tries to play matchmaker. Stuart secretly arranges a meeting for Phil and his high school crush.
Watch The Exes Season 4 Episode 1 Now

The Exes is a distinctively hilarious sitcom series that aired on TV Land from November 30, 2011, to September 16, 2015 for a total of four intriguing seasons. The show is a unique blend of ingenious wit, relatable characters, and stellar performances. It stars a vibrant cast including Kristen Johnston, David Alan Basche, Donald Faison, Wayne Knight, and Kelly Stables. This dynamic ensemble breathes life into their characters and adds dimension to the storyline, providing viewers with a relatable and hilarious TV-viewing experience. The Exes humorously examines the complexities of contemporary relationships, the trials of male bonding, and the quirks of bachelorhood against the backdrop of New York City. The show primarily centers around three divorced men who live together in an apartment directly across the hall from their divorce attorney. The main character, Holly, portrayed by the Emmy award-winning actress Kristen Johnston, is a sassy, successful, and no-nonsense divorce attorney who's a cynic when it comes to love. Despite her slew of past romantic failures, Holly continues to meddle in her client's personal lives which borders between affectionate and invasive. Donald Faison, famous for his role in Scrubs, brings his comedic talent to the role of Phil Chase. Phil is a sports agent and ladies' man dealing with both the changing dynamics of his workplace and his personal life post-divorce. His life becomes a cocktail of frivolity mixed with moments of sobering realizations. David Alan Basche plays Stuart Gardner, a caring and considerate dentist who struggles to move past his broken marriage. He's arguably the 'nice guy' of the group, often allowing his big heart to dictate his actions, sometimes ending up in humorous mishap. Wayne Knight, affectionately remembered for his role in Seinfeld, plays Haskell Lutz. He's a lazy, unmotivated character who makes his living selling various items online. Haskell is an eternal pessimist who creates comic relief through his sarcastic, dead-pan humor, and occasionally displays unanticipated flashes of kindness. The cast is perfectly rounded off with Kelly Stables, who plays Holly's petite, cheerful, and sassy assistant, Eden. Surprisingly frank and unabashed in her dealings, Eden has a peculiar yet endearing relationship with Holly. She adds a bit of spice to the show with her bold remarks, spontaneous actions, and unbridled energy. Aside from the brilliant cast, one of the standout features of The Exes is the writing. With a healthy dose of humor and sentiment, the scripts of each episode delivers compelling and comical scenarios that will keep viewers entertained throughout the series. With an array of colorful side characters and an accumulation of entertaining situations, each episode presents a new predicament for our characters to navigate. Another appealing characteristic of this sitcom is its popular culture references and its realistic portrayals of friendships and relationships in modern times. The Exes offers a fresh perspective on divorce, friendship, love, and the many dimensions of single life all with a humorous tone. Audiences will appreciate the truthful rendering of life's ups and downs as they follow the main characters through their comic, yet life-like scenarios. In summary, The Exes is an uproarious comical masterpiece, filled with charming characters, witty dialogue and plotlines that are as hilarious as they are relatable. It's a smart, refreshing take on the sitcom genre, and the central theme of friendship prevailing over life's idiosyncrasies permeates throughout the series. The comedy can appeal to a variety of audiences with its mix of lighthearted humor, situational comedy, and dynamic characters. It convincingly portrays friendship and its trials with engaging humor while exploring the nuances of male bonding post-divorce. This charming sitcom indeed transfigures the seemingly mundane into bouts of laughter.
The Exes is a series categorized as a currently airing. Spanning 4 seasons with a total of 64 episodes, the show debuted on 2011. The series has earned a moderate reviews from both critics and viewers. The IMDb score stands at 6.7.
How to Watch The Exes
How can I watch The Exes online? The Exes is available on TV Land with seasons and full episodes. You can also watch The Exes on demand at Paramount+, Amazon Prime, Apple TV, TV Land, Amazon, Google Play, Vudu online.
Cast
David Alan Basche, Kristen Johnston, Wayne Knight, Donald Faison, Kelly Stables

Stream shows like The Exes