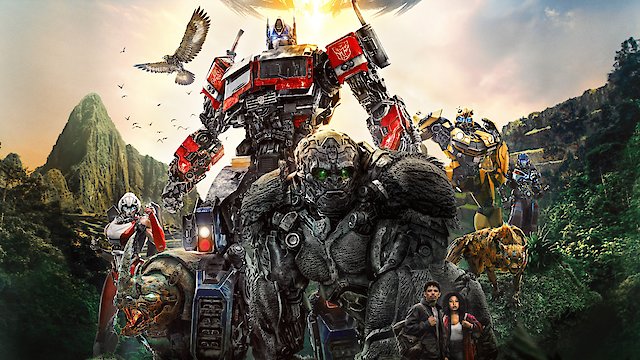 Transformers: Rise of the Beasts

Where to Watch Transformers: Rise of the Beasts

The battle between Autobots and Decepticons explodes onto the big screen once again in Transformers: Rise of the Beasts. This new chapter in the blockbuster franchise from director Steven Caple Jr. introduces the Maximals, Predacons, and Terrorcons to Earth for an epic adventure set in 1994. Headlining the human cast are Anthony Ramos as Noah, a military electronics expert, and Dominique Fishback as Elena, an artifact researcher. The two team up when they get caught in the crossfire between the alien robots and ancient forces seeking to change the fate of the world. Noah and Elena find themselves allied with the heroic Autobots and Maximals, led by Optimus Prime returning to his Gorilla form. These peacekeepers are up against the villainous Predacons and Terrorcons led by a T-Rex version of Megatron. Both sides race to find an ancient Cybertronian artifact hidden on Earth before their enemies can use it for destruction. Along the ride, Noah and Elena uncover the origins of the Transformers through ancient mythology and artifacts left on Earth long ago. Spectacular set pieces send the Autobots soaring through the skies of Machu Picchu, racing through the streets of Brooklyn, and battling on an abandoned military base. Joining the human cast are Luna Lauren Velez as Elena's mother, a local museum curator, Peter Cullen once again voicing Optimus Primal, Liza Koshy, and Pete Davidson as goofy agent Burns. Meanwhile, Dominique Fishback brings strength, smarts, and heart to scientist Elena as she holds her own amid the giant battling robots. Transformers: Rise of the Beasts promises to take the beloved shape-shifting franchise in an exciting new direction. Trading shiny metal finishes for fur, scales, and fangs, the animalistic Maximals, Predacons and Terrorcons add fresh flavor to the epic war. It's a battle across centuries to decide both ancient and future destiny. With stunning visual effects, awe-inspiring settings, lovable new Autobots, and deeper ties to real mythology, Rise of the Beasts aims to be the most thrilling and thought provoking Transformers saga yet. Whether a diehard fan from the 1980s or a newbie drawn to the exciting trailers, this is poised to be a blockbuster with heart, humor, and robots in disguise well worth rooting for. Let the past meet the future this summer as Transformers: Rise of the Beasts brings thrilling new tech and bestial power to continue the definitive big screen robot clash. Autobots, rollout!
Transformers: Rise of the Beasts is a Action, Adventure, Science Fiction movie released in 2023. It has a runtime of 117 min.. Critics and viewers have rated it moderate reviews, with an IMDb score of 6.1. It also holds a MetaScore of 42.
How to Watch Transformers: Rise of the Beasts
Where can I stream Transformers: Rise of the Beasts movie online? Transformers: Rise of the Beasts is available to watch and stream, buy on demand, download at Paramount+, Amazon Prime, Apple TV Channels, The Roku Channel, Apple TV, FlixFling VOD, Amazon, Vudu. Some platforms allow you to rent Transformers: Rise of the Beasts for a limited time or purchase the movie for downloading.


Stars
Anthony Ramos, Dominique Fishback, Luna Lauren Vélez, Tobe Nwigwe, Peter Cullen, Ron Perlman
Genres
Action, Adventure, Science Fiction

Stream movies like Transformers: Rise of the Beasts
Also directed by Steven Caple Jr.
Also starring Anthony Ramos