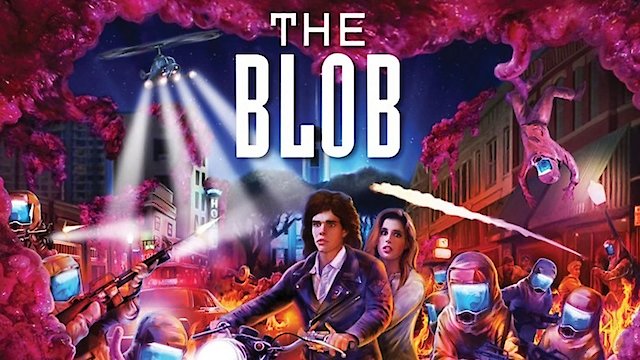 Where to Watch The Blob

In the 1988 sci-fi horror thriller, The Blob, director Chuck Russell weaves a hair-raising tale around an alien lifeform, featuring rising stars of the time, Shawnee Smith, Kevin Dillon, and Donovan Leitch Jr. The movie is a modern reimagining of the 1958 classic of the same name, maintaining its gripping premise while injecting it with an 80s visual aesthetic and sensibility. The script, co-written by Chuck Russell and Frank Darabont, is skillfully crafted to increase suspense, raise the stakes with each passing moment, and surprise the audience at every turn. The story combines classic elements of a monster movie with the tension of a thriller, producing an exciting, unsettling and entertaining mix that keeps viewers glued to their seats. The film introduces us to the small, idyllic town of Arborville, which could easily fit into any 80s teen movie. Its tranquillity is soon disturbed when a meteorite crashes nearby and an unknowing, elderly local stumbles upon it, inadvertently letting loose an alien entity - The Blob. Our heroes of the story are played by Shawnee Smith and Kevin Dillon. Smith, then known for her roles in television, takes a lead role as Meg Penny, a popular cheerleader known for her smartness and bravery. Her performance brings dimensions to a character who, in another movie, might have been written off as a mere 'scream queen'. Smith's Meg is a tough, resourceful heroine who is assertive, empathetic, and more than capable of facing an alien monstrosity. Dillon plays the role of Brian Flagg, a rebellious, motorbike-riding outsider, who brings shades of James Dean to Arborville. In other hands, the role of Brian could have been a cliched 'bad-boy', but Dillon's nuanced performance ensures that Brian evolves throughout the movie, gaining depth and audience sympathy. Completing the primary cast is Donovan Leitch Jr., who plays Paul Taylor - a touchstone character whose actions dramatically influence the events of the narrative. Leitch's role, though smaller in comparison, offers a critical link and turning point in the storyline, setting the pace for the ensuing horror. The Blob itself is a formidable antagonist. Not only is it capable of absorbing anything in its path, but it also mutates and grows at an alarming rate. The creature effects, by Lyle Conway and his team, are genuinely impressive and frightening, especially when considering the pre-CGI era this film belongs to. The Blob lends the film a visceral horror that complements the more psychological and suspenseful scares and keeps the viewers hooked until the last scene. In terms of direction, Russell displays an evident skill in weaving the narrative effortlessly between horror, thriller, and teen-drama, maintaining a high energy and suspenseful pace. He also doesn't shy away from social commentary and uses the film's small-town setting to explore more profound subplots about communal dynamics and authority. The Blob represents the best of 80s horror-cinema. The film boasts classic scares and an engaging narrative supported by memorable characters. While it might be a recreation of the 50s classic, the 1988 version holds its own with the unique flair brought by Russell and the engaging performances from Smith, Dillon, and Leitch. Despite its ending that keeps the door slightly ajar for potential follow-ups, the movie stands firmly as a standalone feature. This movie is a must-watch for horror aficionados, fans of the 80s' cinema, and those who enjoy film remakes that respect their source while also asserting their unique take. In conclusion, "The Blob" from 1988 is a skillfully executed, heart-stopping and an engaging sci-fi horror movie that delivers on its promise of thrilling suspense, dramatic turns, and well-realized horror. With Russel's direction and the brilliant performances by its cast, the film stands as an example of refined 80s horror that continues to terrify and entertain audiences even decades later.
The Blob is a Horror, Science Fiction, Mystery movie released in 1988. It has a runtime of 95 min.. Critics and viewers have rated it moderate reviews, with an IMDb score of 6.6..
How to Watch The Blob
Where can I stream The Blob movie online? The Blob is available to watch and stream, buy on demand, download at Apple TV, Amazon, Google Play, YouTube VOD, Vudu. Some platforms allow you to rent The Blob for a limited time or purchase the movie for downloading.

Stars
Kevin Dillon, Shawnee Smith, Donovan Leitch, Jeffrey DeMunn, Candy Clark, Joe Seneca
Genres
Horror, Science Fiction, Mystery

Stream movies like The Blob
Watch movies on Apple TV+
Also directed by Chuck Russell
Also starring Shawnee Smith
Also starring Kevin Dillon