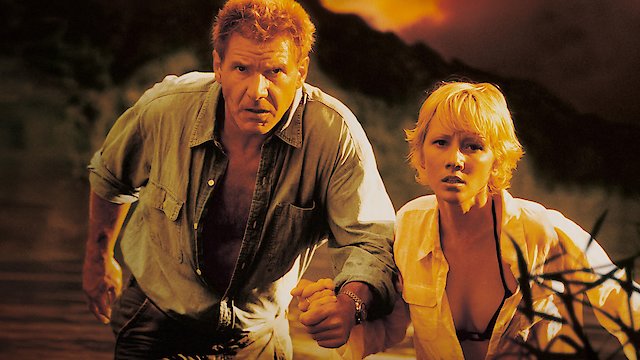 Where to Watch Six Days Seven Nights

Six Days Seven Nights is a thrilling yet tactful blend of action, comedy, and romance. Released in 1998, the film was directed by Ivan Reitman and features a formidable cast including leading stars, Harrison Ford and Anne Heche, along with notable actor David Schwimmer known for his role in the famous sitcom 'Friends'. The movie balances elements of action, humor and romance to serve up an entertaining dramedy that takes place on a deserted tropical island. The audience is introduced to the character of Quinn Harris, impressively portrayed by Harrison Ford. Quinn, a rough around the edges pilot, operates a bread-and-butter cargo flights service around the South Pacific. Quinn who exudes a rugged charisma, adds a certain allure to the adventure that is about to unfold. Harris lives on a fictional Island and is completely free of the shackles of modern world entanglements. Enter Robin Monroe (Anne Heche), who is as different from Quinn as day is to night. Robin is a sharp-witted, ambitious New Yorker on a getaway vacation with her boyfriend, Frank Martin, played by David Schwimmer. A high-strung editor for a fashion magazine, Robin is a city-dweller through and through. The excitement begins when Robin and Frank face an inconvenient diversion that leads to Robin hiring Harris to fly her to Tahiti. Inescapably, the two leads find themselves trapped together in a situation that neither of them had anticipated. The storyline is designed for action and suspense as Quinn and Robin's routine flight takes an unexpected turn leading them to crash land on a deserted South Sea island. This island, however, is far from a tropical paradise as the pair quickly discover it is inhabited with modern-day pirates. Over the course of six days and seven nights, the duo forges an uneasy alliance as they find themselves seeking solutions to handle the precarious situations they find themselves in. The two must work together and draw on all their reserves of strength, courage and resourcefulness to survive. Even as they struggle against external challenges, varying personalities lead to dynamic interactions, funny exchanges, and ultimately a dry, yet charming budding romance. Quinn the grounded adventurer, teaches the always-in-control Robin to relax and enjoy the simple pleasures of life, with Heche showing impressive comedic timing, while Ford gives one of his best straight-man performances. David Schwimmer's role as Frank adds another layer to this film. In the absence of Robin, Frank's loyalty to his girlfriend undergoes a hilarious yet relatable series of tests that further infuse humor into the movie. Frank, being left back at the resort with Quinn's attractive young girlfriend, is portrayed in a comedic light as the city-dwelling boyfriend tested by unusual circumstances. The film beautifully showcases the struggle for survival in an unexpected wilderness, alongside an enchanting transformation of an adversarial relationship into companionship, and even the potential beginnings for love. The evolving chemistry between Ford and Heche makes for a delightful viewing experience. Their struggles to deal with the situation add suspense and humor, while their growing attraction for each other gives the story an unexpected romantic twist. The location of the movie serves as the perfect backdrop to the adventure and romance at the core of the story. Shot primarily in Hawaii, you're treated to stunning landscapes, which in contrast to the characters' predicaments, gives the film a picturesque ambiance. Overall, Six Days Seven Nights is an exhilarating tale of survival, humor, and unexpected love. The film is a part action-adventure and part romantic-comedy, striking an interesting balance, and proving highly engaging for a wide array of viewers. With remarkable performances from all cast members and exotic scenes filmed in breathtaking locations, Six Days Seven Nights makes for an interesting, lighthearted cinematic journey.
Six Days Seven Nights is a Adventure, Action, Comedy, Romance movie released in 1998. It has a runtime of 101 min.. Critics and viewers have rated it moderate reviews, with an IMDb score of 5.9. It also holds a MetaScore of 51.
How to Watch Six Days Seven Nights
Where can I stream Six Days Seven Nights movie online? Six Days Seven Nights is available to watch and stream, buy on demand, download at Hulu Plus, Max, Amazon Prime, The Roku Channel, Apple TV, Amazon, Google Play, YouTube VOD, Vudu. Some platforms allow you to rent Six Days Seven Nights for a limited time or purchase the movie for downloading.


Stars
Harrison Ford, Anne Heche, David Schwimmer, Temuera Morrison
Genres
Adventure, Action, Comedy, Romance

Also starring Harrison Ford
Watch movies on Apple TV+