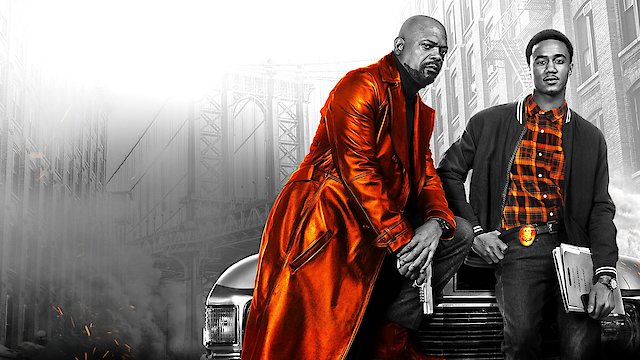 Where to Watch Shaft

Shaft, released in 2019 and directed by Tim Story, is a lively, action-packed comedy-drama movie that reinvigorates the celebrated urban-aggro franchise which first enlivened the world in 1971. The film features a talented cast, with the formidable Samuel L. Jackson, promising newcomer Jessie T. Usher as well as the iconic Richard Roundtree, who played the original Shaft back in the 70s. Shaft brilliantly amalgamates elements of different genres. While it boasts thrilling action sequences and tantalizing mystery plotlines significant to its predecessors, the movie subtly slips into hilarious humor, engaging familial tension, and modern societal issues. The intergenerational narrative furthers the scope and fascination of the film, keeping things sprightly and full of charm. The film primarily revolves around John "JJ" Shaft Jr. (Jessie T. Usher), an MIT-educated cybersecurity officer for the FBI, who is hell-bent on finding out the truth behind his best friend's untimely and suspicious death. Raised in an environment devoid of criminal violence and bred in a conventional way of life, Shaft Jr. finds himself isolated from faith in the system and decides to take matters into his own hands. Driven by a necessity to uncloak the truth, he solicits help from his estranged father, John Shaft II (Samuel L. Jackson), an expert private investigator having no instant kinship with conventional law enforcement, but imposing a brand of vigilante justice from his times. Contributor to his son's dilemma, senior Shaft is enigmatic, brash, and radically disconnected from his son's light-hearted, tech-savvy persona. Yet, for all its contradictions, the duo embarks on a stimulating journey to unravel the circumstances of a case growing darker with each revelation. As one might expect from a 'Shaft' movie, there is plenty of action to behold. The film is packed with slick fight sequences, enthralling gun battles, and high-velocity car chases through the crumbling backstreets of New York City, right down to the heart-thumping final showdown. The film also touches on the generational clash of perspectives between shafts, observing how different their methods, values, and world-views are. Part of the film's chuckles come from hardened detective Shaft Sr.'s incredulity over his son's use of computers to solve crime, his refusal of firearms, and his take on sexuality and respect for women. Shaft is a real character study of how acceptance can forge bonds no matter how diverse the ideological differences are. Lending virtuosity to each on-screen character are the exquisite performances by the cast. Samuel L. Jackson delivers a compelling act, effortlessly flexing his charismatic bravado and famous comedic timing. Jessie T. Usher juxtaposes the veteran nicely, bringing an innocent charm and intellectual energy to his character, offering an absorbing performance as the fish out of water. In addition, Richard Roundtree, the original Shaft, features in the film, adding a nostalgic touch and completing the Shaft lineage with grandeur. The film expertly conducts the funky music, groovy beat, and the trademark 'Shaft' theme, effectively placing the viewers in the gritty, harsh reality of the city's crime-ridden life. "Shaft" 2019 is an entertaining take on a legendary character, reforming him for a new age while acknowledging the legacy from which he stems. Although the film is far from flawless, caught occasionally in clichéd storytelling, the charm of the characters, the dynamic action, and the inherent comedic genius make it an engaging and enjoyable watch. It pays homage to the past, presents a relevant narrative for the present and sets up the future, creating a breezy movie experience. In summation, "Shaft" (2019) is much more than a mere reboot or sequel; it is an earnest effort to blend generations, ideologies, and genres into a modern-day, action-packed comedy-drama flick that resonates well with today's audience while staying true to its roots.
Shaft is a Action, Crime movie released in 2019. It has a runtime of 111 min.. Critics and viewers have rated it moderate reviews, with an IMDb score of 6.4. It also holds a MetaScore of 40.
How to Watch Shaft
Where can I stream Shaft movie online? Shaft is available to watch and stream, buy on demand, download at Amazon Prime, Apple TV, Amazon, Google Play, Vudu. Some platforms allow you to rent Shaft for a limited time or purchase the movie for downloading.


Stars
Samuel L. Jackson, Jessie T. Usher, Regina Hall, Alexandra Shipp, Matt Lauria, Method Man, Richard Roundtree

Also directed by Tim Story
Also starring Samuel L. Jackson
Watch movies on Apple TV+