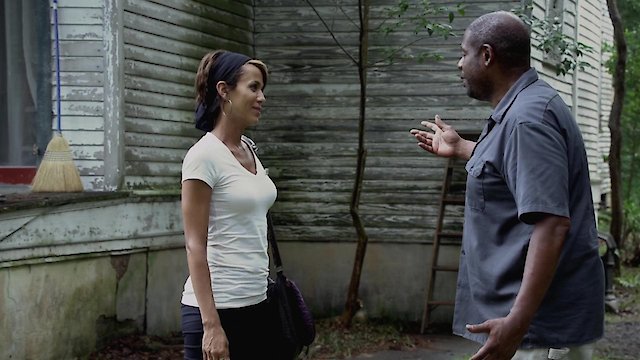 Where to Watch Repentance

Repentance is a psychological thriller that was released in 2013. The movie was directed by Philippe Caland and it features acclaimed actors such as Anthony Mackie, Forest Whitaker, and Sanaa Lathan. The film was produced by Lionsgate and CodeBlack Films. It excellently taps into the themes of family strife, personal torment, and the quest for mental healing in intriguing ways that are sure to stick with the audience long after the credits roll. Anthony Mackie stars as Thomas Carter, a renowned life coach and author who uses his past experiences with alcoholism and a near-death experience to guide people into realizing their potential and not succumbing to the bleakness of despair. He leads a seemingly ideal life with his loving wife, Maggie (played by Sanaa Lathan), and is at the pinnacle of his career with a loyal clientele who swear by his methods and approach to healing. His life takes a drastic turn when he meets Angel Sanchez, played by the Oscar-winning actor Forest Whitaker. Sanchez, a deeply disturbed individual beleaguered by the untimely death of his mother, is desperate to find closure and inner peace. He is drawn towards Carter's teachings and resolves to reach out to him for personal therapy sessions, seemingly convinced that Carter holds the key to his torment. The palpable tension in their interactions, the grappling of their sanity, and the spiral into a haunting darkness form the crux of the story. Forest Whitaker gives an intense performance as Angel Sanchez, a grieving and troubled man whose desperate search for solace and meaning paints an unpredictable and worrisome motive. His seemingly uncontrolled emotional states leave the audience on edge, and the true extent of his mental anguish is skillfully revealed through Whitaker's nuanced acting. The acting heavyweight brings to life Angel Sanchez in such a way that his mere presence on the screen adds layers of suspense to the plot. Anthony Mackie, on the other hand, as Thomas Carter, brings a calm, composed, but equally compelling performance. His struggle to maintain his professionalism while dealing with a client who is rapidly spiraling out of control provides a gripping subplot to the main narrative. Sanaa Lathan delivers a believable performance as Maggie, the unsuspecting wife who gets caught in the downward spiral precipitated by Angel's infiltration into their lives. Her portrayal of a loving wife, caught between the escalating tension between two dominant men in her life, amplifies the drama and suspense. The dynamics between the trio of main characters add depth and intrigue to the plot, captivating the audience with a chilling game of cat and mouse ensues that blurs the line between sanity and madness. The cinematography and stylization of Repentance adds a layer of grit and eeriness that accentuates the film's dark narrative. The movie's scoring and audio track intensify the suspenseful moments while the softer tracks underscore the tender moments of character introspection. Repentance not only serves as a thrilling journey into the dark recesses of desperate minds but also sparks conversations about mental health, grief, and the extent people can go to find relief from their torment. It is a gripping, edge-of-your-seat psychological thriller, full of suspense, twists, and turns that keep audiences guessing. Repentance is more than just a movie; it's an exploration of human frailty and the resilience of the human spirit. It pushes the limits of traditional narratives and leaves viewers with chilling questions about sanity, healing, and redemption. It forces audiences to question the characters' decisions and motives, inviting them to take a deep dive into the human psyche. The chilling performance from Forest Whitaker paired with Anthony Mackie's robust portrayal creates a captivating dynamic that is suspenseful and thought-provoking. Fans of psychological thrillers will surely enjoy this labyrinth of human emotions and the escalating tension that graces the screen from start to finish.
Repentance is a Horror, Thriller movie released in 2013. It has a runtime of 90 min.. Critics and viewers have rated it mostly poor reviews, with an IMDb score of 4.9..
How to Watch Repentance
Where can I stream Repentance movie online? Repentance is available to watch and stream, buy on demand, download at Amazon Prime, Apple TV Channels, Starz, Peacock Premium, The Roku Channel, Apple TV, Amazon, Google Play, YouTube VOD, Vudu. Some platforms allow you to rent Repentance for a limited time or purchase the movie for downloading.

Stars
Anthony Mackie, Forest Whitaker, Sanaa Lathan, Brett Baker, Betsy Clark, Mike Epps

Stream movies like Repentance
Also directed by Philippe Caland
Also starring Anthony Mackie
Also starring Forest Whitaker
Watch movies on Apple TV+